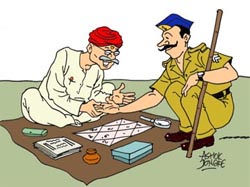 It took me some time to decide my car. Choicing a car is no simple matter - it needs a lot of research. My journey from Mumbai to Kalkatta would take me through MP and Chattisgarh, two of the most progressive states in India. I checked out the government websites - they said that all tehsil (district) headquarters and tourist attraction places are now connected by six-lane motorways. So on that basis I made my decision - a Ford Thunderbird it was.
You may be wondering how myself, Balwinder Singh, son of a motor mechanic, is talking about Thunderbird. Let me tell you how it happened. About ten years back, the Education Ministry slashed the IIM fees very much. So lakhs of fellows went into management line, leaving a great shortage of people to study subjects like English. I saw my chance and took English Honors, cleared it in three attempts and in no time got a job as a PRO in a reputed MNC, Haldiram Foods International, earning six-figure salary and tax-free perks.
Ever since then, I have worked in Mumbai and lived in Colaba. So when my sister-in-law's marriage was fixed in Kalkatta, my wife Bhupinder and I both decided we will combine family duties and a driving holiday. So we took the Thunderbird and followed a scenic route, seeing new places and meeting new people on the way. The following is only a brief account of that eventful journey.
First we came to Rewa. We were maximum surprised to meet Benedetto, the Chief Executive Officer of Rewa Municipality. You could have knocked us out with a feather! A footballer from Milano, he had applied for the job in response to a global ad in The Economist and got in without any recommendation. Did he not miss his native place? Not really, he was entitled to home leave once in two years. Known as Benaditya to the simple folk of Rewa, he is so popular that he took a try for the Chairman's post in the last Election. Of course only Indian people can contest elections, but Benaditya went to court and argued successfully that Italians, being Aryans, are people of Indian origin. Unfortunately, in his nomination form, he had put Bretton Woods (a health resort near Washington) as his punyabhumi (holy land), because someone told him that it would help his prospects. It didn't work - he got disqualified.
I must say that the MP government has improved a lot on the excellent system left by the British. You know how powerful the DM (District Magistrate) used to be before - he used to come to our school Annual Day and declare a holiday if he was in good mood. Well, in MP now, all the DMs report to the District Veterinary Officer. We met the DVO of the new district of Santoshi Maa Nagar. Apart from being a successful doctor of cows, he is also a renowned intellectual. His commentaries on Manusmriti are available in all the libraries in the district, and are also being used as reading material in the women's education programs. He politely pretended not to hear my wife's remarks about beef being a favorite food in Vedic times, and gave us chawal-chholey for dinner.
Every village we passed through wore a festive look. Life-size pictures and cutouts of the popular Chief Minister greeted us with a charming smile. The village-level rounds of the State Beauty Contest, sponsored this year by Union Carbide, were underway. In one village where we stopped to refill our beer cooler, Bhupi was asked to act as judge and got a sack of tassar silk cocoons as a gift after the event.
It was nice to see the McDonalds-cum-police outposts along the highway, all having satellite telephone facility. The state government has also recently started a new chain of janata (people's) hotels, all cleverly located near three-star goshalas (cattle sheds) to ensure the safety and comfort of customers. Let me tell you, you can pay in dollars even in the remotest place.
Banners and streamers proclaimed the state's freedom from hunger and want. Actually, we did see few unwashed villagers queuing up for their free rations of breakfast cereals, but everyone told us that we could be rest assured that this rarely happened.
Near Bhopal, we met Manoharan, a bright and energetic young ex-IAS officer who had given up his lucrative career to become CEO of the not-for-profit Neem International - you must have seen their "Just Say Neem" ads on TV. Neem is actually an Indian MNC which holds the international rights on leaves, twigs and other parts of the neem tree, including the soil around its roots for one kilometer radius. Manoharan himself holds three separate US patents on the use of dried leaves for treatment of chicken pox and bird flu.
In Basantipur, a beaming Panchayat President told us that the people in these parts were very simple - they wanted good governance and very little else. This cunning fellow, Karamat Ali, had made a large packet as a contractor for a 12-kilometre stretch of the Ganga-Kaveri link canal, and then joined politics to keep it safe. Did he not feel bad about the hundreds of his own kith and kin who lost their land for the canal and were now on the dole? Well, yes, said Ali, he did at times. The non-human face of development troubled him, but he could not see any alternative. "Arre Sahab, chhoriye in baton ko" (let that be) he beamed, and invited us to his home for mutton kababs.
Ali's four little children danced around him like satellites when we reached his bungalow. I could not help wondering how much bribe he had paid to get elected in spite of beating the two-child norm. As if reading my thoughts, he complained about the reaction in rural areas to the prediction, recently released by the Ministry of Astrology, that Muslims will become the majority community in 2017. According to him, this is a gross overestimation - there is no chance of this happening before the year 2086. Even this 2086 estimate is based on the assumption of a steady two per cent annual rate of improvement in the law and order situation in the country. Both Bhupi and I felt this was somewhat over-optimistic, but since this was obviously a painful issue, we let it pass.
To change the subject, we asked him about employment opportunities in the state. How were the rozgar yojanas doing? We found out that employment generation is no longer a state subject. It is now coordinated by the Ministry of External Affairs, since jobs are being created abroad only. It seems the new Foreign Secretary, an old South America hand, is keen to bag more jobs for Indians in Spanish-speaking areas. Both the states are now gearing up for this exciting opportunity - Spanish teachers are being recruited for all schools started under the Education Guarantee Scheme. Several new Spanish scolas have been started in response to the government's announcement that these will be exempted from the service tax for five years.
Our trip was a wonderful exposure to rural areas of this country with which we were not familiar earlier. It showed us how much things have changed. It made us realize the truth of what Arun Shourie (who got the Bharat Ratna this year) used to tell - everything is possible if we have the right attitude. Mindsets have really changed. Gone are the jholawalas, the prophets of doom. The IMFLs (Indian-Made Foreign Lekhikas) like Arundhati Roy have disappeared book, line and sinker.
Even 10 years ago, there were lots of people who saw through the whole bloody lot of Bisleri-drinking WSF (World Social Forum) wallahs who castigated the "India Shining" Campaign, remember? Ten years on, by Jove, we are shining even more brighter!