Twenty years ago, when Roop Kanwar came to dusty Deorala village, in the Sikar district of Rajasthan, as a young bride, she created quite a stir. For one, she was a graduate and, unlike the other Rajput women in the village, she had been to a beauty parlor.

Barely eight months after her marriage, when Roop lost her husband, she did something that created more than a local stir: the 18-year-old widow committed 'Sati' by immolating herself on her husband's funeral pyre. The Rajputs, who initially had been taken in by her charm, were now in awe of her valor.

According to Rajput belief, a Hindu widow who dies burning herself on her husband's pyre is most virtuous. As a consequence, the woman was believed to go straight to heaven, and to have redeemed her forefathers by her act. Subsequently, the sati, or virtuous woman, was worshipped as a goddess, with temples built in her memory.

After the Deorala incident, however, numerous arrests, jail stays and rounds of courts and controversies followed. But, the monstrous death of Roop Kanwar ironically proved to be a blessing in disguise. Her death, besides sparking a national outrage, changed Deorala. The change may have been slow, but is perceptible.

According to the 2001 Census, the total population of Deorala is 9,328, with 4,453 women. Today, one can see older girls in uniforms walking to school daily. Says Roopkanwal Kanwar, a Rajput anganwadi worker (community health worker), "Earlier, the only time the women in our families stepped out was when they were going to their parents' house. But now, we have working professionals, too." Roopkanwal is among the many Rajput women of the village who work as anganwadi workers for the state government. She earns Rs 1,000 a month (US$1=Rs 39.45), but more significant is her comment: "I can see the world."

Deorala's sarpanch (head of the village council) Shankar Singh was serving in Border Security Force in Jodhpur when the infamous incident occurred. "I read about it in the newspapers. I was curious to know more. I took leave and came here. A death-like calm prevailed over the village. Most men were in police custody." Singh proudly shares another bit of information, "Today, we have six women ward panch (in-charge of a ward), and there are about 27 anganwadi workers."

"There was a time when sending girls off to school beyond class 5 was deemed a crime," recollects Sohan Kanwar, the only Rajput ward 'panch' among the six women. "But today, our girls have stepped beyond Deorala to pursue higher education," she adds. As many as 200 village girls are in degree colleges outside the village.

The Rashtriya Balika Varishtha Upadhyay Sanskrit Vidyalaya (senior secondary Sanskrit school for girls), which has sent 16 class XII pass-outs onto government teaching training institutes this year, has a pass rate of 100 per cent. According to headmaster Jagdish Prasad Mali, the dropout rate of girls is negligible as compared to that of the boys. Interestingly, Deorala now has eight government-funded schools of which two are exclusively for girls.

Education and awareness have ensured that the young generation does not blindly follow age-old practices. Sonam Sharma, a class 12 student of Sanskrit Vidyalaya, says she would never do what Roop Kanwar did. "I fail to understand how someone could even think of doing that. What is more surprising is the fact that she was educated and the family she was married into was one of the rich families of Deorala."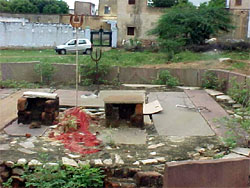 "Whenever I ask the elders in the family about Roop Kanwar, I am told to shut up and study," says Bharti Saini, Sonam's classmate. Bina Kanwar, a Rajput widow and anganwadi worker, is equally skeptical of the 1987 incident, but demands that the government should allow Sati worship. Oddly enough, most elders of the village second the demand. In fact, in 1987, the villagers did try to set up a temple at what is today known as the Samadhi 'sthal' (final resting place). The spot, surrounded with stones, has two tridents, one of them saffron.

Following the Roop Kanwar sati incident, state-level laws were first introduced to prevent such incidents, and then followed the central government's Commission of Sati (Prevention) Act, 1987.

Today, the Samadhi 'sthal' bears a deserted look, as paying reverence at a Sati 'sthal' comes under the purview of glorification of Sati and is considered a crime under the law. A Sati attempt is also considered a crime and is deemed suicide.

People in the village are also loath to talk about the incident. "It was a freak incident. We want to move on, but every year on September 4, the media and police rub it in," says Roop Kanwar's father-in-law, Sumer Singh. The district magistrate of Sikar, in the Shekhawti region of Rajasthan, deploys a Sub-Divisional Magistrate and police force from Ajitgarh police station at the Samadhi sthal to check Sati glorification on this day.

In January 2004, a special Sati court functioning from the premises of the District Court, acquitted all the 11 accused, including Sumer Singh, on the grounds that the prosecution could not establish the charges.

Kavita Srivastava of People's Union for Civil Liberties, who was at the forefront of the agitation triggered off by the Deorala incident, says she is happy the modern ideology has won over the traditional one, and Deorala has moved on.

There have been 26 reported cases of Sati in Rajasthan post-Independence and seven out of these were reported in the Shekhawati region alone. The Shekhawati region comprises Sikar, Churu and Jhunjhunu districts that are largely inhabited by the Rajput community, perhaps one of the reasons why have been a greater number of cases reported from here.