"Men and women of full age, without any limitation due to race, nationality or religion, have the right to marry and to found a family. Marriage shall be entered into only with the free and full consent of the intending spouses."
' (Article 16, Universal Declaration of Human Rights)
Many dreams must have been dreamt in this house in the run-down Tiljala area of Kolkata, which has become the centre of all attention for the past few weeks. Numerous rallies, demonstrations and meetings have been held here. For it was here that Rizwanur Rehman, 30 - a young and struggling graphic designer and teacher from a lower middle-class Muslim family - and his wife, Priyanka Todi, 23 - daughter of an influential Marwari industrialist - spent their short-lived marital life. Those days have passed into history: On September 21, Rizwanur was found lying dead near the railway track, his head smashed.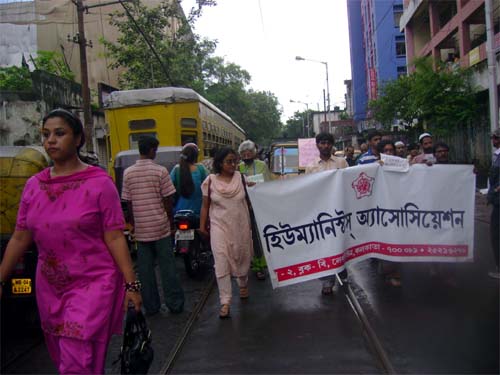 The city has been clamoring for justice ever since. The overwhelming feeling is that Rizwanur was murdered, or, at the very least, his death was not natural.

Rizwanur and Priyanka had got married in August under the Special Marriage Act, 1954. Priyanka's family found out about the marriage only after she moved into her husband's house. After that the police had been harassing them, thrice summoning Rizwanur and Priyanka to the police headquarters, 'advising' Priyanka to return home, and even registering a case of abduction against Rizwanur. Ultimately, Priyanka went back to her father's house, after her uncle gave a written guarantee that she would return to the Rehman household in a week's time. Before that happened, Rizwanur was found dead.
This is an old story told in many lands ' Laila and Majnu; Romeo and Juliet; Heer and Ranjha ' relationships that ended in tragedies because the individuals concerned had dared to dream and breach social norms. Now, it has happened in 21st century Kolkata. Kolkata is a city that prides itself for its liberal values. It was here that the first gay pride march in India took place (now an annual event) and where the first lesbian organization in the country ' Sappho ' was established.

And it was in this city that Rizwanur and Priyanka had dared to cross the boundaries of class, community and religion. Kolkata, however, is not willing to let this episode pass as another sad story of unrequited love. There is palpable anger on the streets among ordinary citizens at what is being thought of as the murder of a young man, and there is fury at the role of the police. As recorded by Rizwanur with the Association for the Protection of Democratic Rights, Kolkata, the couple had married of their own free will but were facing harassment from the police and being pressurized to dissolve the marriage. The public is outraged at the actions of the police - that a verdict of 'suicide' had been passed by the Police Commissioner even before investigations had begun!
However, amidst the steady stream of protests, marches, demonstrations, filing of an online petition and round-the-clock candle light vigils outside St. Xavier's College, where Rizwanur had once studied, one voice is conspicuous by its absence - that of the young widow, Priyanka. While the greater issue engulfing the city has been the arrogance of the rich and the anti-social role of the police, the defining one for women has been Priyanka's silence. While a Central Investigations Department (CID) team investigating the case, and, more recently, members of the State Women's Commission were able to meet Priyanka, the media has not had any access to her, neither has she come forward with any public statement.
This silence is felt to be emblematic of a larger issue. The Rizwanur-Priyanka case has thrown up many issues - the role of the police as moral guardians; inter-community marriages; and the intrusion into the private space of individuals by the many institutions - family, society and the state. The overarching issue for women, cutting across all sections of society, is the issue of a woman's right to sexual choice and autonomy over her body. And Priyanka's silence seems to confirm women's inability to articulate their authority over their beings, their lack of voice in asserting their ownership over themselves.
"The marriage was between two consenting adults," points out Samita Sen, Director, School of Women's Studies, Jadavpur University. The state guarantees the right of adults of two different communities to enter into the marriage of their choice by making provisions under the Special Marriage Act. "Yet, the way the father intervened showed that though Priyanka is 23 years of age, there is no coming of age. She is her father's property."
Concurs Ishita Mukhopadhyay, Professor of Economics and Director, Women's Studies Resource Centre, Calcutta University: "The father has every right to communicate with his daughter and to present his point of view, but never to interfere in a choice that she has made. An adult is perfectly capable of making her own choice."
It is this issue of a woman's right to choice that has emerged as the most vexing one. "The case has brought to the fore the patriarchal concept of 'guardianship over women', " says Krishna Bandhopadhyay, an activist and editor of 'Khoj Ekhon', a Bengali publication dedicated to women's rights. "The parents, the police, all connived to act as Priyanka's moral guardians, depriving her of her independence to marry a person of her choice."
The Rizwanur-Priyanka marriage was both an inter-class and inter-faith one. Rina Mukherjee, a Kolkata-based Hindu journalist married to a Parsi, and who faced a lot of opposition from her extended family, is of the opinion that while faith may not be the overriding concern, a similarity in the socio-economic status of both partners is important for a successful marriage. Gender economists point out things may have turned out quite differently had Priyanka's family been economically dependent on her.
Mukherjee further feels that women play an important role here "if they assert themselves enough they can emerge the winner", pointing to her own successful marriage.
The tragedy has spurred women's groups and individuals to engage with an issue largely left untouched by civil society and the media - women's right to sexual choice. On September 26, intellectuals walked in a silent march to protest Rizwanur's death and police involvement. About 500 women from all fields of life - media, films, activism, academia, and even homemakers - participated, walking shoulder to shoulder with mostly Muslim men. Eminent litterateur and Magsaysay award winner Mahasweta Devi demanded the removal of Kolkata Police Chief Prasun Mukherjee.
Publications 'Khoj Ekhon' and 'Ahalya' are planning a media campaign on women's right to sexual choice. Jeevika, an NGO working with grassroots women in West Bengal, is planning a series of street plays dealing with the issue. Women'sSahayog, another NGO working for women's empowerment, will hold its annual seminar on this theme. Meanwhile, the School of Women's Studies, Jadavpur University, is mulling over the idea of holding a workshop dedicated to the right to choice, while Maitreyee, a network of women's organizations and individuals in the state, intends to observe December 10 - Human Rights Day - as the Right to Choice Day.