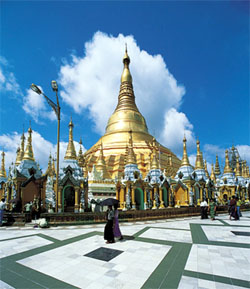 After Somerset Maugham first glimpsed the Shwedagon Pagoda in Burma's capital city of Rangoon, he wrote this description: "All about, shrines and pagodas were jumbled pell-mell with the confusion with which trees grow in the jungle. They had been built without design or symmetry, but in the darkness, their gold and marble faintly gleaming, they had a fantastic richness. And then emerging from among them like a great ship surrounded by lighters, rose dim, severe, and splendid, the Shwedagon."
I have been to the Shwedagon. I've seen the monks and nuns, the pilgrims, the random visitors circling its majestic golden stupa at daybreak. I know the peaceful power of that place, and that country's people. And my heart is breaking for them.

I went to Burma, now Myanmar, in 1988 for my work. At that time, I was engaged in public health education, and so I met a woman, a doctor, called Daw Kin Tar Tar and we became friends. It was she who took me to the Shwedagon at break of day. She also took me to Syriam, via a ferry on the Irawaddy River, and later saw me off when my work was finished and I left her country. "Next time," she said, "I will take you to Mandalay and Pagan!" But I knew soon enough that there would probably not be a next time, for only a few days later, a military coup took place and the leader of Burma's armed forces seized control of the government.

I think of Tar and her two daughters a lot now. And of the people - my Burmese colleague's family - who took me to their home for dinner and to the Saturday market while I was there. I recall the pleasant chaos of that market day, the streets jammed with pedestrians, vendors, carts and kids. I remember the women in their native sarong-skirts and Asian blouses, their black hair pinned neatly at the nape of their necks, swaying gently up and down the road. I see the teenagers, arm in arm; and once again, I can sense the pervasive serenity of a country whose history is full of brutal repression.

And I think of Dr Cynthia Muang whom I met when I visited her public health clinic for Burmese refugees in northern Thailand only a little over a year ago. How clearly I see her and the faces of the multitudes she serves! How deep their pain must be as they await news of family, friends and country! I remember the women I met from the Burmese Women's Union and the Shan Women's Network. The stories they told me still break my heart - and now this.

Sometimes, when you haven't been to a place, haven't met its people, shared its customs, laughed with its children, it is hard to imagine that place as real and pulsing with daily life. But Burma is very real and its recent history is chilling - including the long house arrest of 1991 Nobel Peace Laureate Aung San Suu Kyi, the face of hope in that country.

Two years ago, in a mysterious and secretive move, the military junta moved the government headquarters from Rangoon (now Yangon) to a remote mountain enclave, perhaps because they feared the rising democracy movement. In September 2007, the junta released a draft constitution ensuring that the military would continue to have absolute control. In a stunning show of defiance, widespread and peaceful pro-democracy protests began, growing over a period of several weeks. Buddhist monks began to get involved when government troops used force to disperse demonstrators. On September 26, government troops began cracking down on protesters, firing into crowds, raiding pagodas, and arresting monks. A Japanese journalist was among those killed.

Petitions have been circulating on the Internet in support of the Burmese people. They range from messages of support directed at the UN Security Council to attempts to influence the Chinese government, slated to host the 2008 Olympics and, therefore, worried about boycotts, to apply pressure to its trading partner.

But here is a message many people may not have seen as they surfed the web. It came to me from a friend in Chiang Mai, Thailand, and was circulated by a friend of hers on October 1: "We just got a phone call from our sister in Yangon. BBC says that 200 monks were arrested. The true picture is far worse! A troop of mercenary riot police protected by military trucks raided a monastery in Yangon today. They systematically ordered all monks to line up and banged and crushed their heads against a brick wall. One by one, the peaceful, non-resistant monks fell to the ground screaming in pain. Then they tore off the red robes and threw them all in the military trucks like rice bags and took the bodies away.

"The head monk was tied up in the middle of the monastery, tortured and bludgeoned. He died the same day. Tens of thousands of people gathered outside the monastery warded off by troops with bayoneted rifles, unable to help their helpless monks being slaughtered inside. When it was all over, only 10 out of 200 remained alive, hiding in the monastery. Please tell the full extent of the fate of monks, please! 'Arrested' is not enough expression. They have been bludgeoned to death!"

My heart is breaking for Burma. Dare we hope that the tens of thousands of brave people there who demonstrated may have started a groundswell on their long and lonely road to self-determination?