Cricket is played in every nook and corner of the country. In India, Cricket is a religion. Kapil Dev's 1983 world cup victory, threw open sports as the potential faculty for early fame and money; in an otherwise not so sporty nation. However, beyond T20, IPL and professional cricket, is the Street Cricket, which has its own rules.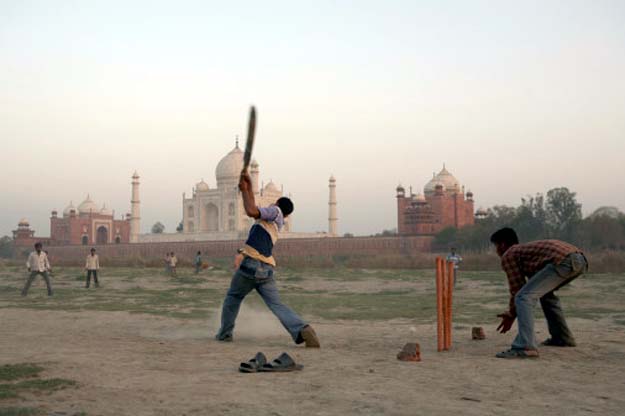 Street Cricket is one outdoor sport, popular in slum streets (Gali), in verandah of row-houses, in back-lanes of apartment complexes and colony parks of developed localities. But it is best played in parks giving just enough space to manage a cricket-like affair. Street Cricket is most flexible in rules of the game but some common practices have already evolved and accepted.

Demands of urbanization have made parks compact. Coupled with beautification and walking tracks, they are not worthy enough for most outdoor team sports. Still, children make their way, adjusting against odds, trying to find mates to play. Folks get together, and cricket is on. After all to play cricket, all you need is two men ' a batsman and a bowler; and two things ' a ball and a bat!

Not much has changed in the rules of street cricket, as I relive my childhood while playing with my son; and pass on the tradition called cricket. In this review, I shall narrate my experience with my son; and as I observe other children play.

Playing cricket is one quality time I spend with him. On most holidays, I and my 8 year old son, Aditya, go to the park to play cricket. Just like a true sportsman, he has a knack for many games, but cricket is his favorite. Young blood, he likes batting.

I am able to get him out in every second or the third over. Obviously I do not get my chance to bat and we do not take turns, for he takes turn after turn. He remembers the names of most Indian cricketers. Since Dhoni is his favorite, he opens the innings saying 'Dhoni will now bat'. Once Dhoni is out, Sehwag and Gambhir follow. Thereafter, the order is mixed.

We play cricket with a Tennis ball. Normally, a tree serves for a wicket. If some other group of kids have already occupied that space of the park, we take refuge in another corner and place two stones to indicate the wicket. Last year when I started with him, he would insist on a much shorter distance between wickets, but now it has become good 18 to 20 yards, depending on space available in park.

On one of the Sunday's last month, he insisted on wearing the battling gloves and pads his aunt gifted him on his birthday. He wanted to dress up like a 'Real' cricketer so he also added to his make over, a cap and goggles. He walked down from home to the park in vicinity with much enthusiasm. On our way to the park, we talked. He was in full mood to blow my bowling apart. Tied up, he took his stance and played a few balls with much difficulty. He gave up on the pads soon. A few more balls, he took off his goggles since he could not spot correctly a very loose ball. Another two deliveries, he felt gloves were making his hands heavy and not giving a good grip. Next ball he played well and ran to steel a single. During his sprint, the cap fell. I picked it up to place it on the stone that indicated bowling end. Now without any cosmetic baggage, he took charge again on my bowling and hit some really eye pleasing shots.

He takes guard very close to the tree trunk that serves as wicket. His bat often hits the tree if he goes on back foot and tries to stroke with high lift bat. So the rule is simple, not out on 'Hit Wicket'.

Most umpires in real life matches have lost grace by giving dubious Leg Before Wicket (LBW) decisions. So in street cricket, LBW is not there.

Sometimes other children in the family also join in and we form teams. 5 kids and 2 adults is what makes our playing family. So two teams are formed, with 4 on one side and 3 on the other. The team that has a lesser player, gets to have 'Double Chance' for the youngest member. Moreover, when the team with lesser players is fielding, the batting side has to provide the wicket keeper.

Last Man rules are also in place. When all players get out but one, the last man batting runs without a runner on opposite side. So the rule is that the Last Man can score through running only by taking atleast two runs as he is supposed to come back to his batting crease. A single run to the Last Man is not allowed, but he can be put to Run Out on either side of the wicket.

Upto 4-5 people playing, teams are usually not made. Everyone takes turns to batting on the basis of numbering agreed for each player. Number 1 to bat with Number 2 as runner or sometimes only the Number 1 to bat until he gets out, only then to be followed by Number 2 for batting. The last number to begin bowling and reverse order to be followed for bowling. Every player is an All-Rounder. On his turn to bowl, a player cannot say that he would not bowl because he would only bat. However, on the excuse of a sprain, he can 'Pass' his chance of bowling to the next in queue. Sometimes a 'No Ball' may count for an additional run, but usually a 'Wide Ball' would go only for an additional ball, but not for additional run count. With lesser number of fielders available, batsmen charge on every ball mostly scoring through boundaries. Also, 'Throw Ball' is a valid ball and full arm action is not compulsory.

Batsmen have to be cautious while trying big hits. 'One Tip One Hand' is usually the rule to catch the ball. If a direct clean catch is not possible, let the ball fall. Catch the ball with one hand on the bounce before it touches the ground a second time. This is called 'One Tip One Hand'. Ensure that the ball is only caught by one hand and does not take support of other parts of body. Even if caught by one hand but ball touching another part of body, it would be called 'Body Touch' and not considered a clean catch. Hence advantage the batsman.

Most grounds are not large enough to accommodate bowling from both the ends. Hence, only one end is used for bowling and batsmen change turns after the end of over. Yuvraj style is not welcome. There is always the danger of loosing the ball if it goes outside the park fencing. Big hits can also damage vehicles and glass panes of houses across the fence. Thus to discourage sky shots, a Six hit is given as Out if the ball lands outside the park fence.

Since there are lesser fielders to help fetch the ball, restrictions on shots that can be considered for scoring are put in place. If number of players are less, shots on 'On Side' do not count for score. 'Back Side' runs are also not allowed if the ball is edged behind the wicket. If number of players are even less, that is just two or three, then wicket keeper is not provided and the batsman has to fetch the ball if it travels behind the wicket for any reason. It actually irritates the batsman, if he has to fetch the ball too often due to wide balls coming frequently. Guilty bowler stands abused!

Live life the Cricket Way! What prompted me to script this commentary is an utterance of my son on way back home after an hours play. Everything today went his way and I couldn't get him out. As I applauded, he said, 'I wait for loose balls to strike and defend good ones. Its not necessary to score on every ball. In a long inning, I can always score big so long as my wicket is intact'.

Street cricket is here to stay. A breeding ground for professional cricketers of future. Teaching them the craft without academy and inculcating unpretentiously, all the important qualities of the sport and sportsmanship.