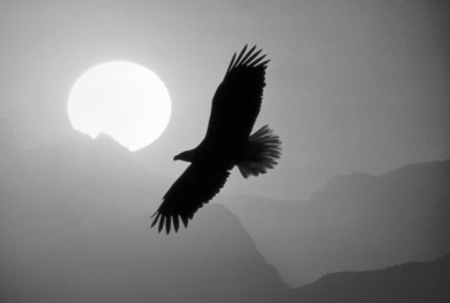 Desire to become self-sufficient and self-reliant, an urge to grow and a keen sense of adventure are the main reasons for one to uproot oneself from one's homeland and migrate to distant places. In some cases it can even be that the homeland does not offer enough opportunities of work or avenues to one's personal and professional growth that one opts to migrate. In extreme cases, man can also be akin to migratory birds who fly from one continent to another, simply because they have to survive the onslaught of nature's fury and when situation is normal, they fly back "home". Political upheavals are another cause for man to leave one's homeland.
Eventually, it is a case of socio-economic imbalance that motivates or forces a person to migrate and move on. The migration may be from a village to a town or from a town to a big city. With the world becoming a small global village, migration from one country to another has taken place in a large scale in the last 250 years. One may also feel that as a process of one's evolution and personal growth, migration eventually becomes a necessary step.
Yet, everyone does not take this step. It is taken by either those who are willing to pay the price for what they desire to achieve or by foolhardy adventurers who believe that the grass is greener on the other side of the fence. People in the latter category, in most cases, are lazy, procrastinators and pure opportunists who want to get things without making any efforts.
Alien land is not the homeland. As my grandma would say, when I migrated from Delhi to Bombay "Pardes mein pani badal jaata hai ... log badal jate hain" (Water changes in the alien land thereby people change). It is true there is a marked difference in the environment, people, culture, language and living patterns. It takes a long time for one to adjust to this new environment. For the locals to trust a new face is not easy and neither is easy for the "new" face to immediately feel a sense of belonging with the locals.
From finding a job to a roof to call "home" one finds oneself to be vulnerable and victim of circumstance. An aura of insecurity and uncertainty looms large all the time. And for a majority of migratory "birds" it is frustrating and discomforting.
History is witness to the fact, however, that those who chose to migrate and remained aware of the price to be paid are the ones who made the process of migration a successful one. They upgraded by adapting, further education and hard work to become one with the mainstream of society - even in an alien land.
Necessitated by the survival instinct, the successful immigrants are found to shed their erstwhile inhibitions and exhibit tremendous willingness to undertake jobs, which they would have otherwise shunned in their homeland. The concept of dignity of labor becomes clearer and the meaning of life crystallizes. Some may call this adaptability self-sacrifice, but in truth it is a stepping stone towards a prosperous and happy life for their immediate families and future generations.
I have been an immigrant myself. First, when I with my wife migrated from Delhi to Bombay at the age of 25 and second from Bombay to New York at the age of 38. The latter time with two children, then 10 and 9 respectively. On both occasions it was total chaos and confusion. A Punjabi was not easily acceptable by the Marathas and Gujjus of Bombay; an Indian was vulnerable and an alien in the land of opportunities. We did have to pay that price of rehabilitation and undergo many tests of adaptability, adjustments and uncertainties. But, on both occasions, we achieved what we had aspired and dreamt of. A better life style, a better future for our children and a tremendous sense of self-satisfaction.
Indeed, like the migratory birds, we dared!. We soared and treaded the untried and uncertain path ... and we enjoyed weaving again our dream nest, that we call home.