"I grew up in Buenos Aires, Argentina, and spent a great deal of time in the Orthodox synagogue where my grandfather was a founder member and my father played an active role in the services. My father knew the synagogue customs. Sitting next to him meant following everything meticulously and being part of the service.

"When I came of age - termed 'Bar Mitzvah' in Hebrew - I had to sit among women in the 'Ezrat-Nashim' (women's gallery) of the synagogue. I felt I had been placed in a second-class category. I was no longer involved with what was happening downstairs where the 'action' took place."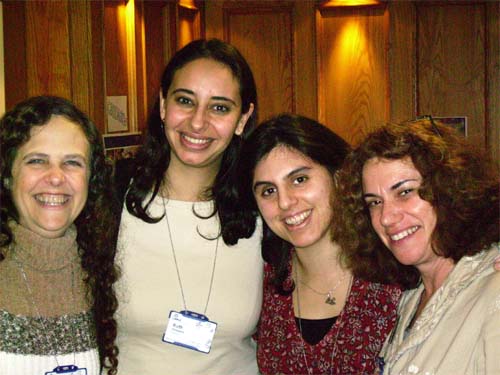 Rabbi Diana Villa, 51, one of the few women rabbis in Israel, began questioning Jewish gender issues after coming in contact with the Jewish Conservative movement when she was in her 20s. Conservative Judaism is a modern stream of Judaism that evolved in the United States in the early 1900s. It is characterized by a commitment to a deliberately non-fundamentalist teaching of Jewish principles of faith and by a positive attitude towards modern culture.

Villa, who neither delivers sermons nor addresses religious congregations, teaches the pure spirit of Judaism at the Shecter Institute of Jewish Studies, where she was ordained as a rabbi. Ironically, while some of her male students are now rabbis, the ultra-Orthodox rabbis still do not recognize women rabbis. Assures Villa, "In national religious circles, while some may not recognize my ordination, I still enjoy their respect and even work with them towards common goals."

Women in Israel are being ordained since the 1990s. However, it is still a relatively new phenomenon, with many having never met a woman rabbi. Working alongside other rabbis, Villa is active in a coalition that is trying to influence members of parliament, rabbinical court judges, rabbis, and other groups to change laws in order to free women from difficult marriages.

Talking about how beliefs are reinterpreted over time, Villa says, "Our vision of God, the Creation, the nature of the Revelation and so on is influenced by history and philosophy."

To prove her point she explains with an example. "The 'mehitzah' or the screen between men and women in synagogues has become so sacred in the Orthodox world. Removing it signifies a break with Orthodoxy. Yet, the only mention in rabbinic sources of a separation between men and women is in the Babylonian Talmud. There it says that, according to a rabbinic enactment, a screen was erected every year on Sukkot (the harvest festival). The purpose of the screen was to segregate men and women before the Water Drawing festivities.

(When the Holy Temple stood in Jerusalem, one of the special 'Sukkot' observances was to pour water on the Altar. The drawing of water for this purpose was preceded by all-night celebrations in the Temple courtyard, where sages danced and juggled burning torches. At daybreak, the procession would make its way to the Shiloach Spring, which flowed in a valley below the Temple, to 'draw water with joy'. The sages of the Talmud believed that, 'One who did not see the joy of the water-drawing celebrations, has not seen joy in his life.') This would prevent any 'frivolous behavior' that might occur as a result of the festivity. "This screen or gallery was temporary, limited solely to the duration of the festival. However, Orthodox rabbis tried to prove that this was Biblically ordained," Villa says.

Villa states that archaeologists have never found a 'mehitza' in ancient synagogues and that women's sections do not find a mention prior to the 11th century. Most Orthodox Jews explain that sitting next to members of the opposite sex in a synagogue is a distraction. Villa points out, "One is meant to concentrate on the service. From my experience in a modern Orthodox synagogue, where many young people participated and were constantly checking out the opposite sex across the screen, separating the sexes can have a completely opposite effect."

In another criticism of the Orthodox perspective, Villa speaks of the unfair demands on women and their dress code. "Men do not have nearly as many restrictions. For example, no one demands that not a strand of hair should be seen under a man's hat."

Villa also throws light on new winds of change pertaining to women and religion. "Since modern Orthodox women, too, get enlisted in the army or into national service, after which they study and only get married in their late 20s, some have pre-marital sexual relations with their partners. Now, since the only Biblical problem to such a relationship is the prohibition of a couple being together without observing purity laws after the cycle of menstruation, such women observe the rituals, including immersion in a 'mikvah' (ritual pool). An article published last year by Professor Zvi Zohar, saying that being together without marrying may be considered valid under Jewish law, elicited an uproar from the Orthodox rabbis. However, young couples often decide for themselves based on their own understanding of Jewish law."

Acknowledging that even Conservative congregations are not ready to hire a woman rabbi, Villa says, "We still have a long way ahead of us as women rabbis until we are fully accepted even by secular society." Yet, she is optimistic and encouraging when she advises women rabbis: "Do your job as well as you can, and do not let anyone berate you or disrespect you just because you are a woman."