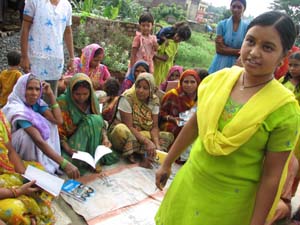 In a small, nondescript village in the Vaishali district of Bihar, Vandana Kumari, a college student, teaches illiterate women to read and write. She also teaches them sewing and embroidery. All this she does for her own satisfaction and for the sake of community development. Like several other girls in her village, Vandana is a part of the Meena Manch (the Meena platform) - the fora of school and college girls who take time out from their academic schedules to promote and impart education among those less fortunate.
The initiative has been inspired from the iconic animation character 'Meena', created by UNICEF as part of the Meena Communication Initiative to foster the rights of the girl child. Incidentally, Meena Manch groups have been set up in all middle schools in the state and at the village level.

At the village level, college girls are members of the Meena Manch and impart basic literacy to the locals. Vandana, Tinku Kumari, Anuradha, Nitu Kumari and Sudha Kumari of Bhikhanpura panchayat (village council) teach the women and children of the village whenever they have the time. On their part, the women make it a point to attend each session, usually held for about a couple of hours a day at a common meeting place.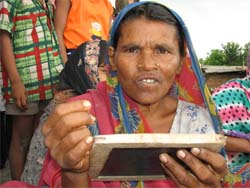 Take the case of Shakuntala Devi, 40. A mother of six girls and three boys, she has numerous responsibilities and is always hard pressed for time. But Shakuntala does not miss a single class, sometimes even attending with her six- month-old granddaughter in tow. Another familiar face is Chinta Devi, 60, who can now write her name - and is mighty thrilled about that.
While the beneficiaries are all praises, the girls are happy with the good work they are doing and the positive change they are ushering into the lives of these women. The 'manch' tutors have thus become more confident as they feel useful and wanted. They can spend their time judiciously in activities that benefit them as well as the society. "Besides benefiting the women, my teaching has a great impact on me as I feel it adds to my development, too," beams a proud Anuradha.
At the school level, Meena Manch tutors are students aged from 11 to 13 years. These middle-school children are highly motivated and work as a team to increase enrolment and attendance in their schools by inspiring parents. They also spread awareness about issues such as the evils of child marriage or the importance of imparting education to the girl child. Another task is to regularly keep a track of absenteeism, creating pressure on parents as well as children. These school students also often fill in for absent teachers of the junior school!
However, one of their key activities as members is to teach illiterate children in their localities everyday, before and after school. All the 30 'manch' members of the Rajkiya Madhya Vidyalaya in Chandpura Nanhkar diligently put in a couple of hours in the evenings and also before going to school.
Sarita Kumari, a class seven student of Rajkiya Madhya Vidyalaya, teaches illiterate children between 8 and 9 am before attending her regular classes. She handles a diverse group of children aged between six and 18. They all appreciate her efforts and she says she feels "nice teaching them". Fellow classmate Priyanka Kumari feels great when she is praised for the good work she is doing. She teaches about 20 children from the socially excluded community of her area and encourages them to join regular school. Most of her students graze cattle, cut grass or help in the fields for a living. Then there is Tripti, who is in class eight. She teaches children to paint whenever she finds time.
All this good work is done under the guidance of adult teachers - Meena teachers - and with support from parents. A Meena Mantri (monitor) is also appointed in each school to oversee the activities of the group. The girls hold weekly meetings to discuss the progress of their various wards, besides participating in debates and enacting plays on the theme of literacy.
Through the efforts of Meena Manch, the Sarva Shiksha Abhiyaan (Education for All movement) is going from strength to strength. (The Sarva Shiksha Abhiyaan is a flagship programme of the Government of India for the achievement of universalization of elementary education in a time-bound manner. The programme aims to achieve this goal by 2010).
As a result of the dedication of the 'manch' members, the Desri block in Vaishali district, has registered 100 per cent enrolment and there is 93 per cent attendance in schools because of the coordinated efforts of the young teachers. The popularity of Meena Manch shows that the lessons have truly made a difference.