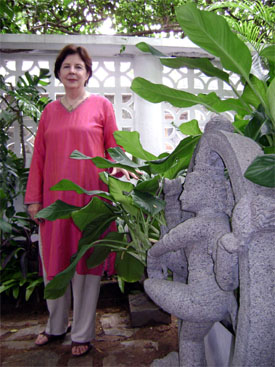 At 64, Deborah Thiagarajan is a very busy woman. It's always been hectic for this soft-spoken woman but she displays no signs of slowing down. "There's just so much to do. This year, I want to focus on Karnataka. A big part of the state's rich culture still remains unexplored," she says. Coming from an 'angrez' (street speak for 'foreigner') this statement does sound a bit odd. But when the speaker is the founder-Director of Madras Craft Foundation and DakshinaChitra, a happening place that showcases traditional South Indian art, architecture and culture, her declaration doesn't seem outlandish.
It has been 37 years since she first set foot in India as industrialist Karimuttu Thiagarajan's American bride. "It was so different then. You had to wait to buy a car. If you wanted furniture, you had to have it made," says Deborah, reminiscing about the time when they were setting up their home in Chennai.

Life was more tedious then but it must have been tougher for this young American to adjust to a completely new lifestyle. "Luckily, I could ignore the negatives and enjoy what India had to offer. I studied music, learnt Yoga, practiced how to tie a sari... it was one big adventure," she recalls.
The 'adventure' brought with it many opportunities to make a difference and Deborah chose to do just that: She became a culture-keeper. In 1984, she established the Madras Craft Foundation (MCF), a non-profit, non-governmental organization, with DakshinaChitra - an interactive centre highlighting the art, craft, architecture and folk performing arts of the four southern states of India - as its main project. Why only the southern states, one asks. "Well, India is too big to handle," she replies.

Establishing even this cultural hub was easier said than done. Deborah had to cajole the government machinery for an entire year before being granted a lease for 10 acres of land outside Chennai, which was to serve as a base for her dream project.
Next in line was garnering funds to fuel the ambitious plan. This was taken care of with generous grants from the Ford Foundation in 1988 and the Development Commissioner of Handicrafts, in addition to donations from corporate houses. Deborah roped in renowned architect Laurie Baker, who designed DakshinChitra in keeping with his philosophy of empowering masons and craftspeople.
DakshinaChitra, which literally means 'a picture of the south', opened its doors to the public in 1996. For an entrance fee of Rs 50 (US$1=Rs40) for adults and Rs 15 for children - there are separate tariffs for overseas visitors - people can visit the latest exhibition, interact with village artisans or enjoy folk performances in the 17 heritage houses. There are also simple hands-on activities that can be given a try, like pot painting, pottery, basket weaving, applying 'mehendi' (henna) on the hands, block printing, Peepul leaf painting and palm leaf craft.
Due to its many attractions and interactive approach, DakshinaChitra has become a major hit with both foreigners and locals. "About 50 per cent of our visitors are locals. This is critical. Without local interest, Indian heritage will not survive," explains Deborah. The stupendous success of the project prompted Ashok Chatterjee, the outgoing president of the Crafts Council of India, to remark: "DakshinaChitra is much more than a heritage keeper, it is a living organism that grows and diversifies."
But Deborah's contribution to the world of South Indian art and culture does not end here. She firmly believes that there is an urgent need for creative, skilled and professionally qualified managers with a deep and real understanding of culture to manage places of heritage. "We need qualified people to keep DakshinaChitra - or any other cultural centre for that matter - going and also to help it to move successfully into the future," she remarks.
"The centre has both villagers and new age consultants working together and they are all committed to culture. And I think that's the reasons it works," she adds.
MCF is now offering a one-year post-graduate diploma in arts management at DakshinaChitra. The course accepts graduates from any discipline. However, an interest in art and culture is a prerequisite. Students carry out project work and attend theory classes that initiate them into the world of art, design and visual thinking. The course enables them to make a mark for themselves in service sector organizations that promote the arts; museums; art galleries; public relations; and event management companies. The one-year diploma also leads it students towards entrepreneurship in design and craft development.
Deborah has also set up a library and a special archives at DakshinaChitra, housing 3,500 books, a vast collection of photographs, CDs and video tapes. "Preserving material on traditional architecture is important because it gives you an idea about the community's culture and lifestyle," she says.
For someone who has gone that extra mile to preserve an ancient heritage, Deborah initially did not have culture on her mind. She had her heart set on a career in rural development. "As a social worker, promoting the noon-meal programme run by the Tamil Nadu government and CARE (a leading humanitarian organization fighting global poverty, with a special focus on poor women) in the villages of the southern states, I came across many folk arts fast dying for want of attention. At the same time, being married into the Chettiar community ensured that I was exposed to the rich classical arts that the Chettiars have traditionally patronized. I was lucky to have been able to have a glimpse of both sides of the story," she says.
While Deborah's change of heart and the creation of DakshinaChitra must have been a loss for rural development, it certainly has enhanced the worth of those associated with South Indian heritage.