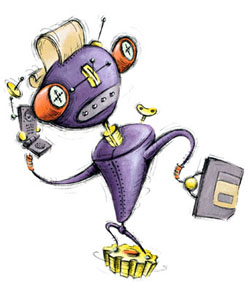 I often hear people ask me, I work hard - So why ain't I rich.
In the beginning, nature provided humans with the fruits of the forest. After long arduous tasks, adventurous hunters located delicious delicacies and brought them home for their tribes to enjoy.
In to-days world, we only have to go to the shopping mall or supermarket to find a great array of choices. However, to be able to afford all the goodies, we need a commodity called money. Therefore, we require access to, the delicious fruits, in the forest of our mind, to be able to afford the luxuries of life. The neuron receptors of our brain are the trees of knowledge that can spark our prosperity, once we understand how to access the wisdom that nourishes them.
If we sit in our hut, finding work a hard slog and say, I want the world, given to me on a plate, we will sit there for a long time. Eventually, we will die from malnutrition of authentic wisdom, whilst we moan and groan how unfair the world has treated us ... However, if we pursue our hearts desires with universal wisdom, we will find the fruits of our labor very rewarding.
That said, all the treasures of natural beauty, joy and love, is freely available on a daily basis, but it seems to be taken for granted by too many people... Thus, it does not give the awareness of any true, lasting value to them.
So, simply put, to answer the question, "Why can't I become rich."
The answer is; "You are rich right now, just become aware of who you are."