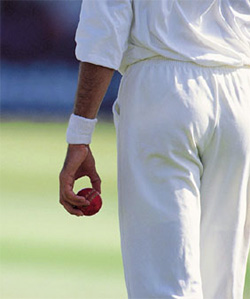 I possess less than a passing interest in cricket. This might be unusual for a man of my age, or any age today. But it would be more damaging to admit it in public. Won't I be mistaken for an aborigine amidst urbanites? After all, the cobbler on the footpath, the laundryman round the corner and the greengrocer in the neighborhood try associating themselves with this game by at least asking the latest score. This might be their method of identifying themselves with 'elite brigade of cricket connoisseurs'. Like 'Secularism' in the political sphere, Cricket rules the apolitical sphere of our national life. Rarely, someone prefers to be seen on the wrong side of the divide.
My disinterest in cricket is, however, more acquired than inborn. I distinctly remember those days in mid and late 1980s, when I relished skipping school to see an ODI on television. Those were the days of Krishnamachari Srikanth, Kapil Dev, Vengsarkar, Ravi Shastri, Mohinder Amarnath, Azharuddin etc. And who could forget maverick Chetan Sharma whose hat trick against New Zealand endeared him to cricket lovers as much as his spitfire century against England. But I know the country has not forgiven him yet for conceding a sixer to Javed Miandad in Australiasia Cup finals at Sharjah. At the chautah obituary of Raman Lamba (February, 1998) at Hindu Mahasabha Bhavan in Mandir Marg, a retired Chetan Sharma was sitting in front of us. My companion, after the function, chose to remember Miandad sixer rather than the hat trick or his sole century.
I remained a cricket-watcher until the Willis World Cup, 1996 held across India, Pakistan and Sri Lanka. Shocked at India's abject surrender in the semi-finals against Sri Lanka, I enjoyed when Eden Garden crowd loathed the Indian side by pelting bottles and hurling abuses. Most find it 'uncivilized' but I found it befitting and took pleasure in Lankan victory. I doubted, rightly or wrongly, it was a case of match-fixing, years before that concept became a popular cricket scandal. But then Pakistanis also suspected the same after losing to Australia in the finals of 1999 World Cup.
The year 1996, if I am not mistaken, heralded the explosion of cricket tournaments in the subcontinent. From a seasonal affair, cricket became a perennial affair in the 1990s. The progressive intrusion of cabal television made it a daily affair. In Doordarshan era, it was not always possible to see India playing abroad. After the advent of cabal television it became routine to see West Indies playing England in Barbados, or South Africa battling Australia at Cape Town. I decided it was time to log off.
Now my objection to cricket is that it has made us a nation of armchair sportsmen. We don't care whether any open field is left for children to play. Or are they been grabbed by land-mafia or infiltrators from Bangladesh. Sometimes cricket becomes a war (like India-Pakistan semi-final at Centurion, South Africa, 2003) at other times celebration of phoney fraternity across Wagha. Cricket has become the opium of masses in India. Had Karl Marx been alive today, he could not have agreed more.
Cricket can overshadow national events. Ashish Nehra's injured finger could become the lead news in the evening. In February, 2003 the Congress' comprehensive victory in Himachal Pradesh legislative election became a non-event at night as India trounced Pakistan in the world cup semi-final. Had India won the last world cup finals against Australia, the Nadimarg massacre of Kashmiri Hindus, would have been whittled to a footnote in next day's newspaper.
A cricket match, to me, is no more consequential than a videogame. Outside this small circuit of cricket playing nations, football reigns in full glory across the world. Therefore I refuse to be a part of the blue billion. I would not buy Sourav Ganguly's appeal to cheer India on cricket field. I remain cool as a bottle of Pepsi is to Sourav's fate in Indian team.