I couldn't say why the happy little ceramic figure of a pig sequestered amongst the plantings in front of an American-style restaurant here in Taiwan caught my attention the other day as I walked down the street; or why I snapped a photo of it. Only when I got home and transferred the image to the computer did I notice all the dollars in the pig's lap. Strange I had missed this.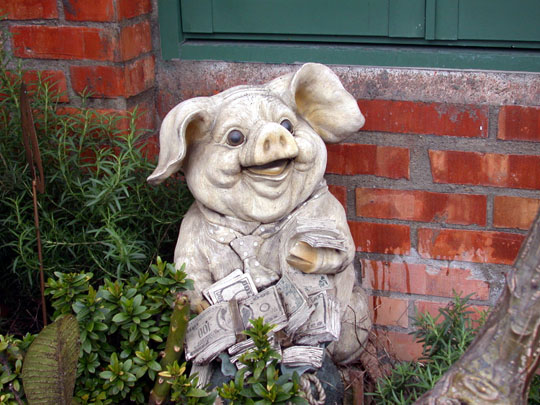 I looked closer now at the face and discerned a vulgar stupidity in the happy features. A bunch of money was all it took to satisfy the beady eyes and fat jowls. The figurine depicted greed. How appropriate it suddenly seemed that the hand was a hoof, the nose a snout, and the attire – spotted tie and all – that of an American executive.
Since coming to Taiwan I've felt increasingly estranged from the United States and the role it has assumed in the world. Many Taiwanese, who historically feel grateful to America and have a real love for its ideals, have privately expressed to me misgivings similar to my own.

Like the images that populate dreams at night, so many spontaneous gestures during waking hours reveal startling unconscious insight. That the owner of this American-style restaurant would choose this particular figure to display out front in the flower bed and that an American expatriate walking by with a camera would out of the blue snap a photo of it – could there be a meaning in such coincidences? Could some truth be slipping out here from the depths of the unconscious mind? Might some hint possibly surface from such insignificant happenstances as to what's gone wrong with America, that great nation that gave the world Ralph Waldo Emerson and Henry David Thoreau?
Now it produces corporate and government executives whose selfish and short-sighted actions offend simple hard-working people everywhere and incur the wrath of fanatic Islamic extremists. America sees itself as being on a mission to sanitize the world of evil. But it seems to many people that in so many instances by imposing its simplistic and self-serving notions on other countries and cultures America itself creates the conditions for evil to arise.
Why would the world's only superpower, so privileged already, feel compelled to twist every little thing to its own narrow advantage? How can it continue to elect leaders that even its closest allies find offensive and stupid? What's gone wrong with its mainstream electorate, the touted American middle class? One look at the photo I snapped of this restaurant figurine answers so many of these questions. It's a shame that the great United States of America, once the hope of the free world, and of broken, impoverished peoples everywhere, should come to such a pass. What use is there in being the richest and most powerful country in the world if it's only a nation of pigs?


William R. Stimson is an American writer living in Taiwan. More of his writing can be found at www.billstimson.com