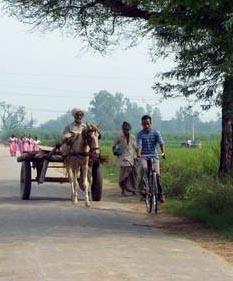 Even when I was in India , I never felt that strange pull that I feel now. I never felt that sudden desire to break all barrier and run to my roots. I never felt that deep desire to run across those muddy pagdandi once again, I never closed my eyes and remembered the sparkling water like aluminum foil on the sunny afternoon, running through the veins of the fields.
I never missed the green weeds swashed under my feet, those blunt leaves cutting through my skins while we chased each other. I believe my soul slept under the enthusiasm of teenage or maybe it was to bewildered by the bright of the city life that
it stopped talking and stopped demanding anymore.
I never realized that here, miles and miles away from my land I will be tied down to roots again. I cannot recollect how many times my present blurs away and I see those muddy thatched house where the smoke from clay stove would swirl out as the sun trailed away.
That star studded with bright stars and hazy nebulas and the crescent of moon peeping in from that palm tree that rose too high from our house. How many times I would taste the food on my tongue which came fresh from the "khet" that day.
I look outside my office window many times and I see those quiet trees staring at me and I feel lonely in my heart. Empty of those careless days, empty of those no-expectation and no-expecting days. When I was a nobody and nobody wanted anything from me. When I would just run around my whole village collecting raw mangoes in my frock .
That's the only childhood I remember, I don't remember my class, my school that much but I remember those days of being one with nature, a part of my village, part of those villagers.

The world has changed so much and so have I. I have not been to my village for so many years. But my family tells me that they have re-modeled that old house, that my grandfather is unable to walk now. I feel scared to face the reality. I still feel that everything will be what it was when I left them all. Same people smiling at me, the old house , even older Neem tree hovering all over the house, the fresh food, those same friends. But I know that it will not be the same. Still I want to be there. I want to feel that mud again on the soul of my feet. I want to see the harvest, golden wheat and yellow mustard, get drained in the rain and sail my paper boat again, hear my granny churning the buttermilk again. I want to be with nature again. I want to be with my roots again.