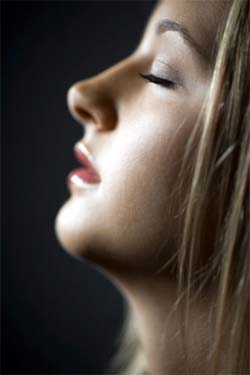 Today I would like to tell you about something which I haven't told you ever before. It is so surprising that I can perceive the demise of anyone I know, say 3-4 days before the death of the person, when eeriness sets in. I can't guess the person who would die, but be it in seclusion or flocked around by people, during that period, I get the feeling as if someone else is with me, whom I can't feel through any of my sensory organs, but he (I can't explain why I think It to be a 'He') comes to stay near me. He is made up of ethereal body. 'He' moves around me but how I perceive 'him' I can't explain that even.
But the moment the person dies, that eeriness as well as those weird feelings vanishes without leaving behind any trace of it. I feel relieved. As I have learned from different instances and situations from others, it is 'after' the death of a person that we might feel eerie, but for me it happens 'before' the demise.
It all started when in August 1996, I newly arrived in Sharjah and it being a totally unknown place to me, I was too scared to move around alone. I found comfort at home, so never moved out if not with my husband. But one afternoon I felt such a discomfort, such an eerie chill ran down my spine (mind you I did not see or hear anyone or anything) that I for the first time stepped out of my home, all alone, out in the scorching, blazing summer heat of the overhead sun of Sharjah – helplessly unaware of what to do. It was such a traumatic phase, I went through. Where so ever I went, but I just couldn't be at home and that's it! I don't know why but I couldn't tell my husband about this incident at that point of time. Fearing that he might insist me to go back home, I sat there in a nearby park, under a date tree, the whole day.
Ooff! It was so hot! In the evening I returned to sit in the lobby of the apartment, waiting for my husband to return. Seeing me there, he too was astonished but I faked saying that I was there to surprise him. After returning home I got back the tranquil again. That evening, we received a call from Kolkata, from my parents breaking the news that my beloved Granny passed away that very afternoon, and later I could relate the hour of her termination. She was suffering from malaria and I was not informed of the ill health condition to keep me away from worries.

That was the beginning. Since then who so ever I know passes away, casts a lot of fear and discomfort in me. My Grandpa breathed his last breath during my stay in Bahrain. He died of old age, suffering from no disease as such, but only weakness. Till the last moment he was talking. Then how come even before his soul departed from the body, I could feel someone's presence near me? There was as if another person living with me. It was such an unnerving situation.

My Uncle died when I was residing in Jordan. I knew he was suffering from cancer and was in the last stage. I could predict his waning days picking up hints from my past experiences. Once again there was some foreign soul dwelling with me, so near me that I could feel his touch as if yet not. He snooped in all my matters, yet nowhere to be perceived with real senses. All alone in my home, when in one afternoon I was working in the kitchen, I could feel the presence very strongly. It was very near me, peeping over my shoulder trying to pry on my activity from behind. This time I desperately wanted to comprehend the spirit and then gathering all my senses I waited with an activated mind to apprehend what so ever signal I can catch up with to bring to fruition the identity of this spirit. I desperately wanted to see it. All my rumination was shattered when I was startled when I could distinctly feel his breath upon my bare shoulder.
My heart skipped a beat and I swirled around to find nothing behind me. Horrified, I somehow managed to take the keys and ran to my neighbor's house, only to return after my husband was back. I narrated the incident to my husband but he only laughed at it. I felt quite humiliated and that night I had made up my mind not to feel afraid the next day. The next day too the inkling situation lingered, but I tried to dispense it with blasting music and gardening. I also invited a few of my friends for lunch. They stayed till nightfall and by the time they were gone my hubby was back too. But all this while of fun-filled activities I failed to ignore the ethereal presence. The next day seemed miraculously bright. All the worries gone, I felt an ambience of peace and emancipation. But then what I have learnt from my past experiences also ticked behind the back of my mind. But then without further justification I called up my mother to know from her how my Mama was doing? She asked me to guess. From what I have learned from my previous experiences, I told her that I thought he was no more. I was banged to realize that my forewarning was valid. He passed away the night before. I was very upset and wept the whole day, but did not sense the company of any unearthly being any more. I did not even feel the fear of any ghost after the death of Mamu. After this incident I resided in Jordan for another couple of years but never again felt such paranormal situation.

After that I next set up my home in Kolkata, amongst my known circle of friends and relatives. I thought may be falling prey to the solitude abroad, I happened to experience such incidents. But here too, one afternoon I was working in the kitchen and I felt someone pass by the door. I thought it was my Ma because we two were the only ones at home at that time of the day. She was actually supposed to sleep then, so I started talking to her, asking her if she way through with her afternoon siesta. But when she did not reply, I went out to check for her and was surprised to find her still fast asleep on her bed in her room. Then whose presence could I sense?
I ignored that incident until soon one evening I was in my room painting a piece of art. My Ma had gone to her friend's home with my son and only Papa was at home. It was the hot month of May so the AC was on and so my door was shut. All of a sudden I heard a knock on the door. I thought it to be my Papa and so asked him to come in. After a little while again there was a knock. So I had to come out thinking Papa couldn't hear me. But there was no one there! Sparing my room the rest of the rooms were in total darkness. Switching on the corridor light I went to my Papa's room to find nobody there. When I neared the main entrance, I found his home slippers near the shoe-rack. That means he was not at home. I thought may be he couldn't hear me from the other side of the door and so went out. But then what is it that he wanted to tell me? I called him up on his cell. He said that he knew I was busy with the painting stuff and so he had left for the evening walk quite some time ago, without even disturbing me. And he definitely did not knock the door! That very evening, pretty late I received a call from my friend that his father breathed his last breath a little while ago.

None of these abnormal happenings ever came without a subsequent cause. It happened once when I did feel encased in a similar sinister atmosphere, but then one fine day it all passed away, and no such message of death reached me. I have the habit of jotting down a few lines in my diary everyday. This deviant occurrence too was recorded in those pages. A year later as I sat to tidy up my bookshelves, I recovered a lost phone book. As I flicked through its pages I came across the phone number of one of my friends in Jordan. She was a Jordanian and was quite a good friend of mine. She couldn't speak in English but with the aid of my very little knowledge of Arabic, we had bridged friendship. She happened to love me quite a bit.
After a long gap I was to reconnect with her. I dialed her number excitedly. Her husband answered from the other end. When I asked for my friend, he shocked me with the news that my friend Khadejah was no more! She suffered a death from cancer a year back. I was deeply grief-stricken. All these days, never a day passed when I did not remember her. May be far away from my sight, but very near to my heart she resided. I never again contacted her after I left Jordan but I could never think that she would have died so young. When actually she no more, she reigned in my heart, hail and hearty. It was a real blow to my mind. After a few days I just sat to relate the last spectral event with the news of my friend's death. I was stunned to correlate that it was during that stressful period of my last mental turmoil that Khadejah departed from this life. What do you have to say about this?

Then again I am really moved with this recent happening when just last week, again that premonition phenomenon revisit. Especially when I used to go to sleep on the bed, I could feel uneasiness. I used to feel so helplessly scared that I made it a point so that my Mom would sleep with me. For a couple of nights, even with her by my side, I failed to get sound sleep. I could create a picture in my mind of a person standing very near my bed's head board – just standing and watching me. But I actually could see no one. Then just yesterday I got the news of the death of another uncle of mine. What is all this happening to me, can you tell me?

Apart from all this, there are instances when with no rational explanation, I seem to release weak electricity which I can feel of course, and also the other person whom I have touched. It leaves me with a stinging sensation on my finger tip when this happens. Till now it has happened around 4 times very prominently.

Believe me, all this has been happening with me and the spirit's presence alarms me and makes me feel very sick. I feel so helpless and weak. I don't want this to happen to me anymore. Why is it that I should get the sense of foreboding the hint of the demise of my known people? I feel very frightened of all this, but I haven't seen any ghost as such. I never had any dreams revealing the future. Am I the kind of individual with whom the deceased soul s want to communicate. Do they want to tell me something? If I can calm down my heart to pay attention to their indication, would they want to share something with me? I don't thing they would harm me. But then, why me? – why was I chosen to feel this way? I do wonder at times, am I the person whom I know… or may be a different being, still shrouded under many veils of un-enlightenment!