Kabul doesn't feel very different for an Indian despite the exotic landscape and it is not difficult to find your way around the city, since very many Afghans can converse in Urdu. This may be on account of their having spent time in Pakistan during the war or it could be just plain courtesy of years of watching Bollywood films.
A few days after my arrival here, on a certain day I took a walk from the Guest House where I was staying to the nearby Supermarket, and on the way noticed how vendors had occupied part of the pavement the same way they do in India to sell their wares which included Afghani snacks, suitcases, bags, books and posters.
I stood for a few minutes to examine the last of these and was not surprised to find several large sized posters of Ahmad Shah Masoud on sale. Masoud nicknamed the Lion of Panj Sher on account of the leading role played by him in driving out the Soviet forces is an iconic figure despite being controversial. You can see large hoardings of Masoud (assassinated in September 2001) wearing the traditional Afghani cap and President Karzai almost as soon as you come out of Kabul airport.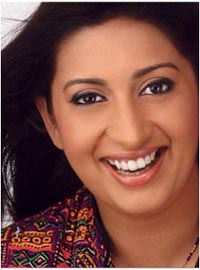 To my very great surprise however, just next to his poster, I found an equally large poster of a somewhat familiar Indian face. It took me a few minutes to recall where I had seen this face. I recalled it to be that of
Tulsi
, who appeared on one of the popular serials I had not watched while in India. My family members watched it diligently though and therefore while walking in and out of the television room her face had somehow registered in my consciousness. It was not a single odd poster that was displayed here, but the Tulsi poster was available in various sizes and dimensions to suit different requirements. Although DVD's of movies starring well-known, glamorous Indian actresses such as Aishwarya Rai and Kareena Kapoor are readily available in the nearby Dubai style shopping malls, their faces were conspicuously missing on the posters being sold on this roadside enterprise.
The following day I remarked on my discovery to Mohammad Yahya, 35, an Afghan lawyer who has become a friend. Yahya explained to me that Tulsi had become phenomenally popular with Afghans because of the serial
Saas bhi kabhi bahu thi
that had been dubbed in Dari and is regularly telecast on national television. Yahya informed me that everyone in his family stopped all work when Tulsi is broadcast and it was a time for the young and old in the family to all sit together and watch the latest happenings in the teledrama.
When I spoke to others in the city, including my driver I realized that it would not be an exaggeration to say that this was possibly the single most watched program on television. Tulsi was popular amongst the young and the old. Parents had even named newborn daughters Tulsi after the small screen star. Shopkeepers kept one eye on the television screen as they handed back your change to you if you were shopping during the Tulsi hour. Yahya remarked on how he met a sad looking neighbor and commented on his long face only to be informed that earlier in the day, Mihir (Tulsi's husband) had died in the serial.
The episodes being shown in Kabul are running a year behind the serial being presently telecast in India, and it remains to see whether it will continue to remain as popular here. By all accounts the translation into Dari is an excellent one and perhaps without it the serial could not have gained such popularity. The serial is immensely popular not only in Kabul but throughout the length and breadth of Afghanistan. On a short visit to Majar e Sharif in the north of Afghanistan, (only an hours drive away from the Uzbekistan border) I came down from my room on the first floor of the Guest house to wait for my driver in the lobby and found the staff all glued to the serial. My driver was late and a hotel employee who spoke Urdu was kind enough to translate the dialogue from Dari to Urdu.
Afghans have often asked me what Tulsi (Smriti Irani) was like in real life and I have been unable to enlighten them. Back home in India,
Saas bhi kabhi bahu thi
, was a serial I never watched though I did see my mother, father and sister in law's engrossed in it. To me it was just another soap opera. I had needed to come to Afghanistan to watch it and have it translated from the Dari in order to fully realize the impact and importance of being Tulsi.