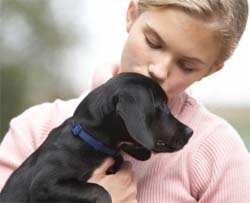 On the last day of school before our vacation started one of our teachers came to our classroom to announce that the dog which had given birth to the puppies, had died in a road accident, when a truck had ran over her the night before. So the motherless puppies needed a home. Anyone who was willing to give them shelter was asked to collect the helpless orphans back home. Being an ardent animal lover I readily thought of accepting the offer. Just as the last bell rang I rushed to the back porch of the school to see the 'wonder pups'.

I was the first to reach that place and there I saw snoozing in the sun were four tiny healthy creatures, all brown but only one black. Seeing me, the black pup trotted eagerly towards me wagging his tail. It was a canine miniature, all black, as black as the charcoal. Balancing himself on his hind legs, he waved his forepaws and gave me an animated familiar smile. I immediately reached down and scooped up the little angel in my arms and whispered his name in his ear, "Charcoal".
Charcoal was always charged and full of life. He was a charming piece and very demonstrative. With his pink juicy little tongue he would be ready to lick any face within access. It was a wonderful feeling to lay a hand on his soft loose fur. It was silky-smooth and velvety. He was everyone's darling at home.

As he grew up we had to put a collar around his neck and snapped a metallic chain to it, but he tried to wriggle out of it, and when eventually had to give in to captivity, he would start whimpering. How could I bear to hear my pet in pain? I decided to have a kennel for him in our covered entrance. He did not like the isolation there so from there too he would escape by clambering up the fence and then leaping down from that height to stealthily toddle into the house. So we ultimately stopped barring him from his free life.

He became my roommate and shared my bed too. My Charcoal would see me off to school wagging his tail. When I was back from school I found him waiting for me in front of the gate yelping at my sight. Then we would have our lunch together. Whenever food was served he would pounce at it gnawing hungrily. Late in the afternoon we would both play in the garden. With sunset as I settled down with my books to study, I always found him lying under my study table. Over the years the piles of books were replaced with my computer, but there below the table it was still the same pet, dutifully sitting to guard the owner!

Charcoal slept with me on my bed. When he could catch the signal that I would retire for the day, he would dash for the bed and position himself in the centre with a complacent sigh. With his head resting upon my pillow, he would lay there, pretending to be asleep already, but then parting the eyelids slightly just to read my reaction. When I was young I used to quarrel with him complaining where I would sleep? But he pretended to be fast asleep and so wouldn't pay any heed to my annoyance. Only when I would lay down defeated and switch off the lamp, he would get nearer to me cuddling me and slurping me up to show me love.

At times it would be hard not to be angry with my pet. There were a few misdeeds to his repute too. He loved to trample the bed of flowers in our garden when colorful dainty flowers blossomed. He would do this only when unobserved. After a hasty inspection to make sure he was unnoticed he would start to stamp on. When confronted, he would hang down his head guiltily, like a drug addict who detested his weakness but couldn't give it up. Such was this naughty little pup! But how this naughty dog would transform with or even fire crackers. The Diwali eves with the fire crackers bursting outside would make him vanish in all unknown hiding corners.

The best part was when during the monsoon we both used to run to the garden to get drenched in the rain. We used to return home smeared with mud and Charcoal bristling with porcupine quills. The sound thunder would send him headlong under my study table.

At one time I started taking up my music lessons from an Ustadji., but even that was hampered because of this little one. Whenever I sat with the harmonium for the practice, my pet would make it a point to join me, howling in canine harmony. Just for him I had to bid farewell to my music lessons.

At times when he would be in a playful mood he would turn a little destructive too. Whenever scolded, he would sit on the floor with his head drooping , the shining black eyes radiating with innocence, as if to express 'sorry' in shame.

In all those years as I grew up my Charcoal was always beside me. After my marriage when I went to stay with my husband, my pet followed me as a piece of dowry. Being a friendly dog, he did not have any problem to adjust with the new environment because after all we both were always together. When I gave birth to my child I remember how my Charcoal welcomed the new born with a juicy lap of his pink tongue.

Today as I am creating this piece, my dear pet is lying curled up beside my 6 months old daughter on my bed. From there he is watching me with blurred eyes. Charcoal is now fifteen years old, which is equivalent to a human well over eighty. Today he has lost the brilliance in his eyes, which is today partially blind and his keen audibility skill eroded with age.