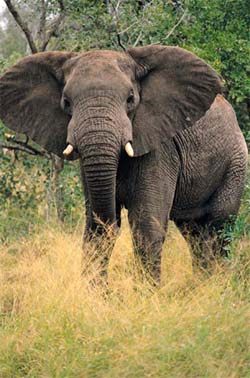 I must mention in the start of this article that I am not much of a wild life buff, but call it chance or destiny or forced will, I always land up inside a wild life sanctuary when I am out on holidays. For every sanctuary I have an anecdote to tell, as every sanctuary had a lesson to teach.
The earliest memory of wild life that I can rekindle was when we went to Bharatpur sanctuary, a place famous for its birds, specially the migratory ones. A toddler in my mum's arms I was unable to spot even a single bird, not because of eyesight problem but because of the fact that whenever the jeep stopped and people looked at a bird with admiration I would be busy either fiddling with something in the jeep or dreaming about fairies in the jungle. Finally when the trip came to an end I realized that I had not even seen a single bird. Many years have passed and I have not got a single chance to visit the sanctuary again. This incident taught me one thing if you have an opportunity grab it, don't let it go as it may not come back to you.

The next trip was to Sariska. Like wannabe wild life freaks we entered our jeep sporting the best cargos, the best hats and the best glares. All of them had colors well blending with Sariska's hues. For an hour or so we went around the safari and were forced to show excitement for every deer we saw, out of the zillions that were spotted by us. Later on, when we told the owner of the resort that we were unable to spot a tiger, he convinced us that a tiger visits that resort every single night and you have to wait patiently outside for the wild encounter. As urchins with dreamy eyes we sat all through the night amidst the mosquitoes and temperature which was hot and humid. All through the night to kill the boredom and heat we kept taking aerated drinks that the owner sold us at an exorbitant price. Dawn came, sun came, but tiger never came and tired and drowsy we went back home, the owner had the last laugh for fooling us and making surplus profit overnight. Lesson taught: - investments done by hearsay have bleak chances of giving fruitful results.

Few years later bhai came from Canada after a long hiatus, and was very keen to see the rhinos of Kaziranga and we were very keen that he enjoys his trip back home. Bag and baggage the entire family flew to northeast and was in the world of rhinos. We were scheduled to visit the forest in the morning and our mode of transport was the magnificent docile creature the 'Elephant'. After lots of adjustment and stretching exercises so unfamiliar in the metropolitans we finally sat on it, and went swaying and swinging much like amusement rides. Once deep inside the jungle we spotted many rhinos. You can call it the guard's stupidity or our naivety our family came extremely close to a rhino that was apparently mother of two. Sensing danger she charged for us, this made the elephant restless. Neither a gunshot fired by the guard in the air nor the one shot on the ground hampered the rhino's resilience. Finally when we backtracked and were away from her territory she stopped and went back. This made me understand that in order to protect the family one should go that extra mile even if it means fighting with the biggest and the mightiest.
The elephant also had a lesson to teach. He was being hit by a stick by his master for every mistake made and whenever the stick fell on the ground he picked it up and gave it back to the master. It was a classic example of how we are rebuked by our seniors and end up losing great jobs or relations because of ego hassles. The mammal taught me that its okay to be spanked by the master once or twice when one makes a mistake. After all this is a learning process and the individual does end up getting the essential fodder for the day and the relaxing mud bath at the end of it all.

If the east showed me a mock charge by a rhino the west showed me Ranthambore the land of tigers. They were so professional when it came to getting snapped that they literally came up with the most elegant poses that made the tourists praise them. With this so subtly they told me that it's not that bad to be media savvy, or in layman terms if you have the talent flaunt it, then only will you be admired by many.

Last but certainly not least were the king of the jungles, the lions of Gir with a mane so picture perfect and a body that every athlete would die for. They lay lazily in the midsummer afternoon when we went visiting them. So much authority they commanded that even if they were just lying around not positioned for an attack, not hungry from inside, we feared approaching them, we feared clicking photographs. That makes me ponder that if one is perfect in one's ability and is confident about his/her existence he/she fears no one, they will be kept in the highest of esteem.

Out of all these tales of wild the best one is yet to state. When we were just returning back from Gir we saw a hospital for the injured and the sick animals, a lion was circling within the fences of the hospital. Seeing this, a little girl innocently asked her father what had happened to the lion, promptly the father replied he was just sick and tired of seeing humans. We all roared into laughter, but it's so true and so inhuman to encroach on the animal's rightful property. I mean don't we get sick and tired of people who try to invade our privacy and our space.