JS – Not just a Magazine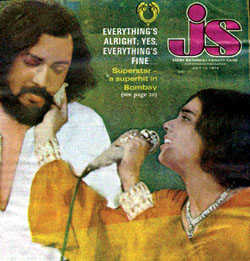 For me JS was not just a magazine

It was much more than that

Through JS I met the most talented and charismatic people who influenced me in my later life.

The JS Blueprint brought out the works of Pritish Nandy, still a struggling poet during that time. He had started his poetry journal 'Dialogue' which was even publishing poetry of Underground Poets in the former Soviet Union. I was surprised to find that some of Dialogue journals are still available at Amazon.

Then there was Braz Gonsalves, Pam Crain and Usha Uthup, musician and singers from Kolkata, nothing happened better than them

I saw Astad Deboo on a NDtv interview the other day. I remember his photographs on JS dancing on the streets of Kolkata, specially the one when he climbed a lamp pole

I always wanted to do something like that.

But most of all was its Editor, Desmond Doig, Artist, Poet, Writer, Yeti Hunter, a human being with such qualities that remains superlative till today.
His works can be seen at the Shangri-la Hotel that he helped to build in Kathmandu, Nepal.

Thanks to JS, we still happen to be the world's oldest teenagers.

The saddest part I believe that my children would never be able to enjoy a cult movement that took us all by a storm.
07-Jan-2007
More by : Dr. Amitabh Mitra
---
---
| | | |
| --- | --- | --- |
| | Is JS magazine still in print and available in market?.If so, kindly let me know where and how i can get. | |
---
| | | |
| --- | --- | --- |
| | Where can I get a copy of the old JS magazine. Love to get one, even just to browse thru a copy. | |
---