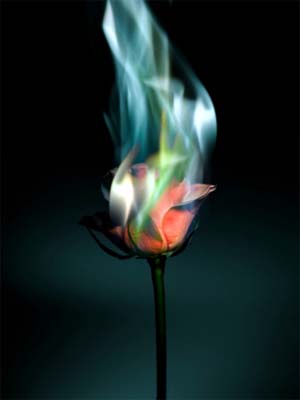 "Do you remember....?" you were talking to me but the words seemed to have trailed off like travelers under a shroud of mist. The view was getting shrouded because my eyes were becoming misty and just like the spectacle of magnificence where we stood I did miss most of your narrative as well. We had reached there after having undertaken many reconnaissance visits to that locale. These visits had been prompted by your description of an area where you had been sometimes ago and it looked very familiar to you.
"Didn't we spend some time together listening to koel in the shade of a mango grove near such and such part of this city?" you had asked me once. Your descriptive was so explicit and vivid in the graphic details that though I could not immediately connect to that togetherness of our past yet I made a promise to myself that I must visit that long lost mango grove at least once. I tried to recreate an image but your deft description though so apt made me feel that the place must have been at a great distance from the city. Now that I was there after so many years and having zeroed in onto the once favorite haunt of ours I was in a tearing hurry to locate the grove. I yearned for the shade of the mango trees where we used to listen to our silence punctuated by the koel's singing. A rather forbidding spectacle unfolded as we drove past rows upon rows of high rise building blocks enroute the supposed location of our lost mango grove. Glass and metal buildings leapt out to the sky and reflected the sunlight furiously at us. "Wasn't it somewhere here that we used to soak ourselves in the warmth of sunlight in the white washed backyard of the shrine?" I asked but you were talking to someone else.
"It is now a part of a fast upcoming megapolis" the realty agent rattled off certain facts and figures. I was in a hurry to tick him off and go on with my own explorations as the idea of searching for a long lost mango grove that kept on flashing brightly and repeatedly on the screen of my mind was too compelling to be resisted. Finding me disinterested, the guy excused himself mercifully leaving us in our shared solitude. Soon someone was talking as we listened intently.
"They came one night in a large caravan and I offered them the cover of the mango trees. As the next morning dawned I shuddered at the spectre. Soon they started gnawing at me with steel fingers and iron jaws. Inch by inch they progressed and dug deeper and deeper into me. I shed all the tears that I had but there was no one around except the marauding hordes of the thundering steel dinosaurs. Romping all around they devoured all that came in their sight and spewed venomous fumes. Hapless sparrows, terrified bulbuls and scared koels circled in the sky but soon the fumes, my sighs and the vultures high above in the sky drove them too far."
"Where had you gone?" the same voice asked me and then continued, "Even the sky did not shield me that day. They wrenched out my inside and I succumbed. They ravished me for days and months and I was utterly alone, helpless. The steel dinosaurs have gone now but they left me plundered and ravaged. Yet I survived the onslaught. I wonder why and how? I carried on and on till these were born. These skyscrapers - the illegitimate progeny of the steel dinosaurs!"
No longer able to bear the agony and pain in that macabre story the Sun beat a rather hasty retreat. Shadows of demons started encasing us from all sides.
No tears were shed. Only a stunning, benumbing silence. Clueless, shell shocked, I looked around and you returned a puzzled look. "Who was speaking?" I quizzed myself or was it the sky that I was asking me. A brief gust of breeze stirred in that stubble of an impoverished rose bush. "It was your mango grove."
An unbearable stillness followed. As I bowed down near the rose bush I discovered that it had just breathed its last.