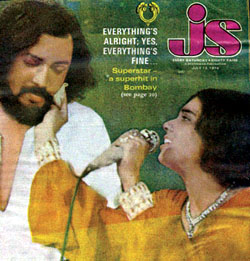 That was one beautiful era; there wasn't so much of material wealth, but there was so much of hope in the air, so many dreams to catch and so much of beauty for the sake of beauty.

For those of us who got their daily doses of good western music from Radio Australia, Radio Ceylon - Eric Fernandez, and Jija Bhattacharya of Lunch Time Variety, JS was a feast, serving up gossip and news about the world of rock and pop music to starving fans like me in small towns.

I remember the ghost story contest that JS would hold just before winter started, and the winning stories would be published in December. Jug Suraiya once wrote a real funny one called The Srinagar Ghost or something like that.

Two people who wrote a lot of non fiction articles in JS were Mohan Bawa and Rima Kashyap. I don't know what happened to them.

Till the age of twelve or thirteen I used to contribute regularly to the Benji Club in JS, I even won prizes in their contests a couple of times. I wonder whether old copies of JS are still available somewhere. I would buy the whole lot if I could lay my hands on them.