It was 23rd of November, 2004. A very hectic day, as usual at Escorts Heart Institute. This was the final day for the cardiologists-in-the making, Aashi, and Amar, as from tomorrow, they would no longer be students.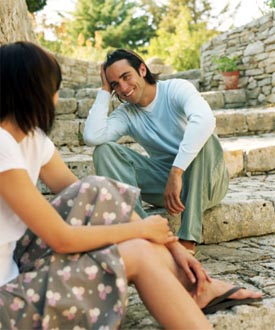 Life was like a dream for Aashi, who had just finished her medical internship, and was all set to take on her new role as a doctor. The next day was a big day for her, as she was getting engaged to her childhood love and her classmate'Amar. Everything appeared to be so perfect!! So many preparations were pending. All the arrangements had to be checked and rechecked. She wanted her party to be 'hospitality at its best'.

Ashi had to leave early that day. Both of them had to go to the event managers, to check their plan, and approve it. She looked at her watch. It was 4:30pm. She rushed out of her cabin to find out where Amar was. Both of them were supposed to leave by 5pm! 'Amar must have forgotten,' she thought. She ran from corridor to corridor, she asked all her batchmates, but no one knew, where was Amar. She finally met Aakash, Amar's best friend, whom she used to avoid, confronting.

She detested the idea of talking to him, but couldn't help, as finding Amar, was her priority now. Aashi avoided Aakash, as she felt uncomfortable with him. He was a very nice and sophisticated guy, though. Aashi considered Aakash as a completely spoilt brat, with an 'I-give-a damn-to- the -world' attitude. For her, he was a perpetual interference as he never left Amar alone, to be with her. But now, she was a bit relieved as Aakash was leaving for States.

'Have you seen Amar? I'm getting late for the meeting with the event managers. I'm running short of time', She asked Aakash. 'Oh Ya, Amar? he is 6'2' tall, very good looking, and fair,' joked Aakash. Sensing his joke had fallen flat, he added quickly, 'The Dean had called upon Amar, to meet him. It might take sometime. So Amar had told me to ask you to carry on, Amar and myself will come directly to your place.'

At first, she was reluctant, but keeping a watch on time, she agreed, and proceeded hastily. She thought, "Even if Amar accompanied me, I would be the decision maker. Let him be with the dean!!!" She reached for the meeting, ten minutes late. She looked at the plan. It was meticulously done. The theme of the party was 'Arabian Nights', with genie, hookahs, artificial camels, oasis, date palms and so on! Wow! Her engagement would be an affair to remember. She quickly approved the plan, and proceeded to have a look at the venue. The venue was a poolside club, which was to be decorated as an oasis. Everything was being done flawlessly. She could not have asked for a better engagement party. She loved everything!

She looked at her watch'It was 7:50pm, she'd to visit the parlor, for some 'repair and maintenance'!! But before that she must call Amar, but technology fails just when its needed the most'The number you're trying to call has been switched off, or not reachable'--said the voice!!! Anyway, she had to rush to the beauty salon. By the time she was done with her job, it was 10 o' clock!! She once again, tried Amar's cell, but the same voice answered back. A bit worried, she tried Aakash's number, for the first time, ever, but in vain!! Now, she headed towards her home. As she approached, her house looked anything, but a place where a big event is being celebrated. A certain gloom was apparent around her house. Everything around it seemed so quiet, as if'.. she didn't even want to think of the possibilities'that 'if' can give!!

With pounding heart, she entered her house. There was no one. All she could feel, was a gulping fear!! She asked her neighbor, Sheela aunty, and got the news, that changed her world'Amar's bike had met with an accident, and both Amar and Aakash were seriously injured, and admitted to a hospital. She experienced an insurmountable pain. She rushed to the hospital. The doctors told her that as Amar was riding the bike, he had fatal injuries, and could not be cured. Aashi could see her world crumbling down like a pack of cards. How she wished, the doctors were wrong!! She didn't have the heart to see her love, in such a state, but she mustered enough courage to enter the ICU, where Amar was kept. She felt the pain was choking her, and she couldn't speak. Amar told her'Don't cry! We'll never part! We'll be together, forever!' Saying this, he closed his eyes, never to open it again!!

The doctors told Aashi, that Aakash was in a critical state, and the only way to save him, was a heart transplant. They had to take Amar's heart, as he was just clinically dead, and his heart was still alive. Aakash's mother pleaded with Amar's parents, to agree, but they didn't . Now Aashi was their only hope, who could convince them. After an hour of emotional turbulence and mental turmoil, Ashi agreed and convinced Amar's parents. The operation was carried on Aakash, and was successful.

Few days later, Aakash was relieved and came back home. He was apprised of the turn of events. He was gripped with remorse on realizing that he has lost his dear friend. But after sometime, he could feel Amar's heart beats alive, in him. The next moment he went and thanked Aashi, and Amar's parents.

The days that followed, were very strange to Aashi. She never liked Aakash, but suddenly, he appeared so close to her. The way his eyes lit up, on seeing her; the way he talked to her; the way he praised her long tresses (it was very unlikely of Aakash! Only Amar said, how beautiful hair she had!) She was shell-shocked when Aakash, gifted her a pink dress on her birthday--the same dress which, Aashi had told AMAR, that she wanted for her birthday gift!!! All these events were causing a mental turbulence in her, and at the same time, she was experiencing a strange feeling! Why did Aakash appear as a very good friend to her? Why did he appear so familiar to her, though, earlier, she hardly talked to him! Why had she started liking his company so much, whereas, earlier, she used to avoid him!! Was it Amar's heart that was making him so familiar to Aashi'the same heart that loved Aashi so much!! Had Aashi started loving that heart? How could she START something, which she has been doing ever since she can reminisce.
And Aakash was behaving as if, he never was Aakash!! He had been AMAR--always--It was Amar's heart that had these effects--THE HEART THAT LOVED Aashi. Finally, both of them had to accept the fact--that Aakash was Amar, and as Aashi, with tears in her eyes, said "I Love you" to her Amar, he said--"Don't cry, we'll never part! we'll be together, forever!!"