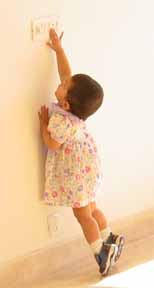 They say, think big…, do big…, become big…, make it big…! Is 'bigness' really that big? What about the 'small'? Why isn't it in currency in popular lexicon? Why is it so out of fashion? Would there be this big hallowed life, to which we all hold so fastidiously, without the small germ cells? Does not the smallest of DNA segment determine big characters of living beings? Would there be our awe-inspiring earth without millions of smaller elements uniquely placed in the order of things? Even the unfathomable universe is made more comprehensible by millions of tiny atoms in inseparable bonds.

Nature, from where all lives emerge, thrives in smallness! The vastness of the ecosystem lies in the numerous small organisms and microorganisms that are uniquely placed to make life subsist on this lonely planet. And the life-giving rain nurses us with its tiny beads. We wake up to be lighted by small bundles of energy emanating from the big, bright sun and the 'small' stars carelessly twinkling away, soothe our nights. What would a rose look like without those soft petals? Ask a bird about the warmth of its nest and it will tell you about the numerous little twigs.

What would people be without small ideas, small achievements, small milestones and small failures? Imagine civilization without that small little spark of fire or those small spokes in the wheel. From hunting and food gathering to agriculture and industrialization, human beings have travelled far. How a step at a time has constituted a giant leap for humankind! Aren't we all aware of the colossal power of the splitting of small atoms into even smaller ones and our failure to foresee its consequences? Let us not sneer at the small; they teach valuable lessons!!

Envision cultural heterogeneity, without the little igloos or the small hieroglyphic letters. The magnificence of our dreams, having the potential to shape and reshape existence is built on thousands of small imaginings both permanent and transitory. Beautiful poems that fire our souls are constituted of small words, so profound and moving. The most complicated of verses can be broken down into sensible knowledge.

Our contemporary life would collapse without 'freedom', an idea small enough to be a part of every foundational knowledge and 'big' enough to define our cognitive existence. It is difficult to imagine what life would be without those infinite little patches of experiences that make our loves and hates, successes and failures, gains and losses, upsides and downsides so inimitable and enchanting.

Why rush for the big? Why live a frenzied existence? Why hanker for greatness? Why can't we play well our little designated parts so that this big world can be redeemed of its manifold large catastrophes? I think of 'small' leaders, working in small locales for small causes. Baba Amte, Mother Teresa, Medha Patkar, Ela Bhatt, Aruna Roy, Shanti Sinha, Sandeep Pandey, Rajendra Singh and many more, touch us in their numerous little ways to make our lives worthwhile and more real. Let us salute them!

My thoughts wander to children – their tiny hands and their small penetrating eyes. I appreciate their potential for one day they would visualize and achieve the 'big'. Let us revel in the 'greatness of smallness'.