In the years from 5th-13th century AD, eastern India's ancient university of Nalanda was home to foreign students from as far away as China. Thousands of years later, history spills over to the modern-day Indian nation that continues the tradition of being a centre of educational excellence and a lodestone for students from all over the world.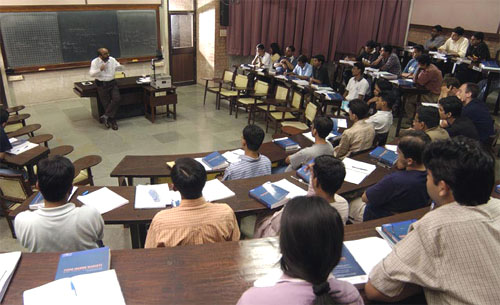 Sixty years after it attained independence, India boasts of 310 universities and 16,000 colleges offering the widest spectrum of courses. Its centers of higher learning like the Indian Institutes of Management (IIMs) and the Indian Institutes of Technology (IITs) are global brandnames.
Adding to the quality of education is the fact that English is the generally accepted mode of teaching and living standards are economical - attracting thousands of students from at least 100 countries.
A large number of students come to India from countries like Afghanistan, Bangladesh, Bhutan, Ethiopia, Fiji, Iran, Iraq, Japan, Jordan, Kenya, Ghana, Lebanon, Madagascar, Malaysia, Mauritius, Myanmar, Nepal, Somalia, Sri Lanka, Suriname, Syria and even the US.

"They (the global populace) look at the Indian education system with trust," said Educational Consultants India Limited (Ed. CIL), a body under the Human Resource Development (HRD) ministry.

"India is today recognised as a world centre for education. Indian entrepreneurs are making waves throughout the world. Their ideas, technical knowledge and entrepreneurship have yielded unprecedented growth in income, employment and wealth. The credit goes to the sound and practical educational foundation they have received in India," they said.

It's a rapidly increasing phenomenon.

A case in point is southern Karnataka's Mysore University where at least 1,200 foreign students study, up from only 150 four years ago.

Vice Chancellor J. Shashidhara Prasad attributes the spurt to the IT revolution and India's economy that is growing at over nine percent.

"The quality education provided by many universities in our country is increasingly getting noticed. When I became the vice chancellor, there were around 150 foreign students. The trend is growing."

Of course, it's a lot to do with the arithmetic of education as well.

The Mysore University, for instance, offers an MBA degree for Rs.150,000 (approx $3,750) as against $12,000 to $15,000 in Europe, Australia or in the US.

Director of the prestigious IIM-Ahmedabad Bakul H. Dholakia disclosed that his institute had student exchange programmes with 50 others in the world.

"Yes, India is becoming a global destination of education. Our education is at par with any major institute of the world. Our students are increasingly getting global attention and job offers and this is a good yardstick of our quality.

"Currently, IIM-A has student exchange programmes with exactly 50 institutes across the continents. Some students stay in our campus to pursue a fulltime one-year MBA programme. India is progressing and there is no full stop," Dholakia said.

Tyler William Walker from the US perhaps best represents the trend of students from a developed country opting for India.

Walker, who is doing his M.Phil in Hindi from New Delhi's Jawaharlal Nehru University (JNU), said: "I came to India first as an exchange student during my stint at California University and then joined JNU for a full time course in Hindi. While students from developing countries come to India to get quality education because it costs less, students from developed nations come for variety."

Williams, who is vice president of the university's student union, is only one of eight American students in JNU.

"The culture, the languages and even the social set up of India attract students here," he said, adding that there were only two students from the US three years ago.

For Shadi Sarrokhyani from Iran, who is doing her PhD in English Literature from JNU, the Indian experience is "amazing".

"India's quality of education and relatively cheap costs not to mention the secure socio political situation in the country are the primary reasons for an increasing number of students coming to India," she said.

"I have been in India for more than seven years and it has been a unique experience. The democratic way of living and the rich culture of the country have helped us cope with the course curriculum," said the student, who came to India through a scholarship provided by the India Council of Cultural Relations (ICCR).

Though she applied through the Indian embassy in Tehran, Shadi said many in her country were paying their way through and JNU alone had 30 students from Iran.

Added Tasazul Ali from Syria, who has been in the Indian capital for the last two years pursuing a Masters in Computer Application (MCA) at the Jamia Hamdard University: "Some of my friends were studying here and they told me about the facilities available. I came to India on their recommendation and I am very impressed."

Khalid Abdallah from Sudan who has pursued various degrees from various universities in India estimates that there are around 3,000 students from his country in Hyderabad, 800 in Pune, 400 in Bangalore and 200 in Chennai.

ED.CIL said the global recognition of Indian education is helping the cause of Indian students as well. "The courses and professionals trained in Indian educational institutes are recognised the world over - 200 of the Fortune 500 companies regularly participate in campus placements in Indian institutions," the body said.
Image
A class in progress at an Indian Institute of Management (IIM), one of the six management institutes across the the country that are globally recognized for excellence.