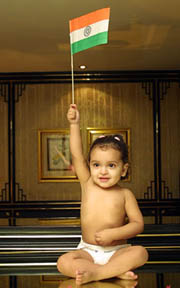 I have always taken pride in the fact that I have considered as myself a thinking person. This definite characteristic of mine, known to all close to me, has often won me their admiration, sometimes accolades, but most of the time has landed me in troubled waters. Why? Because I chose to speak my mind. I am once again ready to take that risk. The month of August always brings about a mixed bag of feelings for me. Besides certain personal occasions demanding celebrations, like my husband's birthday, it also draws my attention to certain occasions which have over so many years become customary for us Indians to celebrate. My obvious reference is to the Indian Independence Day. The revelry surrounding the event has so diluted since its birth that for today's generation it seems like an old hag one is forced to live with at least once a year, let alone the question of being patriotic. For those of you who are shocked at my insidious line of thought, lets just do some soul searching.
To begin with, how many of us as children were told to remember the day our country gained independence. I was told stories about Cinderella, Snowhite and the Seven Dwarfs and even Lord Ram and Krishna, but none about the likes of Bhagat Singh, Bal Gangadhar Tilak or even Mahatma Gandhi. I was made to cram the names of my family members, the extended family, remember the faces of the friends, teachers, neighbors'..so on and so forth; but never once was I asked if I knew my country or its independence day. Frankly, even today, how many of us tell the same to our children until they reach primary or secondary school. Have they have lost there relevance in today's world? While some of you may find all this humorous and others might make the lame excuse that it's difficult for a child remember, I would say, Oh please! Because given a chance your child would have no difficulty pronouncing the tongue twister names of the 'Pokemon' cartoon characters. The day we began to hunt for excuses for our ignorance, it was at this very stage that we, as parents, took patriotism for granted.
At school too, oh those boring history books telling us about the rich cultural heritage of India, not to forget the endless chapters on freedom struggle. The only thing that etched on the minds of the students is how difficult it is to learn them and even if one managed such a feat, history was never as scoring as science. So why bother about such a subject in the first place. Moreover, I am sure those of you who studied Arts as your subject in school and college were always considered inferior in knowledge to those who took science or commerce. Arts have always earned the dubious distinction of being a study for non-performers or even dopes. Often, while teaching the same in various schools across India, I have had to face the oft-repeated question pertaining to the need to gain comprehension of about dead people!!! My raison d'tre to take pride in ones country found few takers. The lack of patriotism in our blood stared me in the face. Even the traditional celebrations in schools was marked more with habitual behavior than enthusiasm. The fervor surrounding the Independence Day had more to do with it being a holiday than a day to honor our freedom fighters who laid down their lives so that we could live to breathe the air of freedom as a sovereign nation. Of course, it has always commanded a sigh if ever this day came on a weekend!!!
Let's then just accept it that we are just not patriotic enough. Truthfully, I fail to come across enough people who would momentarily halt to take notice or even stand when the national anthem is being played on our TV sets, the radio or even in a movie at the theatre. For the latter case, most find it embarrassing to do so, a response common especially among our generation X. To an average Indian, Independence Day means a much awaited holiday, begun with a lazy morning routine. How many of us (our grandparents exempted) bothered to switch on the television sets to listen to the Prime Minister's speech from the Red Fort? We rather catch up with our sleep, the morning chores or our favorite serial. How many of us unfurled the flag on our terrace, even after the ban on it being lifted? Even those who did hardly bothered to pick the paper flags from the streets finding its way to the gutter at the conclusion of the day's merriment. It is rather sad that all that is left to this noble day is the customary unfurling of the national flag by our political leaders, the so-called patriotic films on the popular TV channels and the 'Desh Bhakti Geet' on our FM sets. For the average Indian, it was just another vacation.
So, from one generation to next, patriotism dies its latent death even before it had a chance at an embryonic birth. It would be a futile attempt to lay the onus on any one cause; be it lack of ideals in leaders, or even us as populace of such a great civilization. Our patriotism takes a high note only when we talk of Pakistan. It is not a gesticulation integrated in our daily lives. What matters to us are our family, our house, our livelihood, maximum the region we hail from, and above all, the fun of living it all? The rest is someone else's headache. The cynics may ask if living in a country like India, with so many problems, not being patriotic enough. How could I turn a blind eye to the brain drain? The answers to such pessimism might not be adequate, yet the fact remains that no matter where one lives, we could belong to no place else but our motherland. This is why there arises a need to learn about its rich heritage, culture, history and take pride in the fact that our heroes fought hard to save it. They are not just names to be filled in the examination papers and forgotten later; they should be the quintessence of our way of life. Patriotism need not be just the unfurling of the Indian flag, and yet could be much more with the same flag flying high in the Indian skies. It is how each one of us choose to take pride in our nation is what really matters.
So the next time you enjoy a national holiday, take a little moment to think and to teach others the importance of that day and what turn life could have taken had somebody before us not taken the pains to ensure it for us. Let's not take anything for granted; most importantly our freedom. Let us not swathe patriotism with obscurity. It deserves its due respect. No harm intended, it's just a thought''