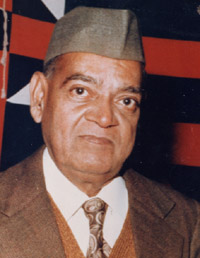 The life of my father Mr. Durga Prasad Rastogi (Retired Dy. Chief Engineer, PWD, Rajasthan), a 1934 graduate of Thomson College (now IIT Roorkee) can be compared in a small way to Bapu's "Experiments with Truth". It is an example of how a person from average, dusty village surroundings can grow to a level that was not seen possible by his contemporaries. It is an amazing story of how an unflinching faith in yourself coupled with virtues of honesty and sincerity can make you achieve what you want in life.
My father was born in a middle class family of Uttar Pradesh. His father, Lala Raghunandan Lal was a Patwari in the small town of Siana in Meerut district of western Uttar Pradesh. Despite his humble background, Raghunandan Lalji gave the best possible education to all his sons, each one of whom later rose to high position in their fields.
Education at Jaipur and Roorkee
From his early childhood, Durga Prasad had a deep sense of devotion to studies and a burning desire to do better than others and rise in life. In the early 1920's, his elder brother, Paramatma Saran moved to Jaipur for higher studies. Having seen the love for studies in young Durga, Paramatma Saran took him to Jaipur, where Durga got his early education.
Dad completed his B. Sc. Degree from Meerut College, Meerut in the year 1931 and was selected by the Thomson College of Civil Engineering, Roorkee, to study Civil Engineering. This college was one of the foremost and few institutions of engineering in those days. It was established by the British to train engineers to work under them for the much needed civil engineering infrastructure for the country. The education system was based upon the British pattern with equal contribution of sports like riding, rowing etc. in the curriculum. It was at Roorkee that young Durga Prasad found the training ground that was necessary to mould a humble village boy from middle class background into an excellent engineer, a hard taskmaster and above all a visionary. These traits were to manifest themselves all through his future career.
Professional career
DPR, as he was known among his colleagues, passed out from the Thomson College, Roorkee (now IIT, Roorkee) in the year 1934 and was soon absorbed by the Rajasthan Government as Assistant Engineer in the Public Works Department. He had the rare opportunity of working with Sir Mirza Ismail, the Architect of modern Jaipur. If DPR's educational career was moulded at Roorkee, Sir Mirza Ismail founded his professional career. This is where his sound educational background found the best platform to work on and shine further in life. DPR soon became famous for his engineering talent, honesty and hard work. He was extremely methodical in his work and expected his juniors to do the same. He did most of his own work himself and even with a battery of servants around. Although the Government departments in general and PWD in particular are infamous for their shady deals, DPR never accepted or demanded bribe in his lifetime. The only favor he expected from the contractors was good work, and he too did no other favor to his bosses. He had to pay a price for it as some of his colleagues surpassed him in Government promotions. His spirit nevertheless remained undeterred and he continued to work conscientiously through out his lifetime. During his 33-year tenure with Rajasthan PWD, he worked in every nook and corner of the state contributing significantly to the rapid construction of building and roads in this underdeveloped state. When Chief Minister Mohan Lal Sukhadia wanted to build up Udaipur as his ideal constituency, he had no other person than DPR to work as Superintending Engineer there from 1959 to 1962. DPR well justified his posting at Udaipur and soon earned the Chief Minister's personal appreciation for his work.
Personal life and virtues
Dad had inherited a faith in education from his father and demonstrated the same manifold when the question came about the education of his own children. When he retired as Dy. Chief Engineer, Rajasthan PWD in the year 1967, none of his children was settled. Even his own house in Jaipur that he had built from his hard earned salary, was under litigation having been occupied by a tenant illegally. He had to fight it out in the court. In order to support the family, he started working as a professional Consultant and property Valuer. Through his hard work, he gradually built up his reputation in Jaipur.
His children remember their loving father, who treated them as his only treasure in life. He inculcated in them the spirit of honesty, sincerity and above all devotion to duty. He remained teetotaler and vegetarian all through his life.
Few interesting anecdotes
We once said 'Dad, why do not you use Government vehicle for personal use like your subordinates do?'. Dad replied 'How much will that save? What I have is enough for you.' Dad often mentioned that Engineers seem to be 'hand in hand with the contractor' and compromise quality. He would say to us 'eat well but live simply without showing off'.
Once a worker was careless and wasting some material at a site. Dad admonished him saying: 'The Chief Engineer does not want one drop of daamar wasted'.
Dad stayed at a Dak Bungalow and upon departure took out a twenty rupee note (then it was worth a lot) to pay out but the caretaker/ overseer said 'No sir, we won't accept from you, we never do'- thereupon Dad said 'how can I charge my travel allowance then?'.
Dad did recall Indians hating British rule saying when we Engineers will go to bath room we would joke 'I am going to London'!. However he greatly admired their professional behavior. He will recall that when he did a good job, a British administrator will tell 'Rastogi this is all due to you' while his Chief Engineer just stood. After Indian independence he did not feel he received such encouragements any more. Once a PWD Dy. Secretary (post independence) phoned him questioning and hinting that Dad re write the confidential report for a subordinate. Dad did not bow saying 'you know it all'. He will say I am standing in front of fire (of truth), no one can dare challenge me. The Chief Engineer knows the stuff I am made of. His boss was a senior colleague from Roorkee, who would say 'when you write a report for your subordinates, it has a meaning but not what others write'.

Lessons from his life
The life of Durga Prasad Rastogi is a lesson to everybody that despite the numerous hardships that one may face, one should stick to truth and keep one's faith in oneself and God undeterred.