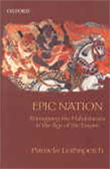 Reimagining the Mahabharata
in the Age of the Empire
There is a prevalent belief that the Ramayana is far more dominant in the Hindi heartland than the Mahabharata. In her fascinating study Pamela Lothspeich of North Carolina University dispels this misconception. Writers of plays, poetry and fiction who sought to establish Khari Boli as the language of choice for people at large in "Gandhi's India" turned to Vyasa's mighty creation much more than to Valmiki for material that they could mould into effective vehicles for voicing the aspiration for liberty from foreign rule, simultaneously holding up to the effete brown sahibs heroic ideals for emulation.
This rewarding read is split into eight chapters covering the making of Pauranik literature, early Hindi retellings of the Mahabharata, the renaissance of Hindu myth through the Khari Boli campaign focussing on Abhimanyu and Draupadi (Mahavirprasad Dwivedi's prose Sachitra Mahabharat 1908 translated from Surendranath Tagore's Bengali abridgement, Maithilisharan Gupt's poem Jayadrath Vadh 1910, Badrinath Bhatt's drama Kuru-van-dahan 1912, Narayanprasad Betab's play Mahabharat 1913, Radheshyam Kathavachak's drama Vir Abhimanyu 1916, Ramcharit Upadhyay's prose-and-verse narrative Devi Draupadi 1920). The chapter surveying the Hindu ethnic revival embedded in the politics of the early 1900s provides an excellent overview of how litterateurs strove to project the wonder that was India as the foundation for its emergence as a great modern nation. The Mahabharata, with its theme of recovery of a lost inheritance, held greater appeal for the colonized consciousness striving to preserve its distinctive culture and create a national identity. In that process, myth and history were conflated and the epics were treated as enshrining India's past.
Maithilisharan Gupt is celebrated as the poet who, after Tulsidas, popularized theRamayana most. Actually, Pamela points out, he wrote far more on themes drawn from the Mahabharata. Abhimanyu was projected as the teenaged heroic revolutionary entrapped and slain through the treacherous machinations of goliathan oppressors. No wonder the British government tried to proscribe several plays celebrating Abhimanyu. Draupadi was figured forth as the embodiment of Mother India, repeatedly violated and stripped even of her dignity. Instead of Vyasa's raging Fury, she is depicted as the ideal daughter, wife and compassionate mother (pardoning even Ashvatthama) invested with the wisdom of Sarasvati, Parvati's gentleness and Durga's tenacity. Although female characters received considerable attention in this literature, they were portrayed as supportive mothers, wives and daughters to the nationalist heroes, not as their equals in the public arena. Kabi Sanjay's medieval Bengali Mahabharata, on the other hand, has Draupadi leading a force of Kuru-Pandava women against Drona after Abhimanyu's death.
These Khari Boli writers moved away from both Urdu and Brajbhasha—the one regarded as vitiated by Persian and the other as erotically spineless—and create a popular consciousness throbbing with fervor about epic India's heroes. In this, they drew inspiration from Bankimchandra Chattopadhyay's Anand Math and Krishna Charitra, Girishchandra Ghosh's Pauranik plays (Abhimanyu Badh 1881 surely inspired the series on this character in Hindi) and Michael Madhusudan Dutt's epicMeghand-vadh-kavya. Scrupulously avoiding Brajbhasha's staple diet of erotic sport in Vridavan, they followed Bankimchandra when dealing with Krishna, restricting themselves to his life in the Mahabharata.
The study does not notice the remarkable coincidence that the apotheosis of Draupadi as Bharat Mata emerges around the same time in the Tamil laureate and freedom fighter Subramanya Bharati's long poem Panchali Sapatham Pt.1:1912; Pt.2: 1924 (available from the Sahitya Akademi in an excellent transcreation by Prema Nandakumar). Nor is there any mention of the large corpus of Mahabharata-based Pauranik plays in Bengali by Khirodeprasad Bidyabinod of which Nara Narayan(1926) is the most famous. Unlike Dwijendralal Roy in Bengali, why the Hindi playwrights did not take up historical subjects like Rana Pratap, Shivaji etc. to voice their protest against foreign rule has not been explored. Where Roy celebrated heroines in Tarabai (1903) and Noor Jahan (1908), nothing comparable is seen in Hindi despite Durgavati, Ahilyabai and Lakshmibai being ready to hand till we come to Subhadrakumari Chauhan in poetry and Vrindavanlal Varma in novels. Possibly the realm of myth was a safer sphere than that of history from which allegories of protest could be voiced.
In her research Pamela very effectively brings out the anti-colonial discourse articulated by these pioneers of literature in Khari Boli, particularly the path-breaking initiative of Betab and Kathavachak calling for considerable risk-taking in introducing it in Parsi theatre. She has made a valuable contribution to scholarship in this niche area.
Pamela's work needs to be edited out of its dissertation format. Every chapter begins with a presentation of its layout, explaining what is proposed to be covered. That is necessary in a doctoral thesis, but becomes rather awkward in a book. There are a few errors such as "Sthanadayini" (p.190) for "Stanadayini", Gargi was a renowned seer, not Yajnavalkya's wife (p.212), Ambika was not the nameless maid sent to Vyasa (p.230), Pratibha Ray's novel on Draupadi is not "originally in Bengali" (p.234) but in Oriya for which Bharatiya Jnanpith awarded her the Moorti Devi Puraskar. It is reassuring that ultimately OUP is getting back to its pristine standards of proofing—typos are very few. The cover is striking, using a Nandalal Bose painting in orange, brown and gold. The reproduction of relevant illustrations and covers of the rare publications discussed embellishes the work, enhancing its value further.