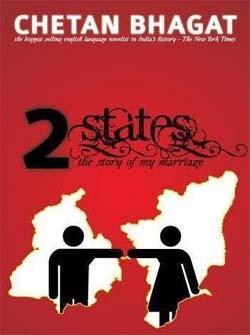 Nothing works in this world like popularity and publicity; Chetan Bhagat, who is enjoying the publicity blitzkrieg, probably the modern day writer who can integrate high level academics with high voltaic romance. He has once again come up with a populist novel titled '2 States'. Partially (or completely?) autobiographical, the novel describes the new gen love tale of two IIM-A grads. What's the problem? The boy is a Punjabi while the girl is a Tamilian.

Please don't try to relate it to the yesteryear movie 'Ek Dhuje ke Liye'; that was a love story of different genre but this is more a love story of present day. Remember the scene in 'Ek Dhuje..' where the heroine Sapna sulking just for kiss from the hero Balu? But Ananya, the heroine of '2 States' enjoys sex with the hero, hold your breath, after consuming alcohol and chicken (Ananya is a Tamil Brahmin girl studying in IIM A!).

The story follows the first person narrative through the hero Krish who indeed loves Ananya madly. The strength of the novel lies in its narrative; Bhagat follows simple language spiced with wit. The episodes start at Ahmedabad and shunts between Delhi and Chennai. There is drama which is humorous; there is pathos which is melodramatic; there are graphic account of the colorful and ostentatious Punjabi weddings and the fun filled South Indian Brahmin marriage.

Surprisingly, there are just a few Tamil terms like 'illa' 'oru nimisham' were seen. But in a couple of places the filthiest abuses in Tamil have been used which sound definitely out of place and embarrassing. If Bhagat's wife is a Tamilian I am surprised how she allowed it in the copy without censoring!

In some places certainly the story drags without purpose; nevertheless, luckily towards the end it picks up momentum again. The eating habits of Punjabi and Tamils are elaborate, making one think that Chetan Bhagat is definitely a glutton.

As mentioned earlier, the story does not have much twists or turns. But the underlying humor keeps the proceedings alive. '2 States' provides light reading and so might be a hit with the younger generation and possibly be one more screenplay for a Bollywood movie!