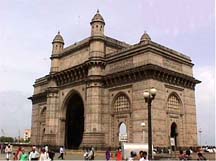 I have fond memories of Bombay'when it was not Mumbai. It still has a special corner in my heart. My childhood has such beautiful memories. I waited for weekends to travel by train from Mahim to Churni Road and in spite of my mother's constant warnings'hanged out near the open doors of the train compartment to feel the fresh and cool drafts of air and watch the tracks and buildings and billboards without feeling the stench of human excreta or a single hutment lining the tracks. The journey used to be an unforgettable event and we use to wait to travel by locals at any given chance. Taxis were a real extravagant treat while returning back from Churni Road late in the night when we felt so sleepy and slept all the way to Sion'enjoying the uninterrupted drive in the cool night.
My favorite was sitting on top floor of # 165 Double Decker which would take us in a different world and usually we ended up fighting for window seat and the never crowded bus took us through empty lanes and roads with a speed that we thought was roller coaster for us.
In the narrow lanes of Bhuleshwar we rode our bikes on Sundays and went to Chowpatti Beach in a royal Victoria (Ghoda Gadi) ride. It was fun to sit right next to the Ghodagadiwala who would occasionally give to reins in your hand making you feel as if you were driving the Victoria.
Highways were actually express road ways and we went to our annual picnic to National park in a Bus which rode uninterrupted on the long stretch of empty road. National park was a scenic beauty and never saw a hut in midst of green trees.
The word pollution was unheard of and population was not so much that you felt as if you were just an ant in the human ocean. It was 70s and by the time it was 80s I started feeling the suffocation.
Locals were no more pleasure. When I encountered my first fight with another lady in the compartment just because I was standing near the door and was not getting down at next station, I realized the rules had changed. It was no more a joy ride. Now it was using a PUBLIC TRANSPORT and not riding a private jet. The other travelers were not my city fellows; they were my competitors, in catching the train, catching the seat and getting down. More stronger and more skillful you were in jumping in running train, pushing others and grabbing a seat and getting down where exactly you wanted'more you became qualified to travel by locals.
I also saw subtle change in compartments. Earlier where ladies were seen only traveling with kids or families now there were ladies with office bags, bottles of water, having breakfast in the early hours, munching pav-wadas on the way back to home, peeling mutter or cleaning up vegetables for dinner while traveling back. Littering the compartment with peanut shells or papers or whatever they were eating. Shouting insults at slightest provocation and waiting for their turn to rest their bottom on the 4th seat. Sometimes I also shared a lot of jokes and laughter even in such unbearable situations but the painful truth still prevailed that it had lost it's charm. Every time I saw this I wanted to run away or have some magical power to set everything straight. Still I never wanted to go away from Bombay.
The change came in the form of our decision to shift to a quieter place... Pune ,the next door neighbor; and then finally after 4 years; in the country of milk and honey and country of Dreams'USA.
Most of the Indians feel elated and highly glamorized by the infrastructure of this country. This is the land of opportunity.. No Doubt.!!! Brains and Skills are valued here without any kind of discrimination.
Professionals work here day and night with dedication. They have very limited number of holidays. No one stops working .Even if the city is hit by tornado, the work starts within 24 hrs .There are no holidays on deaths of prominent personalities. There are no Bandhs.
We travel by air conditioner cars. Driving is not a pain but a pleasure. Honking is a rare phenomenon and everyone follows driving rules. Traffic police is someone every driver fears. Handicap drivers feel safe enough to be on the same roads ' even on express highways. Public transport is a comfort and luxurious travel and you never have to fight for a seat. Roads are wide, well maintained and drivers are in general disciplined.
Kids have enough of amusement parks and zoos and museums. Our apartments here are neat and clean with all the amenities and a mere call to the providing company brings Gas, electricity or phone connection within a day or two. We don't see any littering or any Garbage lying around. The most essential need while traveling.. the RESTROOMS are everywhere in abundance and CLEAN. (Can't imagine life without them).
Schools do not have long awaiting queues for admission in Kindergarten. Libraries are free amenity with lots of books and lots of smiling volunteers to help you out.
The malls and stores here will give you ultimate shopping pleasure without any panic about parking the car and worrying about getting anything stolen from it.
The public places and parks are beautifully maintained and kept clean. Everything is in order and everyone is conscious about their rights. Life is comfortable and mostly enjoyable (especially if you stay away from bad neighborhood areas, drugs and nightclubs). Indians have their festival celebration in least noisy way and to have some social life with other Indian fellows here they have various cultural groups. Groceries are easily available and Indian restaurants are everywhere with gourmet dishes. We even have temples here to satisfy our spiritual needs.
In short all your material needs are satisfied and you enjoy your life as it is a developed country. India is still a developing country'It is developing and it would have developed 10 folds from now if there were not so many hurdles in the way.
Does this mean that All NRIs living here have no desire to return back to INDIA?
No way.. most of NRIs would love to return back and live in the same place where they are born and brought up. They still love India the way a child loves his mother'
But at what cost they should return? What about peace of mind? What about the satisfaction of settling into a chaos free country? what about day-to-day problems regarding basic amenities like cooking gas, electricity, petrol, telephone and unpredictable Bandhs and Rallies? What about the fact that Goondaism and extortion is the order of the day and it makes a common man's life difficult? What about rising cost of living, poor economy and unstable government? If the brain drain is costing India a lot; then uncontrolled population, lack of proper infrastructure and absence of a strong government is making more and more NRIs to give up the idea of returning to Motherland. Who will want their children to struggle when they can have a better option? How can you think of having a car if there are no roads to drive or no place to park? The population explosion scares. No strong measures are being taken to curb the increasing number of people. Hutments and jhuggies are now more of a political tug of war rather than actual issues. We miss India so much that everyday we spend time to read about it .Once in a year spend our only 2 wk limited holiday visiting India. We try to relish each moment when we are in our homeland. We contemplate with the idea about how it would be to come back and finally decide not to go back to a country where in spite of all the comforts we carry a vacuum in our heart and pray for India to get back it's charm and beauty.
India lives in our heart. The feeling is so strong that in spite of all the odds we will still come back and hope to see a better future in our motherland. We pray for our country to prosper . I want my children to enjoy everything which I enjoyed in my childhood. Can I promise them a worry free future? Can I bring them back to India and make their life as comfortable and easy? Any idea how our dilemma can come to an end?