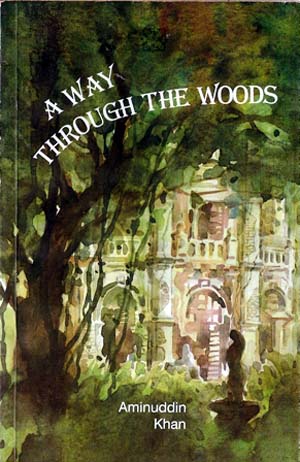 It all started with Orange Pekoe. In fact to be more accurate, I should mention Flowery Orange Pekoe. Aminuddin Khan's book, 'A Way through the Woods' brought back a rush of memories emanating from the Dooars and Bhutan in 1983. He mentioned about the Broken Orange Pekoe in his narration which made me write this piece. I am not a tea expert but Aminuddin Khan is one, having been a tea planter in Southern India. The story revolves around lush green tea estates of the post colonial era southern India and Hyderabad with all its glitter and grandeur of a former royalty.

Wikipedia explains Orange Pekoe as the unopened terminal leaf bud (tips) in tea flushes. The familiar packing of the Orange Pekoe from Darjeeling tea estates is still very fresh in my mind. A couple of years back, I had this chance encounter with a tea leaves seller in outer Connaught Place circle. I looked at a fancily packed small aluminium tea box amongst his collection of the choicest Darjeeling leaves. The price left me stunned. He looked at me, smiling, 'Sirji this is first flush'

My Chief Medical Officer in Bhutan was a gentleman to the boot. A product of St. Pauls Darjeeling, he was a walking encyclopaedia on the flora and fauna and the history of Dooars. Respected by the royal family of Bhutan he was an icon, well known to all and sundry from New Jalpaiguri, stretching through Alipurdwar, New Coochbehar, Jaigaon , Phuntsholing and beyond. He was Dr. B.N.Brahma. I had the greatest pleasure to work with him during my years in Bhutan. He taught me to identify the various varieties of tea leaves, fish trout, drive on the mountains and wildlife photography.

Max, the Nawab of Sirmoor is educated, poised and charming ' and the last descendent of an old aristocratic family of Hyderabad. Orphaned at an early age, brought up by a British governess and a regal old aunt, under the guardianship of a British official, the story revolves around his life in tea estates, romance with an English girl, a marriage with a Shia girl, personal tragedies and finally finding happiness under strange circumstances.

This is a story that is so close to me. Jaigaon is a bustling town now on the Indo ' Bhutan border. Dr. Brahma decided to practice in Jaigaon after his retirement from the Royal Government of Bhutan services. He passed away a few years back. I remember the hospitality of the tea estates, listening to his experiences sitting around the fire place, the chota peg at 4 pm that is still rife at most tea estates bungalows, trying to differentiate from Makaibari tea estate clones from that of the Happy Valley, the annual ball at the Planter's Club in Darjeeling and such stories that formed a part of the Dooars experience. I miss them all.

Aminuddin Khan was born in Hyderabad in 1932. Scion of an old noble family of the former princely State, he was educated at the Doon School, Dehra Dun, and Nizam College, Hyderabad. He then spent sixteen years in the South Indian hills, tea planting and studying the wildlife and biography of the region.

Aminuddin Khan writes about himself,
Having reached the venerable age of seventy-five I must, without further ado, record my gratitude for all I have received. Everyman I have met, every line I have read, every word I have listened to, every road I have travelled, every beautiful thing I have seen, and every idea I have accepted and acted upon has impacted me. I am the product of diverse influences, many streams. Perhaps the only ingredient in my makeup that I can call my very own is my perception. There has probably never been anything quite like it before and never will be again. That, for me, is the quintessential reality of human existence, the uniqueness of the individual's transitory consciousness and what is done with it.