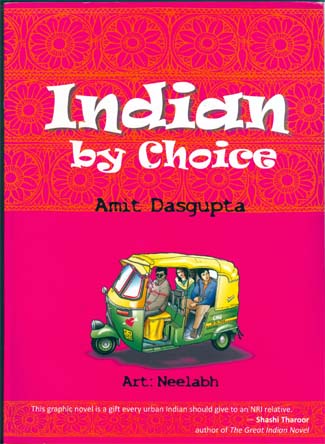 "Indian by Choice" is a unique graphic novel about Mandeep - a young Indian born in the US who has a penchant for all things American, including baseball, hot-dogs and blondes. Mandy, as he would rather be called, reluctantly visits India to attend a family wedding despite being horrified at the prospect of spending a month in his native country.

Upon his arrival in India, Mandy's worst fears - over-population, poverty, squalor, lack of privacy and chaos - are confirmed.

"You need to be blind if you have to visit India. The poverty hits you, the number of people hit you."

India is as alien to Mandy as it would be to a fellow Australian tourist visiting the country for the first time. His instinct is to board the first flight back to Chicago but his excursion fare ticket forces him to stay the entire four weeks.

Rather than keeping an open mind about an alien culture, he vents his frustration by writing lengthy emails to his parents and sister about his plight.

"I truly do not know what you wanted for me from this experience. As of now, it has been upsetting and horrifying and I quite frankly want to come home."

In this graphic novel, Amit Dasgupta successfully explores the theme of identity and what it means to be an Indian.

At first, Mandy is confident of who he is - a US citizen born and raised in Chicago. Like many NRIs, he adopts the American culture and assimilates himself completely. But the rare opportunity of being in India allows Mandy to spend time with his extended family, including his grandparents and cousins, and provokes him to re-think his identity.

By spending time with other young Indians, Mandy's stereotypes about India begin to disappear and he begins to see the other side of not only India but the US as well.

For example, he learns that a young Indian Institute of Management (IIM) graduate rejects a chance to work in the US because he is conscious that he will face subtle racism while trying to climb the corporate ladder. Or that a Sikh was gunned down in a retaliatory attack four days post 9/11. Gradually, Mandy begins to wonder whether he can identify with his host country.

"Indian by Choice" cleverly reveals the differences between Indian Americans and their counterparts in India. Dasgupta keeps the reader engaged at all times and will often leave you laughing out loud. The keen sense of observation, wit, the graphics and the style make this a truly unique novel that both NRIs and Indians will be able to identity with.

In fact, renowned author Shashi Tharoor writes that "this graphic novel is a gift every urban Indian should give to an NRI relative".

Towards the end of the novel, when it is time for Mandy to leave India, ironically he is overwhelmed by a feeling of sadness. There is no doubt that he will miss his larger family and his friends. The interactions which were strained at first develop into strong bonds of mutual affection.

On his flight back to Chicago, rather than introducing himself as Mandy as he usually would, he tells his fellow passenger that his name is Mandeep. He identifies himself as an Indian, not by force, but by choice.