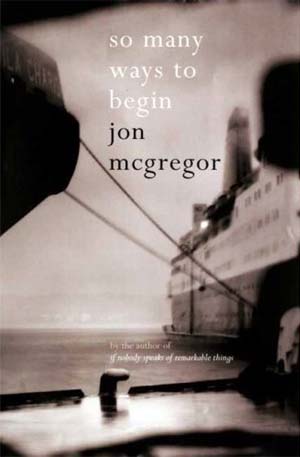 An unusual title was what had attracted me to this book. "So many ways to begin" by Jon McGregor turned out to be one of the best books I have ever read and has made my top-10 list.

Written in an amazingly simple and unassuming prose, this book does not purport to do anything great. The author does not use highly stylized, lyrical sentences nor does it have an engaging story line. In fact, it is the story of the ordinary life. What makes it incredible is the narrative. Short chapters constructed around a keepsake or memory object from the protagonist's life describe in excruciatingly beautiful detail mundane and everyday things which puts you in the front row seat to this show. It might as well be your life the author is describing.

The vivid descriptions of the verdant Irish countryside or the bleak landscape of the dock towns of Scotland vie for attention with the description of a gesture, a look of lost love, a moment when that crucial choice was made. In fact, it is these seemingly routine choices that turn out to be at the heart of this story, like it so often is in real life. Even without laying out every single detail of the scene, the author manages to tug at the soul of the crisis in each one of them - the devastation of World War II, the ecstasy of true love, the agony of giving up a child or the darkness of a depressed spouse.
This book did not make me cry nor did it make me laugh. What it did is make me nod in agreement at the end of almost all the chapters. In keeping the edges murky almost sfumato, the attention is drawn to the details and what emerges is a beautiful portrait of everyday life and extraordinary people.