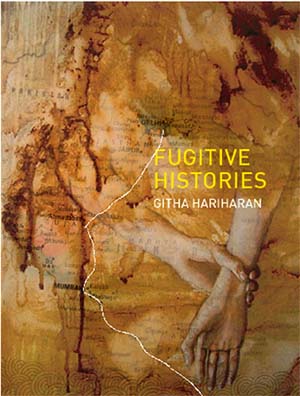 It was a chance acquaintance. Living in Kalpa, Kinnaur, in Himachal Pradesh, the District Library had the only respectable collection of books in town that I could access. It was inadvisable therefore to demur with its bad tempered librarian, who was condescending enough to recommend one of the library's latest acquisitions to me.

The book, 'The Thousand Faces of Night', reluctantly accepted and half-heartedly opened between dinner and bedtime. But it kept me awake until dawn broke. Bleary-eyed, I decided to learn more about the writer and went through the contents carried on the volume's back cover and inside flap. The name of the writer was Githa Hariharan. Must be a South Indian to spell her name that way, I thought to myself. Then I repeated her name several times, promising myself to hunt out more of her works at the forthcoming Delhi International Book Fair. The year was 1999.

Ten years later it is dawn once again and I have read a book through the night. The book provides a long list of reports, interviews, witness accounts and the writer's own impressions of Ahmedabad and its environs after the Gujarat riots of 2002. Once again, the writer's name happens to be Githa Hariharan. This time it is her latest release, 'Fugitive Histories'. Her prose is as addictive as it was a decade earlier.

'Fugitive Histories' is about people picking up threads from the point where man-made upheavals have left them. It is a journey back in time. It is the story of Mala, a Hindu Brahmin woman, who married Asad, an artist, despite the misgivings of her immediate and extended family. Her parents had even pronounced the ultimate words 'you are killing us', to get her to give up the idea of such an unsuitable marriage. But Mala wasn't deterred. Asad is a man who easily endears himself to the reader by his sheer love for life. Githa Hariharan herself reveals that she had fears while writing the book that he would be termed "liberal, secular, broad minded and the rest, as we define Muslims we like to make them more palatable."

After the attacks, Maya goes through Asad's sketches and comes to see the reasons why he gave way to the inner turmoil that had shaken all that he believed in, loved, stood for and thought was indestructible. She suddenly comprehends the reasons why his inner colors had faded and his sketchbook had gone blank.

Later, in the rehabilitation camp where women - the only survivors of the carnage - are giving a group interview for Sara's film, words recreate the horrors that people have gone through, horrors that have bruised their bodies and souls.

The book is about three cities, Delhi, Mumbai and Ahmedabad. Remarkably, a woman embodies each city. Helping in creating this canvas are a number of vehicles Hariharan uses to navigate through time. Air, water, wind and even the shade of the tree - where Sara, Asad and Maya's daughter, along with Yasmin, a survivor of the riots, sit and talk - are all employed to transcend time and space, re-create settings and provide links to the present.

'Fugitive Histories' is a grim tale of a time when some people allowed themselves to be swept away by the pleasure of giving pain and exulted in the meticulous planning that went behind the destruction of entire communities. It is set against a backdrop of administrative apathy. It gets grimmer, as the survivors talk of their lack of preparedness and of what they would have done had they been warned even a couple of hours before they were attacked. But the darkest note in the book is a subtle undercurrent, which suggests that people have lost their will to fight the forces of negativism.

The book does not have happy, balancing portions that might have provided some relief to the unrelieved darkness of the Gujarat carnage. Hariharan herself underlines this when she observes, "There is no feel-good factor possible about a planned massacre. I am sorry that I have not been able to write a book like 'Slumdog Millionaire'."

At best, there is the thin hope of survival. After Asad's death, his daughter, Sara, tries to relive it all. Then there are all those women, from every age group, who have to learn to live beyond the slaughter of their sons, husbands, brothers, fathers.

While the Gujarat riots remains the pivot of 'Fugitive Histories', it goes much further into the past and tries to trace the genesis of the divide between communities, the point at which people move from accepting the Other, to abhorring the Other. It suggests that it is easy enough to create a situation where people lose their bearings, hunt down those who are perceived as alien, and work to deepen existing conflicts. Take Sara's brother, Samar. He gives up everything that his parents, Maya and Asad, had tried to inculcate in him, grows a beard and finds a superficial bonding with Islamic fundamentalism.

A deeply thought-out work, 'Fugitive Histories' is a novel for times as chaotic as the present. Times when a whole state can be hijacked by murderous mobs or when a group of young men can cross the border and terrorize a whole city - and do all this in the name of religion.

The book is also crafted with such fluidity that you can fall asleep with your spectacles on while reading it, wake up and pick up the narrative effortlessly. That, at least, was what happened to me.