College days were about over. Students were splitting up taking advanced courses for their careers.

Nakul Desai felt a deep sadness. He had already met the girl of his dreams, his classmate Sandhya Shivdasani, but not much came of it.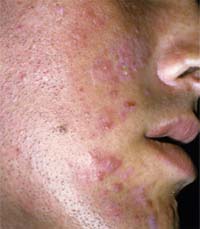 The problem was not that he was of middle class and she wealthy. But that Nakul's face was peppered with acne. Why me, he sighed

Ever since childhood, he had been plagued with pimples.
Every time he tried to talk to her she would say, "Sorry pimples, I have to go' It was hopeless.

Sandhya drove a Mercedes to college. When she went back to her car each evening, there was always a flower either a Marigold or a Jasmine tucked into the door handle.

One day Sandhya hid behind a balcony in College to spy on her secret admirer. For the first time she looked twice at him. He really was a very handsome guy. But those pimples! They were horrible.

The last day of college was a half day and would change the lives of these two youngsters

Nakul's mother, a school teacher had promised her son a delightful lunch at Swati's. She was waiting on the footpath while he was walking towards her.

At the same time Sandhya started her car and pressed the foot pedal to take off. Just then a wasp came through the open window and stung her nose. In severe pain she turned the steering wheel and swerved back towards the footpath.

Too late. The car climbed the footpath and knocked down Mrs. Desai right before her son's eyes. The impact broke the poor woman's back transecting the spinal cord in two.

As the shocked, grief stricken son knelt by his mother, Sandhya stepped out of the car in tears, opening her mouth to explain.

"No!" cried a tearful Nakul, "leave us alone. I don't want to see your face ever again"

A pleading Sandhya tried to explain but Nakul turned his face away as if shutting off her presence completely.

Mrs. Desai became a paraplegic from then. Her family took turns taking care of her night and day.

Nakul became a successful and was soon in the big league.

All his acne had disappeared.

It was 6 months after the accident that he learnt about the wasp stinging Sandhya's nose. He tried to find her to apologize for his hasty words but she had already left India.

In the meanwhile Sandhya had informed her disappointed parents that she was not interested in marriage. She had moved to Berkeley California working in research and application of stem cells.

Scores of paraplegic patients at her Institute were already beginning to show life in their lower limbs after stem cell insertion. The guilt feeling regarding Mrs. Desai's condition kept burning in her brain day and night.

If there was one thing she wanted it was to cure Mrs. Desai and make her walk again.

Sandhya returned to India to become one of the foremost authorities on stem cells. Thousands of paraplegics were waiting for help and rehabilitation...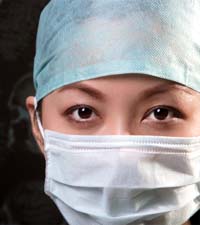 Using her considerable influence, she picked Mrs. Desai as her first patient. It was her wish to remain incognito, so she wore a surgical mask and was to be referred to only as Doctor Sahiba.

With the help of top neurosurgeons, Mrs. Desai's spinal fracture was operated upon and the stem cells inserted.

Sandhya followed her progress keenly. Sometimes she would let her mask drop but always left so that Nakul was never able to meet his mother' savior .

Within 3 months, Mrs. Desai got the feeling back in her legs and in 2 months she was back to walking, gaining in strength every day.

A couple of days before discharging Mrs. Desai Sandhya sat before her dressed in a sari her eyes sad and misty.

'I am Sandhya the driver who hit you I can only ask you to forgive me. I can never face your son again, but he has been in my mind and heart"

Mrs. Desai was already in tears. I know all about you and the wasp stinging your face. What you have done for paraplegics is beyond words. As for my son, let him speak for himself, ' Show your face you rascal. I know you are awake'.

The curtain by her bed slowly parted, exposing a happy Nakul in the other bed. Sandhya immediately pulled the sari across her face to hide it, remembering Nakul's words many years ago.

But Nakul was slowly walking towards her as if in a daze.

"Please don't hide your face, the face which has haunted my dreams every single day since the first day in College. I was waiting for a chance to apologize for the harsh way I spoke to you. Now you have saved my mother. I love you more than ever, Sandhya, more than life itself."

Sandhya replied, 'And you have been on my mind and heart ever since I saw you sneak to my car and offer me a fresh flower every day. For each flower I wanted to brush my fingers over your face imagining I was erasing your pimples one at a time, so the whole world could see your handsome face then as they see it now."

"Hello! Hello! Hello!' said Nakul's mother drawing their attention. What am I, a piece of furniture to be ignored ? But I am joking . Now go leave me alone, you have much to catch up on ."

But the two had already moved out of the room gazing into each others' eyes, holding hands for fear fate would separate them. They remained in the hospital garden a long time until the first rays of the sun lighted up the sky.

The hospital sweeper found them on the bench with Sandhya seated and Nakul resting his head on her lap, oblivious of their surroundings. Whereas his heart told him not to disturb the couple, his mind told him to show some action in case his supervisor was watching.

So he went about pretending to sweep all around the bench, the tip of his broom staying 2 inches above ground making no sounds.