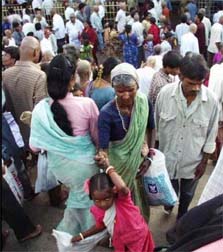 Serena has gone to Albany in New York to start a new life with her Uncle Tom. Both her parents had died in Mozambique of AIDS and she had no one to take care of her. In her country nearly 1.2 million are HIV infected. 13% of the World's population staying in Africa alone are HIV positive. More people died of AIDS in 1999 than in any previous year. The 2.6 million deaths in 1999 brought the estimated total number of deaths since the beginning of the epidemic to 16.3 million.
The AIDS epidemic affects people of all ages. About half of all people who contract AIDS are under age 25. Over 90 percent of the children under age 15 who contract HIV are born to mothers with HIV. Women can pass HIV to their children during pregnancy or delivery and through breastfeeding. Over the course of the epidemic, AIDS has left over 11.2 million children under age 15 without their mothers and many of those same children without a father. While some therapies can lengthen the life of someone with AIDS, there is still no cure for AIDS.

"AIDS constitutes one of the biggest crises and the biggest threats to the global education agenda that we have known," The Executive Director of the Joint United Nations Program on HIV/AIDS (UNAIDS), Dr Peter Piot said. "There is no other single factor in the world today that so systematically undermines the gains of decades of investment in human resources, education, health and the well being of nations. AIDS erodes the demand for education, as more and more children and families are affected. AIDS diminishes the supply of teachers, and with it, of course, the quality of education that is provided."

The world population growth is now beginning to slow as a result of social factors associated with the media, increasing education and role of women in society. The exploding population and its consequences has an inevitable human impact on all aspects of the biosphere as the most serious crisis ever to face the planet. However in this millennium the focus has been on living better than longer. Population Reference Bureau has made the following projection about the World population in the current millennium.
Population
mid-2000
(millions)
Births per
1000
Population
Deaths per 1000
Population
Natural Increase
(Annual %)
Projected Population
2025
(Millions)
Projected Population
2050
(Millions)
World
6,067
22
9
1.4
7,810
9,039
More
Developed
1,184
11
10
0.1
1,236
1,232
Less
Developed
4,883
25
9
1.7
6,575
7,808
Less
Developed
(excluding
China)
3,619
29
9
1.9
5,144
6,439
Although population growth has complex sources in the industrial revolution, and improvements in medical technology which have reduced the infant mortality rate in underdeveloped countries. Many of these countries have cultures which have traditionally sought large families, both to compensate for early deaths and to provide additional family help with traditional labor-sharing.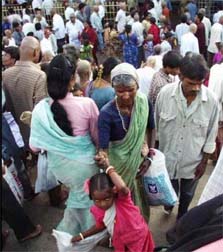 Source University of Auckland, http://www.math.auckland.ac.nz/
All is not yet lost. However the efforts have to be taken both at the social and the religious levels. Population measures aimed at voluntary contraception, education, family-planning, empowerment of women to have autonomy over their own fertility and reproductive process, and the providing of economic circumstances in which full education and autonomy is possible. Religious patriarchs should publicly rescind harmful statements encouraging population growth, such as those opposing contraception and claiming sex is solely for procreation.
Abortion still remains a controversial issue of new medical technology, because it presents an ethical continuum. It is a matter of individual conscience, which needs to be discussed further through continuing ethical debate, rather than religious edict and violent conflict. Good education, free access to contraception, responsible use and advance reproductive advice is a constructive alternative.
On the whole we all have to appreciate the size of the world would to an extent govern the state of the world. In this millennium, the common man has to keep his family small, so that he enjoys a decent lifestyle.