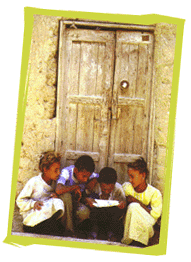 "There is a general tendency in all development sectors to treat people as beneficiaries - masses to whom certain welfare oriented benefits are to be given by those who know better, control economic resources and have access to information," said Anita Kaul, DPEP project director in Karnataka. Of the many criticisms that India's World Bank-funded District Education Program (DPEP) has endured what sticks is poor encouragement of community effort.

Ten years ago, governments all over the world made a number of commitments at Jomtien aimed at increasing the knowledge and skills of their populations. Amongst other things, they set the year 2000 as the time by which all their young citizens should be able to complete basic education.
After ten years, at the turn of the millennium, we are now looking back to assess what we have achieved, and looking forward to chart our path into the future to reach the goal of "Education for All."

Developing countries have experienced extraordinary progress in education and the social sectors generally in the past three decades - more so than in any prior period in human history. The greatest successes have been in access to schooling. Despite these achievements, major challenges remain: to increase access to education in some countries, to enhance equity, and to improve quality - due in part to the pressure of high population growth. Still, 125 million children aged between 6 and 11 have no access to education as we enter the new millennium. Many more attend school without completing the primary grades, and still others have an educational experience lacking in quality. This has hampered efforts to build up the capacity needed in communities to become informed and competitive, to close the digital divide that separates developing from developed countries, and thereby to reduce poverty.
Given the present education scenario, governments can be more effective when they work together with NGOs and local stakeholders, with the support of bilateral and multilateral development agencies. During the past ten years, UNESCO, UNICEF and the World Bank joined hands with governments, donor agencies, and NGOs, to move forward with the goal of education for all. United Nations organizations - including UNESCO, UNICEF, UNFPA, and UNDP - regional development banks and a range of professional bodies have also pursued this goal with dedication.

UNESCO Director-General Ko'chiro Matsuura appealed for increased development aid in an address on 2 October 2000 to the Development Assistance Committee (DAC) of the Organization for Economic Co-operation and Development (OECD). Speaking about the role of education in poverty reduction, Mr. Matsuura urged a doubling of aid for education by 2005, to total $7 billion, and a further doubling to $14 billion by 2015 with more emphasis on basic education. He also urged debt relief to enable poor countries to increase social expenditure and fight structural poverty.

The Director-General reiterated the goals for education set out in the Dakar Framework for Action and noted that at the recent G-8 meeting in Okinawa, the delegates committed themselves to achieve the goals of universal primary education by 2015; achieving gender equality in schooling by 2005 and to ensure that no government seriously committed to achieving education for all will be thwarted in this achievement by lack of resources.

In this new millennium, we have to pledge to make education available to one and all. Any small effort from each educated citizen to educate an illiterate would go a long way towards elevating education levels in this world. Education programs have to be linked to poverty and population programs, for best results. And hopefully the current decade would do much better than our earlier efforts.