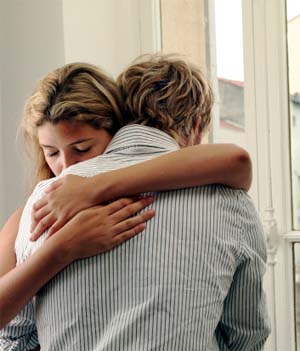 Something was wrong. Jack wasn't the same any more. He would never look twice at the girls dying to seek his attention. Be it during his college days or even after his marriage, pretty girls always made advances to him, but Jack Wilson had eyes only for his wife. "Empty headed bimboos" he'd call them!

And now, he was reciprocating their advances and shamelessly flirting with them at the party. Patricia found her nerves tighten. How could Jack behave so ridiculously? What had provoked him to change so drastically? What happened now? Damn him! She was on the verge of frustration!

When they arrived at their apartment, she couldn't help asking, "Jack, what's the matter? Why were you behaving so outrageously at the party?"

"Oh, c'mon! Maybe I was a bit too drunk!"

"Shut up! You were not drunk enough to behave the way you did without any reason or motive. Whom are you kidding? What's wrong with you, Jack?" she turned to face him, only to find him fast asleep on the sofa.

It hurt to see him get drunk frequently and then embarrass her in someway or the other. Patricia would go on pondering over the reasons and possibilities. All in vain…

Was she taking good care of him? Was she neglecting him in any way? After all, she was busy working as an executive of a well-established marketing firm. But how could that be the reason? She took every possible opportunity to be with him and love him the way she had always loved him. Jack needed no reassurances- he was so happy with her. He never complained or grumbled and she adorned him for that. They both were so much in love with each other. Their marriage had been a struggle in itself…

Patricia had been 18 when they got married. Jack too was quite young; in fact too young to get married. At 19, he looked cute as a bridegroom. They had a fairy-tale runaway marriage! Despite the resentment shown by Patricia's parents, she went ahead with her marriage. Her parents were doubtful about Jack's career, but she knew well that he had the brains and talent to reach the top. And she had been right; Jack was a very successful architect. What more could she ask for? They were married for about six years but had no children. Jack didn't want to share their love with the baby…not yet!

Now, lying on her bed, Patricia found herself crying as she thought more and more about her life. Since a few months things had changed. Why? She could not answer this question, which lingered on her mind.

The following morning, Jack was getting dressed for his office when Patricia revived the previous night's topic.

"Jack, we need to talk. Please tell me, is there a problem? Are you fed up with me? Do I neglect you? Is there any problem at the office? Whatever is wrong…please tell me the truth or else I'll go crazy guessing what's wrong." Not getting any answer to her questions, she continued, "Why are you not answering me? Stop playing games with me. Be honest enough to let out the secret. We both know that something is wrong somewhere. Things have changed…you have changed…"

Jack replied with an irritated tone, "Pat. Look, I've not changed. It's just that times have changed. Maybe you never knew me wholly. I was always like this." So saying, he left in a hurry.

Patricia looked at his departing figure, too confused to stop him. How could she concentrate on her work? That day, finally she broke down in front of Frank. He was her boss as well as a good friend. A handsome, rich, and a candid man, Frank was still a bachelor. A long time ago he had been interested in her but had given up all hope when he realized that she was madly in love with Jack.

"Frank, things are not the same any longer. It's a torture not knowing what's on Jack's mind. I can't bear it any more." Patricia cried in pain as Frank kept watching her. She never discussed her personal problems with him, but things were never so disturbing before. She dismissed the possibility of Jack's infidelity when he suggested it to her.

"Pat, maybe Jack is involved with another woman and wants to get rid of you. He can't tell you that flat on your face and wants you to end the marriage."

Patricia looked at him wide-eyed, unable to grasp this possibility coming out of his lips. "Frank, how can you say such a thing? We love each other very much. He's not the type to fall for some one else, especially after marriage. He never believed in extra-marital affairs. Even if so, he'd have told me directly. And if he did, I would set him free for his sake and happiness." She shook her head at this possibility. It would be so hard for her to ever live without Jack. But what if he wanted to…this thought worried her!

One day their mobile phones got exchanged, as they were identical to look at. Patricia received a call in her office from Dr. Xavier. She answered with a puzzled expression on her face, "Sorry doctor. I guess our phones got exchanged. I'm his wife speaking. If there is any message, I'll give it to him." She could feel the doctor's hesitance.

"Oh, never mind! I…I just called to tell him something about a friend of his. Nothing important. Thanks anyway." And he hung up!

Puzzled, Patricia wondered about the call. She couldn't understand why a neurologist was calling up Jack, and that too on his cell phone. Something was wrong- she could feel it! Not able to resist, she rushed back home. Once inside, she searched for the key to the wardrobe. Since sometime, Jack would not let her take care of his clothes, etc. and kept the key to himself. But she had suspected nothing. It never crossed her mind that he could be hiding something from her. Oh God! How careless could she have been! Right now her mind was racing. She looked for the duplicate keys and after a reckless search, she found one. Sighing with relief, she opened the wardrobe. Nervousness made her hands shiver.

"I hope I don't find something alarming here!" Her heart sank as she lay her hands into the neat interior. Without delay she found Jack's case file. Opening it carefully she tried to read it but found herself in panic. Tears rolled down her cheeks as she could make out the contents of the reports. Throwing the file on the floor, she fell on her knees, weeping like a child who is horrified in anticipation of something dreadful to happen. All along she had failed to notice the sadness in Jack's eyes, even when he gave her a silly, careless reason for his absurd behavior or when he deliberately irritated her. She had been completely unaware of what lay beneath Jack's new self. No, she had never guessed the pain that must have tormented him!

She immediately searched for Dr. Xavier's number and found him on the line. On being prompted, he had no choice but to reveal Jack's medical condition. He told her that his medulla had been affected by tumor. Life had been hell for Jack. He got terrible headaches and almost lost his senses. He had very little time left now. He told her the facts very clearly. "The cancer has spread to the whole of the brain now. Even if it had been detected earlier, nothing much could be done about it. Medulla is a very sensitive part of the brain. The tumor can lead to coma and sudden death."

Things now started to fall into pieces. She knew Jack very well. He knew that she would never think of leaving him for a better life without him while he suffered. Jack must have not wanted her to face this reality and hence behaved so unlikely. How could he think that she would get fed up of his changed behavior and leave him? She would never have done so nor would she do it now!

The door opened suddenly. Patricia turned to face Jack. He realized what must have happened, a miserable impression on his face. He seemed to be in pain and in shock as well.

"Pat, what the hell are you doing with my things? I… I came to get something I had forgotten. Why are you looking so horrified?"

"Jack, how could you hide such a big thing from me? Didn't you feel the need to share your pain with me? I talked to your doctor and he tells me that … that…oh, Jack! Why you? Oh…"

Patricia screamed as Jack fell on the floor, overpowered by the pain he was enduring for so long. He yelled, "Oh my God! Save me from this hell. I wanna die...I want …" Jack closed his eyes as everything was blank before him.

Patricia rushed to him and held him tight. "Jack, Jack, please open your eyes, talk to me. Jack!" Panic seized her as she tried to move him towards the door. She cried out for help to her neighbor and carried him to the hospital in her car. They reached the hospital where he was carried to the emergency ward. She decided to call Dr. Xavier and tell him to come immediately.

Meanwhile the doctors at the hospital checked him and informed her that her husband had gone into a coma. "It is a matter of a few hours, death is inevitable."

Dr. Xavier came and examined Jack, only to reconfirm what the doctors had already told her. "He has suffered a lot. It's better for him to die rather than live like this. Pray for his peaceful death."

Patricia sat down beside Jack, holding his hand, crying and talking to him, "Jack, don't leave me. I love you too much and will always do so. Please don't die- we'll both live together, in any way. Please!"

They had lived and survived life's hardships together. They loved each other beyond the world- how could they be separated by it. Even death could not kill their love. But time changes everything. She'd have to live her life as usual and one day she'd overcome her loss and sorrow. The thought that she would forget Jack sickened her. With him she could endure all deaths; without him, live no life!

Her thoughts were interrupted. The doctor was telling her something. What, she couldn't make out. What was happening around her? She found it hard to concentrate and come out of her thoughts. She heard the words "…dead…sorry…bless him!"

"Shut up! Can't you see he is sleeping?"

"Mrs. Wilson, please control yourself. Your husband is dead. Be brave to face the reality…" Patricia fainted as she heard these words.

When she woke up, she felt better. She was on the hospital bed and Frank was beside her, a look of concern on his face. It was morning. Frank told her that he had made the funeral arrangements. It was to be after two days. Unexpectedly, she was very calm and pacified.

Patricia found a letter addressed to her by Jack. He had written that he loved her very much and knew that she too did. That is why he did not disclose his suffering. He wanted her to despise him and find someone else. He knew that this would be unbearable for him and though he had tried to make her hate him, he could not possibly succeed in doing so. He wanted her to live her life in a positive and healthy attitude. Their love would never die but she had to live her life for that purpose. He wanted her to marry again sometime in her life- maybe Frank! He did not want her to waste away her life-she had to live happily and not for the sake of it.

That night, Patricia had a dream in which she saw Jack. He was smiling at her from the sky but appeared very disturbed. When she woke up, she experienced a sudden sense of determination!

On the day of the funeral, she looked very normal. She didn't talk to Frank or anyone else as she watched Jack's coffin being lowered into the ground. Later, everyone started to depart. Frank came towards her as tears fell from her eyes. Why did Jack have to leave her and punish her like that? He was forcing her to live happily. And she knew that she owed that much to him. She had to be brave, as often the test of courage becomes rather to live than to die. For this, she'd never forgive Jack…nor forget him!'

Patricia left the graveyard, walking slowly in the direction of her house and then turned to wave at Frank. He joined her and they walked towards the house…together!