Nah! It isn't raking moolah in the call centers and hitting a mall for a shopping spree for it involves working at the odd hours. It isn't being a politician either, for one has to deal with tormenting troubles of swaying the other parties off the feet. It isn't being a property dealer even if one has inherited acres of land the moment he docked out of his mother's womb. For one will have to grease the palms of babus to shun a project, pay goons to extract money and fight cases in the court. After all, one may never know the gestation period of a court case in India.

A corporate honcho has to spend hours reasoning out the effects and side effects of a decision and a homemaker has to hop with the pace of a toddler to feed her kid. The easiest job is one such which poses no problems, free from worry or anxiety, marked by moderate steepness and without any hardship.

The easiest job is one such where one can put a no-show anytime, where there is no authority to scrutinize, where the clientele don't care a boot about the work done and where one gets paid for gluing himself to the chair. A hard slap on the Indian development index it may be, brutal truths are truths anyways- being a government teacher!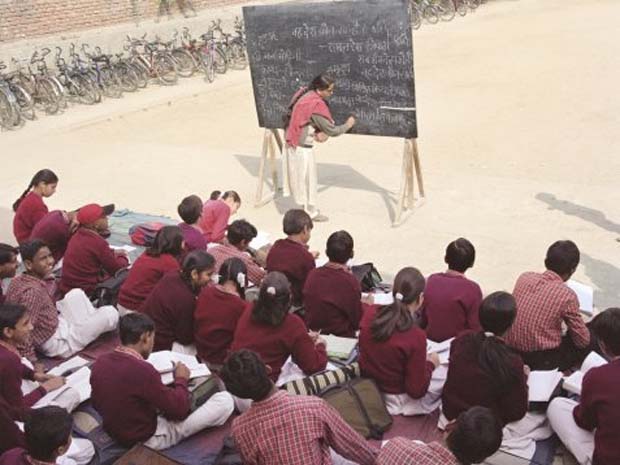 You teach the poor, the Poor's knowledge is poor, the Poor's expectations are poor, the poor won't subject your work to investigation, the Poor's parent won't crib about the bad handwriting and hence you can teach the poor the poor way. Everlasting license for lame teaching granted!

There is no sense in cultivating guidance to the destitute as they themselves aren't there to learn. See, you allure them to the mid- day meals and what better way for the pauperized to get rid of the burdensome duty of stuffing the bellies of their children with food.

A horrific reptile once in a while in the khichidi is no harm. It's free food and anywhere out won't be any better either.

Do the preachers of wisdom care a hoot? Nah again! Why should they? Had it been a boss at a corporate office, one would switch off the lights not in use, one would come up with innovative ideas, one would work late hours, and one would pretend working in a team. Who knows - what and when the boss notices the extra efforts? A government teacher-ha! Bribe the peon simply for some hundred bucks and he will let you know when the authority is coming for a check. Lick the boots of officials; make a child recite a patriotic poem, make the other one sing Jai Ho and see, how super-excellent you are at your work. Promotion granted. Work done. Easy.

An average government teachers get paid 10,000-15,000 bucks as a novice, a post-graduate degree in hand and it can be anywhere from 25,000 to 50,000. Undoubtedly, more desirable than working from nine to six, eight to two is more fitting with absenteeism at one's own whims. Jai ho for the so called teachers.

So far, in the history of India, teaching in the villages is one of the major occupations for which we have not yet developed tools that make an average person capable of competence and performance. And who wants it? For if the poor is not poor in knowledge, awareness steps in. Awareness is bothersome, ignorance is painless!

I told you the job is easy.