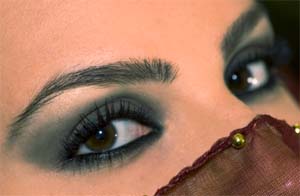 Adila was preparing for his arrival. every time she met Mustafa, she had renewed passion. Adila felt like she should express whatever she feels for him in the brief moments that he is with her, for, she didn't want to leave anything unsaid. They hadn't had a very smooth path up until now. Constant fights, and pressures from all quarters were insurmountable. All that they had was each other and that too, in bits, Adila felt, was falling apart. She always saw love in Mustafa's eyes.. Never a moment of anything else. But of late, this love was of different colors and mostly accompanied by a 'how could you do this to me Adila'.

Adila's father was preparing for her nikah. This was despite her wishes. Try as she could, Adila could not stop her father in time. Although no ceremonies had been held yet, by the time Adila had it called off, amidst much family shame and sharp stings at her character, it was too late. Mustafa was already far away. He was understandably angry and visibly upset. She knew he loved her, but whether they would be together, she hadn't the faintest idea.

Adila was getting ready for his arrival. She was adorning her tiny feet with mehndi. The patterns were brilliant and Adila stood afar, bending down to admire the piece of art she had created in Mustafa yamin's name. She patiently left it on and went to sleep, hoping the colors would come alive by the morning. Up at 5, Adila quietly went to the baodi, and dipped her feet in the cold water. A brilliant maroon was what emerged. Adila's tiny feet shone with grandeur fit for a bride.

Today she was to meet Mustafa. She rehearsed in her head, how she would ask him to look for his name, the alphabets carefully scattered and intricately interwoven in the design on her feet. And when he would fail, she would coyly point out, M..U..S..T..A..F..A..

Adila went often to the dargah of Baba Aulia and asked for his blessings.. Sometimes, she just went there to vent herself.. But today, she went to pray, for the second time, for her union with Mustafa. That he wanted to see her was a positive sign, but Adila just wanted to make sure. She bought a 'mannat ka dhaaga' at baba's dargah and with flowers in her hands, and painted feet, she proceeded to meet baba. The dargah premises was made entirely of white marble. It was pristine, and beautiful. It shown with baba's presence. There was a 'jaali ki makaan' through which Adila had to pass before she went to the dargah. There were two tiny steps that had to be descended before she could reach the main aangan. As she set her first foot down, she noticed how her feet shone against the white marble. It was reminiscent of the first steps a bride takes in her new home. That scene was now etched in Adila's memory forever. And she felt bright. She felt like she was Mustafa's blushing bride.

Adila met her beloved with great enthusiasm, but noticed he wasn't talking much. She prodded, but got no response. After a while, they went to a small room, where they often had had their romantic afternoons and passionate evenings. They made love. As they did today. It was different thought Adila. It was not that fiery. Something was missing.

After all was done, and they had dressed, Mustafa came close to Adila and said it was all over and this would be their last time. Adila froze. She didn't know what to say. She cried and he cried and she pleaded and begged and fell to his feet. Nothing worked. She knew he had his reasons.. But her heart was screaming in sheer pain.

That evening, at the time of prayer, Adila went to baba. She stepped on the marble steps again, this time her hair was disheveled and she smelt part herself and part of Mustafa's attar. She descended from the steps as she had in the morning, but this time, her feet didn't shine.. What was a sight of beauty was now an embarrassment to Adila.. She felt all the eyes staring at the patterns on her feet and laughing at her stupidity..

Adila meant justice. What an irony.

As she sat to do her prayers, tears rolled down her eyes, she meant to scream, but suppressed her voice. Somewhere in the background, a group of men sang to babaji, one of Khusro's odes of love..
She felt they sang for her that day..
"jaaon..na jaaon..piya ki gali..
Raangein paaon pakdi gayi jo chali..
roshan roshan pairon se,
Khud hi sharmaaon,
Main is pag us pag doloon,
Jaaon na jaaon,
Pagli kar dini"