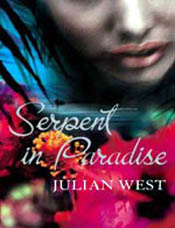 This is a gripping story of love and murder, raw passion and brutal violence, an extraordinary portrayal of what has gone wrong with Sri Lanka, otherwise an island nation of picture postcard beauty. Using as the backdrop a second blood-soaked insurrection that the Sinhalese Marxist group JVP launched and the state's brutal response in 1989-90, a period when Indian troops took on the Tamil Tigers elsewhere in Sri Lanka, veteran war reporter Julian West unveils a captivating and racy saga in her first work of fiction.

The story revolves around Eva, a photojournalist who returns to Sri Lanka, the country of her birth, against the wishes of her mother who clearly has secrets to hide. Eva sees the decaying house where she grew up, and soon falls in love with a young Sinhalese man, Navahiru.

"She thought of him as a dark-skinned angel; as comforting as opium, offering forgetfulness in place of turmoil. He was like the island. The one she loved." They make plenty of love. "That night, they f----d in the shower, their bodies rippling together like seals, and then again in bed."

The times are bad though. The JVP, whose earlier insurrection in 1971 failed with the loss of thousands of young lives, is again on the offensive, targeting and killing members of the security forces and others it sees as class enemies. The government is singularly merciless, and the bodies of young radicals show up everywhere. Innocents too get killed aplenty. For Eva, there is plenty to shoot. But she is appalled. Eva blames the savagery of the rebels, the police and the soldiers on "the erosion of older, gentler village values".

And then comes Carl, an American journalist based in Colombo who falls for Eva head over heels. He strikes a friendship with her but finds Navahiru a stumbling block. Casually, he shares his predicament with Captain, a young Sinhalese officer of the Special Forces - "a good source of girls...stories and information". Even as Eva reciprocates Carl's feelings, armed gunmen seize Navahiru who gets mixed up with JVP radicals - and Eva is shattered.

Terror then takes over. Carl feels guilty. Like thousands in Sri Lanka driven to despair, Eva frantically hunts for Navahiru, using all her contacts, going to the extent of faking an interview to ask the powerful interior minister ("Close up, he had the pasty skin and open pores of a sensualist and a drinker"), the man who presides over the government death squads. Finally, Navahiru's fate is what many suffered at that time.

Eva is shattered, but by then her affair with Carl is intense - although questions do crop up in her mind about the American's military friends. Carl takes a relief ship to the Tamil north, ignoring Eva's requests to take her along, and almost gets killed in a killer cyclone. By and by Eva also realises why her mother, Vivien, did not want her to fly to Sri Lanka: she discovers her real father.

"Serpent in Paradise" does not touch upon the LTTE war except in passing: "The north was only 250 miles away, but it could have been another country, another century...Now it was in the hands of the rebels, with their Disneyland iconography and pastry-cutter ideology. They were childish, but like any child with power (and many were children), they were deadly."

But Sri Lanka comes alive in the book. The portrayal of Colombo, of the towns, of the streets, of the rural landscape, of the military press officer ("a rat-faced colonel with red eyes, who offered tea and lies"), of the terror, everything is as real as it can get. Is this work of fiction based on a real life story?