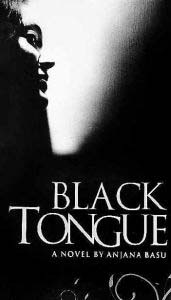 Witch-hunting may be a rural pastime these days, but there are still wiccans all over India who can be recognized by the blackness of their tongue. Every single foul prediction of theirs apparently comes true, so beware!

Author Anjana Basu's "Black Tongue" is an articulate depiction of domestic hysteria, of conjugal bliss soured by retching realities, of Eden erased.

Amrita Sinha, a social worker in West Bengal, is uncomfortable from the start by the easy insolence of the new maidservant, a chit of a girl with sly, sly eyes who is there to look after her son, Rahul. Soon the women are mortal enemies and paranoia overtakes the paranormal.

Barely servile, Maya steals more than oranges from Amrita's household. As husband Arka seems to increasingly find no time for her, Amrita is convinced of serious hanky-panky by the little she-devil in her house. But even dismissal does not get rid of the girl as she returns to haunt Amrita with her "death".

Is Maya dead or not, will Amrita's ex-lover Paresh help her without any tangible returns, can Arka understand what his wife is all about as she slips deeper and deeper into incoherent corners and converses in a make-believe world?

Says the book's blurb: "The story looks askance at a strange but recurrent socio-political phenomenon typical of West Bengal: pre-modern superstition existing in the interstices of an enlightened political apparatus."

Basu wields her pungent pen with the right amount of ink to the last drop. The narration is smooth and sprinkled with Bengali truisms and social stigmas. There are socialites lurking among the social activists, Commie truths popping up, 'bhodrolok' watchers of the vote-bank and village idiots, a marriage sundered by mundane chores and maternal madness that peaks under a crisp Dhakai palloo on a particularly hot summer day.

The maid-memsaab equation in the urban context is one fraught with an uneven balance of power. Cities make slums and slums help the city run, spewing up large quantities of manpower. Ghosts of sewage and silt loom large under the neon lights and guilt scatters all about when politics rears its dirty head.

The novel's needle carries its thread without a hitch until Maya starts to talk. The unclogged vocabulary, her perfect, almost author-like grasp on the past and her sudden analytical abilities clash with her previous characterization.

Amrita, Arka, Rahul, Paresh-da, Maya and her brother Naren could all be people one meets some time or the other. In highlighting how extraordinary events happen to ordinary people, Basu sutures the gaping wounds of fact with fiction.

Even the prologue, for which Basu won an online prize in 2005, reads too silky-smooth to catch up with the rest of the story, which is slightly rustic and raw in pace. It is not so much that Maya's take rambles but that it sounds like another tongue altogether. Her gush forces - rather than clicks - the links to black tongues and witchcraft. Both are fine pieces of writing but somehow separate from each other.

Despite this disparity in voice and the duality of speakers, "Black Tongue" puts up a fine image of Kolkata today with its urban-rural turmoil. The pages make it easier to understand the churnings inside present-day Bengal, a place where Nandigram can burn and Rizwanur can die.