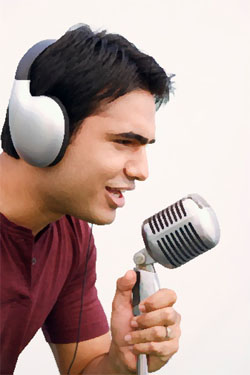 Nishidh could not have been in a more dejected mood as he got into a taxi to go nowhere in particular. In reply to the driver's query, he waved his hand and said the first thing that came to mind, "Gateway pe le chalo." The cabby was thrilled. He had not only recognized the defeated contestant, Andheri to Colaba meant he had hit a jack-pot, so he could go home early today. His fare's sullen face cautioned him to drive silently.
Eyes still swollen from yesterday's crying, Nishidh simply could not accept his failure. This was the second time he had been voted out from a live talent hunt show. The first time had been two years back. Then he had conceded with grace that the winner was a singer par excellence and that he needed to train intensively.
He had been taken under the wings of an upcoming, quite famous music director from Bollywood. For two years he had put utmost effort into acquiring the finer techniques of vocal music - classical and pop. His 'guruji' taught him the nuances and differences between ghazals, quawalis, bhajans, romantic songs; he gave him a basic knowledge of the various ragas and insisted he gave his practice over twelve hours a day, if he wanted to be any good. To keep his vocal chords in perfect condition, he had to forgo many foods he loved, but that was a small price to pay for the success and ensuing fame he had set his sights on. Teacher and pupil both knew that he could not become a 'pundit' with only two years of training and riyaz, but then, all Nishidh wanted was to be a singing sensation, the voice of every top notch actor in the film industry. He wanted the adulation and fan-following his favorite singers enjoyed.
This time, he had won the audition round hands down. His admirers from the previous competition went gaga and the selectors had only praise for him. He was pretty sure he would bag the prized contract, the money and the sleek car, plus reap lots of other benefits. The world always bows before a winner. He visualized the corporate world vying to make him their brand ambassador, music directors signing him up and a burgeoning bank balance. His confidence and fortune see-sawed between the judges' assessment and the public votes, but he made it to the final four. Now he knew nothing could stop him. While the other three had reached here more by popular ballot, the judges had bet their expert opinion on him.
Yesterday's verdict had him nailed. His hopes splintered, he was gravely knocked down from the self-erected pedestal. It was not possible, he kept sobbing. It was communal bias that had brought him to this. No, it was regional discrimination, or it could even have been internal studio politics played behind his back. He had seemingly lost his faculty to think straight. Family and friends were there to fuel his suspicions, to calm and console him but he had refused to see anyone.
At a traffic signal, Nishidh looked at the occupant of the car alongside without really seeing him, turned his gaze away and then was compelled to look again. That face was vaguely familiar. Trying to put a name to it he momentarily forgot his sob story, but before he could jolt his memory, the signal turned green. His taxi shot off straight ahead and the car took the right turn. Nishidh craned his memory but still could not remember. His taxi driver was watching him in the rear view mirror. Now he spoke up, "Saab, did you recognize that man?"
"Which man? Who are you talking about?" countered Nishidh irritably.
"Arre Saab, the man in the blue Santro who took the right from the signal."
"So, who was he? And why should I care?"
"Don't you remember his face? Just a few years back it adorned the jacket of CDs and smiled down from billboards. He was the face of advertising and the heartthrob of ghazal lovers. Public memory is very poor but I thought at least you wouldn't forget Harpreet Singh."
The man's impudence grated on Nishidh's chafed nerves, but the name of his favorite ghazal singer arrested his caustic reply.
"Why should I have any special remembrance? And what do you know about me?"
"How can I not know you? Nishidh saab, till yesterday you were the toast of TV channels. And in one of your interviews you had mentioned how big a fan you are of his."
Being thus recognized soothed Nishidh's wounded pride. He became affable now and asked the driver if he thought he should have been out of the talent hunt.
"No saab. You are the best and I kept voting for you. I even bullied some of the other drivers in my union to vote for you. Don't let this setback get to you. Worse things can happen to people."
Again Nishidh wanted to lash out bitterly, "How would you know the pain of dreams shattered repeatedly? Do you know how each broken shard pierces your heart till it bleeds to despair? Do you even have any dreams, beyond ferrying your taxi and earning your daily wages?" His thoughts stung. The driver's voice intercepted his acerbic wallowing.
With an edge of familiarity he was saying, "You know Nishidh betay, Harpreet Singh's parents hail from the same village as mine. Our families know each other very well. What destiny! By the age of twenty-five, when others are still wondering what to do with their lives he had reached the pinnacle of glory. What a soulfully dulcet voice! Talatji himself had said that Harpreet Singh would be counted among the kings of ghazal singers."
"Yes, yes. I remember. But I hardly recognized him today. He looks so different. And why has he not brought out any new albums in the past two years?" wondered Nishidh aloud, his voice a question mark.
The taxi driver fell silent for a while as he negotiated the evening hour traffic. Forget it, mumbled Nishidh, I don't need to worry about others when my own world is crumbling around me. Anyway, they were almost at the Gateway, so he decided to let the matter rest and reverted to his shredded ego in self-pity. He got off near the Taj Hotel.
As the driver returned change he said softly, "Betay, life is very kind to you. Don't grudge it these little trials and disappointments. Harpreet has cancer of the throat, and will never be able to sing again."
Nishidh stood flabbergasted on the pavement, fresh tears streaming down his face. These tears were of overwhelming compassion, understanding and gratitude.