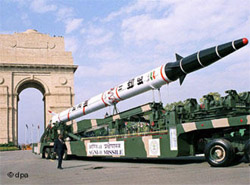 India tested the Agni III an Intermediate Range Ballistic Missile (IRBM) with a capability of 3000 kms virtually bringing Beijing within range on 12 April. The DRDO which has been under much flak for inefficiency and overshooting deadlines was jubilant over the success after a failure in July last year. Shri M Natarajan, Scientific Advisor to Raksha Mantri made a specific reference to the achievement of high degree of self reliance in AGNI III, as most of the sub systems have been developed within the country with the synergy between DRDO ' Industry (both Public and Private sector) and Academia. As per the Mission Director, Shri Avinash Chander, many 'firsts' have been established by this launch, which includes the Flex Nozzle Controls of Rocket Motor during powered phase, specially developed composite propellant with high specific impulse for the rocket. Guidance and Control with built in fault tolerant avionics, withstanding of severe aero thermal environment experienced during the Re-entry phase and coordinated mission management.
A total of 258 private firms and 20 DRDO laboratories were involved in production of AGNI III. Agni-I, with a range of 700 km, is reportedly inducted into the army while the country's first fully solid-state missile, the 2,000-km Agni-II, is currently being inducted. The test validated all technical objectives of the mission and there is no doubt that this has been a singular success of the DRDO as the programme is entirely indigenous and the many impediments placed under the Missile Technology Control Regime. (MTCR)

Given that India's missile programme is far behind that of China as well as Pakistan, the latter has far greater capabilities in medium range missiles as Ghauri and Shaheen, the Agni III tests laid to rest skeptics who felt that India was losing the missile race in South Asia.

Expanding on success gained in the Agni III tests, the DRDO apart from planning an ICBM is also indicating capabilities of miniaturizing the missile to be able to fit into a submarine. The third stage which will be fitted on the missile will grant it capability of 5500 kms with 1.5 tonne payload. The DRDO is also said to be able to convert it into a submarine-launched ballistic missile which would enhance second strike options for India. The DRDO is planning to test a missile defence system for the second time in August or October.

There is a need for caution as these plans are likely to increase apprehensions of India's neighbors particularly those who are not armed with missiles. The Indian test of Agni III is reported to have forced an Indonesian airliner to return to base and also disrupted the schedule of international flights from Jakarta inviting angry reactions from the foreign office in Indonesia. The foreign office claims that there was no prior information about the test thereby disrupting schedule. India however claimed that, "A notice was sent a week before the test by the Indian civil aviation authorities to Air Traffic Control (ATC), Jakarta and other ATCs in the region informing them about the launch window dates, danger time, zone and height." "The ATCs were requested to take action to issue NOTAM (Notice to Aviators and Mariners) in accordance with relevant ICAO (International Civil Aviation Organization) provisions," as per Indian foreign office spokesmen Sarna.

The Indonesian reaction could be lack of coordination due to which this problem has occurred and may have placed lives in danger, though a tragedy has been averted. Indian authorities need to be more sensitive towards ensuring that adequate warning is given to all concerned well in advance before such tests are conducted to avoid adverse diplomatic and political fall out. On the other hand it could be a message to India that it is increasing tensions in the region. This is a subtle message which needs to be taken heed off.

Thus despite the euphoria it is essential to place issues in correct perspective. Such systems while providing deterrence need to calibrate responses of friends in the neighborhood as well. The Defence Minister perhaps placed the issue in perspective as such long range missile tests can vitiate the atmosphere regionally as well as globally given sensitivities of neighbors as well as global players as the US. The row over Indonesian aircraft turning back after seeing the missile in the air denotes the sensitivity of how lack of coordination resulted in a major issue of misunderstanding between India and Indonesia. Thus downplaying the achievements may be a better strategy then hyping it. Congratulations to DRDO and India but make haste slowly will be a better strategy.