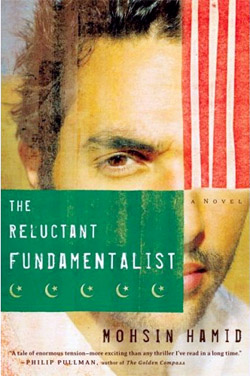 Pakistani author Mohsin Hamid's "The Reluctant Fundamentalist" is an incisive portrait of the transformation of a Princeton-educated Pakistani youth with a cushy American job and an American girlfriend into an America-baiting radical with a sneaking sympathy for the 9/11 attackers.

In many ways, Hamid's novel dramatizes simultaneous schizophrenia and romance with the American dream many educated Muslim youths experience as they go about making existential choices in a world caught in the treacherous currents of East-West encounters. 

The narrative is cunningly constructed as a monologue of Changez, a Pakistani 20-something young man who lands a plum job in New York and falls in love with the beautiful but troubled Erica (a subtle play on Am-Erica), with an unidentified American as his sole listener in a restaurant in the famous old Anarkali Bazar in Lahore.  
This is, however, just the frame. Hamid's second novel after "Moth Smoke" (2000) has a more ambitious and apt theme as it digs deeper into the psychology of fundamentalism and the roots of Muslim anger against an arrogant and insufferable America as it interferes in the affairs of others, be it "Vietnam, the Middle East and now Afghanistan", without being shrill or loud. 

The bright and beautiful American dream turns sour for Changez one fine day in Manila where he had gone to value an ailing company for Underwood Samson, an elite firm that proudly flaunts "Focus on the fundamentals" as its motto - an ironic reference to capitalist fundamentalism as opposed to the one of Islamic variety. 

As he switches on TV on that scary day in contemporary world history - Sep 11, 2001 - he found his inner voice articulating cultural conflicts he had chosen to gloss over in the midst of the good things of life Manhattan offered. 

"Yes, despicable as it may sound, my initial reaction was to be remarkably pleased," observes Changez. This was his moment of conversion; and from this point onwards his self-deprecating voice, alternatively wry and witty, acquires an edge of touchiness and anguish. 

Another hinge moment in Changez's life occurs in Valparaiso where he had gone to evaluate an old publishing company targeted for a takeover. Over lunch, the publisher, in an oblique hint at his predicament, tells him the story of Janissaries of the Ottoman empire, who were captured Christian boys trained to fight against their own people, which they willingly did with singular ferocity.

"I was a modern-day Janissary, a servant of the American empire at a time when it was invading a country with a kinship to mine..." observes Changez in a biting moment of self-knowledge. 

Hamid's novel is thus part fiction, part history and part polemics that is firmly grounded in bruising realities of the post 9/11 world and its troubled dialectic between Islam and the West. 

It also illuminates the temptations of radicalism and fundamentalism for well-heeled, educated youth who for all their success in the West still feel a sense of deep alienation and ennui in their adopted homelands, as was the case with the key perpetrators of 9/11 attacks and more recently of some suspects in the failed UK terror plot. 

Not that they have a morally superior alternative in place. 

Towards the end of the novel, the narrator, who has reluctantly returned home, mocks at his own paranoia and that of his American interlocutor. "It seems an obvious thing to say but you should not imagine that we Pakistanis are all potential terrorists, just as we should imagine that you Americans are all undercover assassins." 

It is in these troubled and self-conscious soliloquies one can find insights into the misguided clash of civilizations that is being enacted by fanatics on both sides of the divide.