When the first rally of boy scouts took place in 1909 in Crystal Palace, London, a small group of girls turned up, insisting they wanted to be scouts too.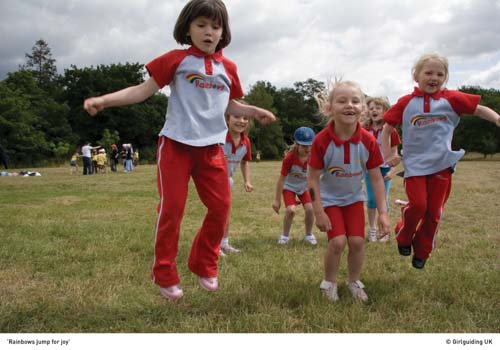 They got their way in 1967 and now make up 15 per cent of the Scouting movement's half a million British members. But many more of today's adventurous young women, instead join the sister organization the Girl Guides, set up by Scouts founder Robert Baden-Powell in 1910 in response to the popular demand and run by his sister Agnes. The Girl Guides, like the Scouts, has half a million British members, as well as a further 50,000 waiting to join.
By contrast with the Scouts - who have just celebrated the 100th anniversary of their official founding in a blaze of publicity - they have stayed resolutely single-sex, although they are determined to be modern. They stress the need for equal opportunities, fighting sexism and developing leadership skills.

"As the UK's largest youth organization just for girls and young women, we prioritize giving girls the skills, experiences and opportunities they need to reach for new aspirations and succeed in the modern world," said Liz Burnley, the Chief Guide. "But these goalposts don't stand still, which is why we constantly ask our members what they think, so that we can continue to be truly relevant to tomorrow's young women."

The latest survey into the skills Guides want to acquire was carried out in July and it produced some answers that would have raised eyebrows back at the Crystal Palace rally when the idea of young ladies going off on adventures was already enough to cause outrage.

But their focus on female independence and the practicalities of survival is in keeping with the spirit in which the movement was founded. Baden-Powell chose the name Girl Guides after being particularly impressed by "Guides" in India, who had operated on the North-West Frontier and whose main task was to go on very dangerous expeditions.

Of the 1,000 Guides surveyed last month, the oldest group - aged between 16 and 25 - cited debt-awareness as the most important skill. This was followed by knowing how to perform cardio-pulmonary resuscitation, how to speak confidently in public and how to practice safe sex. They also placed a strong emphasis on producing a first-rate CV and holding down a job, while at home, a rather unlikely priority was assembling flat-pack furniture.

The next group, aged between 10 and 15, placed prime importance on cooking a healthy meal, then leading a team, pitching a tent and the perennial need to know how to stand up to boys.

The seven-to-10-year-olds were keen to know their green cross code and they also wanted advice on safe cyber-surfing, in reflection of parental anxieties. Next on the list was looking after a pet, knowing basic first aid, counting to 10 in another language and then riding a bike and swimming 100 meters.

Some of the more traditional skills still figured highly, but the movement has come a very long way from the outset when girls were awarded badges for learning to iron and milking cows.

The one change that is very unlikely in the foreseeable future is for the Guides to go mixed. "We welcome male adult volunteers," said male press officer Robert Panting. "However, Girlguiding UK is the largest organization in the country that provides a safe girl-only space for girls and young women at the most formative time in their personal and social development."

Another survey carried out by the Girl Guides early this year investigated what girls in guiding felt about being young women today and the challenges and opportunities they faced. Entitled 'Girls Shout Out!', the report, published in February, presented the opinions of more than 3,200 girls aged between five and 25 years.

It found they were "ambitious, optimistic and ready to grasp their place in the world with both hands". But they also described the inequalities and pressures they believed they faced as women. At a time when many all-women institutions have gone mixed, Girl Guides placed huge value on "having a girl-only environment in which they can share their feelings, grow in confidence, form strong friendships and know that they are being heard," according to a summary of the report.

On the positive side, the survey found that 81 per cent of the 16-to-25 year-olds and 90 percent of the 10-to-15 year-olds believed women could do any job they chose. Four out of five 16-to-25 year-olds said they would not be financially dependent on their partners, while an overwhelming 94 per cent of 16-to-25 year- olds and 88 percent of 10-to-15 year-olds said they would go back to work after having children.

Less optimistically, half of the 16-to-25 year-olds were concerned their careers would be negatively affected if they had children and 39 per cent feared they would be paid less because they were women.

While Girl Guides believes the best way to fight such injustices is through a single-sex organization, at least members now have the choice of joining the Scouts instead, should they wish - an option denied them a century ago.