Here we are my little notebook, you and I in this lovely little corner with the pleasant scent of the books that are spread on the floor around us. Now, me and my pen have nothing much to do, so, my dear reader, humor us as we join hands to intrude into your blissful life and give you a little something to think about.
Have you ever noticed the fun of taking out your little notebook and that lovely ink pen and writing about everything you ever wanted to? Or would you rather switch on that PC and start to type with those red and green wiggles of spell - check, catching your eye as you try hard to concentrate.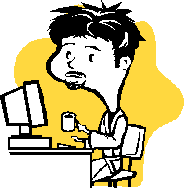 Hold that thought! Sigh! There it goes, while you spell checked, adjusted the margins, picked a font and justified the paragraph and gave it the old double-spacing. Never mind the thought'what you thought was only a paragraph is now a full page, with all the spacing! You can postpone the actual writing for some other time.
Phew!! I wrote that entire paragraph with no spell-check. Bet you can't find a single spelling error.
So here we are, my little sheet of paper and I, albeit a little old-fashioned, but nevertheless, strong - willed and ready to write.
Will she ever get to the point, you wonder? So here I begin, before you are thoroughly exasperated with my pen and me.
When I was about the age of a little rascal, my teacher worried about my handwriting and told me to use a fountain pen and practice writing till she could read my homework without a magnifying glass. My first fountain pen was lovely bottle green in color with a grand gold-topped cap. On a bright Sunday morning, my wonderful and tolerant mother walked into the room to see her only daughter's lovely new skirt splattered with blue ink. She didn't agree with me of course, when I told her that I thought it was now a pretty flowery pattern. Those were No - Surf Excel days, mind you. So, let me not say too much about me never seeing that skirt again.
Well, nowadays children have it easy. Type it in and give away a neat printout to your grateful teacher. A paragraph is now a full tidy page with double - spaced sentences. I am not one to deny the pleasures of double - spacing. Would I have ever got through those assignments and met those deadlines if I did? But my dear reader, never do I have more pleasure than when I write on paper as I am now.
It is unfortunate; I think that the teachers of today encourage children to give them those silly, impersonal printouts. There goes your job, my dear teacher! What have you taught that innocent little one, if you haven't taught him to write!! How can you call that printout a blessing in disguise? That paper, which supposedly rescues you from pages of illegible handwriting. Would you rather not wonder why there is a little blob of blue over the S, a messy fingerprint over the Y and why the Z looks like 2 and then smile to yourself as you imagine your favorite student writing only to please you?
So teach them then that the pen is mightier than the mouse and that messy handwriting, more beautiful than fonts like Times New Roman or Arial. Because if you cannot write, you can never really... write, if you know what I mean.
So pick up that pen and paper, dear reader and sit down at your favorite spot by the river or the back seat of your car and write. Bet you can't carry your PC there. And please don't tell me about the laptops and palmtops, those are not for writers like you and me.
So until next time, my pen and I bid you goodbye and Happy Writing!
P.S. I will just go type this in, so you my readers can actually read this piece. Maybe, give it double-spacing and justify it too. Please don't hold it against me. I wrote it first on paper.