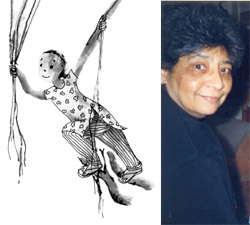 When a little girl named Aditi embarks on adventures across the world, to help strangers in complicated situations, it is exciting. When her companions include a one-eyed monkey, a tiny little ant (named SRL 4369), an elephant named Beautiful, a fire dragon, Goldie and the river dragon, Opal, it is fantasy stuff. But when the author is a feminist, this part adventure, part fantasy tale is more than just a book: It's a bold trend in children's literature.

In author Suniti Namjoshi's Aditi series - the fifth soon to hit the stands - we have children's literature of a different kind, part adventure, part fantasy, but set in a contemporary world. With Aditi and the One-Eyed Monkey (first published by Tulika in 2000, reprinted in 2005 by Spark-Tulika) Namjoshi began the journey of a brave little girl Aditi, and her extraordinary friends, travelling across the world, pouring through books in the British Museum library, wandering about in the Thought Submarine in the Great Barrier Reef of Australia, and doing much more. With bits and pieces of information, not merely for the sake of information, scattered across the tales, we learnt about Latitudes and Longitudes, about how to get a story across on a televisions news channel, about words such as "telepathy" and so forth. Each of these were 'discoveries' for Aditi and her 'gang' in their quest for adventure.

Aditi is Indian, wears salwar-kameez and plaits her hair. (This is how illustrator Shefalee Jain imagined her). However, Aditi is not in a limiting/closed 'Indian' world. Like any child in the world, she too has desires to know more, about the worlds and peoples and creatures of distant lands.

Namjoshi has already authored `Feminist Fables', `Building Babel', `Saint Suniti and the Dragon and Goja'. Few of her books for adults have been translated into Italian, Korean, Dutch and Spanish. Her books are apparently being used as texts in a few schools in Delhi, Baroda (Gujarat) and Pudukkottai (Tamil Nadu).

Namjoshi admittedly created Aditi for her own niece Aditi, who lives in Devon, UK. Apparently, children in a school in London were so impressed by the first Aditi book that they wished that Aditi - the book character - visits London during her adventures. So, Namjoshi created `Aditi and the Thames Dragon' (Tulika, 2002; reprinted by Spark-Tulika in 2005) for them. In this story, Aditi and her companions go to London to help two children, Rohit and Roshan, who believe the Thames is being poisoned. They manage to save the River Dragon of the Thames and get an interview on a TV channel.

The Aditi series include 'Aditi and the Marine Sage', `Aditi and the Techno Sage' and the most recent, 'Aditi and Friends Take on the Vesuvian Giant'. Some of the books are being reprinted this year by Spark (a Hyderabad-based publishing house) in collaboration with Tulika.

There is a lot of 'today' in the stories - Ant SRL 4369, while telling elephant of a simple 'web search' in the "Directory of Ants" reveals her serial number 4369. And a lot of fantasy. There is the magical cloak that makes people invisible. Or the magic potion that can shrink a big elephant into a tiny creature, tiny enough to ride piggy back on the ant or travel in a child's pocket.

The things that concern Aditi and her companions are universal - pollution of the Thames, the Shark and its tale of survival. Without sounding pedantic about any of these there is a lot to be said about each of these as 'issues'. While Aditi and her companions are Indian, their adventures are set in other parts of the globe - Australia, Italy, Canada and so on.

Children's books in India have had quite a sustained presence for long now. But unfortunately, with the hype created for books like the Harry Potter series, many of these are pushed to the sidelines.

Says Deeya Nayar, Editor of Tulika Books, Chennai: "Tulika's association with Suniti Namjoshi started when Sandhya Rao, our Senior Editor, met her during a Readers' and Writers' Festival at Birmingham, UK, in 1998. Rao attended a workshop by Namjoshi and Vayu Naidu (a Tulika author). Later, over dinner at Vayu's house, Namjoshi mentioned that she had written a story for children - her only one at the time, and published it in UK. Sandhya asked if she could have a look at it, and so it all began. "

"As children's publishers in India, we constantly attempt to break existing stereotypes, including those related to gender. All our books reflect that, in text and in illustration - e.g. a princess doesn't have to be beautiful and delicate and coy as she is almost always described. All of Namjoshi's writings do just that, and in a wonderfully natural way. Her feminism doesn't dominate, but is always there. Aditi as a 'princess' is vastly refreshing! The Sages are all female; so are the One-eyed Monkey and Beautiful the elephant...," says Nayar.

She adds, "However, it isn't as if we publish Namjoshi for that reason alone. She is a great writer. Each time we read her books we find new layers, subtexts, humour, notice afresh the way she phrases things. There is no series like the Aditi series in Indian children's literature today. It is contemporary yet timeless; juxtaposes 'fairytale' dragons with modern technology in the most unselfconscious way. In children's literature in English in India, there is perhaps no other example of real fabulist writing (fable writing), in the eight-plus category, apart from the Aditi stories..."