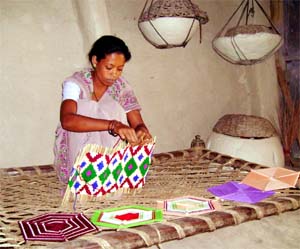 The Tharu tribals, living along the Indo-Nepal border in Lakhimpur Kheri district of Uttar Pradesh, are known for making country liquor within the confines of their homes, and for their insular lifestyle. However, they are now welcoming contact with the outside world, eager to learn a new trade to earn money and, more importantly, gain societal acceptance.

"We don't want our children, especially our daughters, to continue with this liquor-making profession. We have to hide it from the administration, the police and even from people. This profession does not have any dignity attached to it," states Jamuna, 33, a Tharu woman living in Chandan Chauki, Lakhimpur Kheri.
Jamuna is one of the many Tharu women, who have now taken to making handicrafts, like 'durries' (rugs) and decorative hand-held fans, for a living. While the red, white and blue striped 'durries' are made from cotton material, sourced from the local weekly markets, the fans and file folders are made from wool, leftover cloth pieces and bamboo sticks. Jamuna manages to make around six durries a month and then sells her products to tourists at the nearby Dudhwa National Park. Sometimes her husband, Ramchandir, 40, takes the hand-made products to the local market.

Women from 40 out of the 100 Tharu households in the Chandan Chowki have turned to making handicrafts for a livelihood. And this was made possible with training and monetary help from Banwasi Sewa Sansthan, an NGO working for the upliftment of tribals in Uttar Pradesh. With the help of small loans from the NGO, some women have set up looms in their homes.

For the NGO, breaking the ice was not a problem. According to Jitendra Chaubey of Banwasi Sewa Ashram, as the NGO already runs a boarding school in Chandan Chowki for Tharu girls, the women were familiar with them. And convincing them to start making handicraft items was easier than they had anticipated, as they were already tired of their husbands either making liquor or drinking all day.

In fact, with their new skill and extra, albeit meagre, income the women are now able to contribute to the family kitty and help their husbands, who work as bonded labourers in the fields for as less as Rs 5 to Rs 6 a day (US$1=Rs 40).

Jamuna knows that the sale does not fetch her much and says, "I just manage to get my margin money, as the tourists often bargain with us. We are not able to sell these 'durries' for over Rs 150 or Rs 200. And in the local markets, we get an even lower price," she states.

Yet, she is happy that the income offers an alternative for her children. "Our children are being exposed to the outside world now. They realise that making country liquor is not a dignified occupation," she says with satisfaction.

Like Jamuna, Maniya, 28, trained in the making of fans, creates around five pieces a week. But she is disappointed with the inconsistent market. "I sell these hand fans for Rs 25 to Rs 30 a piece, but tourists don't come here often. I am able to sell only three or four pieces a month," she says. But, Maniya continues to make the fans as she feels that the activity gives her a chance to do something dignified.

NGOs working with the Tharus realise the need for a sustainable livelihood and training to ensure that they do not fall back on their traditional occupation. Says Chaubey, "While an increasing number of Tharu women are keen to learn to weave 'durries', they are hesitant because of the weak market."

Sunil Singh of Rahi Foundation, an NGO that has organised health camps for Tharus, believes that the tribe has indigenous craft that has great market potential. "The Tharus decorate their huts with traditional designs, handed down over the centuries. The women need to be trained to incorporate those designs into their work. They also have a good knowledge of herbs, which can be tapped commercially," says Singh.

Neeta Male, a Mumbai-based design consultant, says, "The tribals of Kutch in Gujarat and Bastar in Jharkhand have managed to sell their 'tribalness' extremely well. One can recognise crafts made in Kutch or Bastar just by looking at them. However, there is nothing identifiable about Tharu items, despite the tribe having traditional motifs."

The Tharus are said to be the lesser princely people who migrated from Rajasthan to the Tarai region of Uttar Pradesh and Nepal in the 18th century. The need of the hour is to tap their unique skills and rich design traditions to create a niche market for their products, so that many more can look forward to a better future.