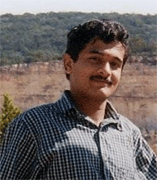 The other day, I was sitting in the hair saloon under the watchful eyes of the barber. He is one man even I have to take my hat off to, and I resignedly closed my eyes letting him take charge of my crowning glory (or whatever is left of it). The owner switched on the radio and "Prashnothara", "our replies to your queries" was being aired. Most of the questions were almost the same. Listeners were concerned about the governments decision to completely convert all AIR broadcast to FM.

This piece of information, new to me (albeit quite old I learnt later) set me thinking.

The radio has always been intricately involved with my childhood. This must be the case with a number of others, who were here before the cable TV boom. This dates back to those days when Doordarshan was the only channel on TV...

(Actually I doubt if any people knew then that there could be many more channels).

As far as I can remember, there were only a handful of programs related to films and their ilk. There was the much awaited songs program, Chitrahaar, the Sunday evening movie, Saturday evening Showtheme (after which would follow my favorite program "Vikram aur bethaal" - remember that one?) and of course the incomparable Sunday morning Rangoli, with the ethereal beauty Neesham Singh wooing the viewers with her choice collection of songs. Give such a impoverished diet from DD, it was but natural that people lapped up all that AIR had to offer.

All India Radio has been the launching pad for umpteen number of budding singers, announcers, story writers and poets.

Innumerable are the matches in which India has cheered the Indian cricket team, while listening to Lala Amarnath's commentary.

In fact the radio was part and parcel of many households I know of. AIR was the alarm clock of many a housewife, eager to get breakfast ready for her husband and her brood. I still remember my mom... "Venkatesh, the Deepam silks ad is on the Radio (which meant it was 7:15 am). Are you going to go to school or not..." To which I would retort "Mom let the Modern coffee ad(7:21am) come on, I'll get up" and curl back to sleep. In fact I think my mom new all the ads in the morning by heart and by time. It was her way of keeping in touch with the world in the morning, when she simply couldn't afford to sit in front of the TV (which was not much to speak about anyway, since it would be some dumb health program).

News on the radio was another "never to be missed" ritual in my house. As soon as my father came back from work in the evening he would switch on radio. The voice of "Boran Houlda" (I still don't know his actual name) would boom on the radio as he took us through the domestic and international news on our puny planet deftly in the fifteen minutes allocated to him. Another famous reader was "Saroj Narayan Swamy". In in fact used to wonder how many times BBC would get to know and announce some breaking news in India before our AIR did.

The early bird gets the worm. But what happened to the poor worm because he got up early? This being my philosophy I used to study late into the night, rather than waste the morning sleep. During the longest, darkest, most silent, gloomy or cheerful night, my solace was a Bahadur brand Philips transistor. The evening's show would begin at 9:00 with "Aapkee farmayish", continue with Chayageet at 10:00, another unnamed program at 10:30. All along I would be treated to the rarest ad some of the best Hindi songs.

At 11:00 I would start tuning to some other station in the S/W band, where out of experience I knew songs would be on till 11:45 (I never found out which station it was). This game of tag continued almost till about 2:30 -3:00 am, when my father would suddenly be concerned about my lack of sleep and start pestering me to go to bed. After about 15 minutes of mock protest about how much I have to study I would hit the sack, contented with the evenings proceedings.

This was invariably the routine every test/exam/internals from my 8th class to my final year BE. So one might adjudge how much attached I am to the radio. In fact I was the sole

I am worried with the latest decision by the government. Not for myself. I have a FM walk-man (one of the spoils of my Austin jaunt) but for the Crores of Indians who do not have/ cannot afford a FM radio. How will the Fauji Bhai sitting in the Indo-Pak border listen to his favorite "Jaymala". How will the young mother in a remote Rajasthani village learn that ORS is to be administered to her child. How will the countless tea shops in remote villages get to hear the news from the various parts of the world? Will one never listen to "Sangeet Sarita" or "Chayageet" or "Chitrapath sangeet" or "Jaymala"? Will it be the end of an era?

On contemplation I am assured that things will be fine sooner or later. The radio has successfully survived the miasmic advent of the TV and the cable revolution. It will survive this also, as long as there are die hard fans like me. Like the proverbial phoenix it will reincarnate and return to claim its rightful place in the communication media.

AM is dead! Long live FM!