Darkness has given way to light for some Irulars ' 'Irul' in Tamil denotes darkness. Perhaps because their lives were entwined with the dark night - they went foraging for snakes and rats, living on a diet of rats, snakes, turtles, and even snails - this community in Tamil Nadu came to be known as Irular Kulam (Irular tribe).

Modern laws and wildlife acts have robbed them of their traditional livelihood and source of food. Today, spread in patches across the state, they live in dire poverty. But not this small pocket of enterprising Irulars in Perungulathur village, near Chennai, who have reinvented themselves and are now on the path to self reliance and social acceptance. And at the forefront of this positive change are the womenfolk who have formed the Pournami Irular Women Self Help Group.
They now think 'fish' rather than snake. And not just any fish. Their attention is focused on expensive ornamental fish. Gleaming guppies, fighter fish, gold fish, rosy barbs, white mollies, red show tails and other dazzling fish flit about in cement tanks in the open space of the homes of these women. For the past five years, breeding and selling ornamental fish has been their livelihood. They share the proceeds equally, and have impressed customers enough to get repeat orders.

This remarkable turnaround is courtesy an idea that came to Vijaya, now the president of the group, when she saw ornamental fish at a house she was employed in as a domestic helper six years ago. She saved enough money to buy a few fish and bred them at home. "I realised that breeding fish was something that came naturally to me and my community," she recalls.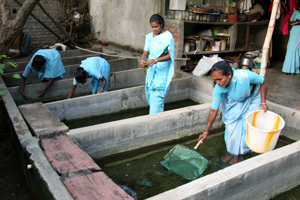 By then, Vijaya had learnt that ornamental fish fetched a lot of money in the market and the idea of breeding and selling fish occurred to her. Around the same time, the Tambaram Community Development Society (TCDS), an NGO, went on a social survey of the area and found the Irulars needy and deeply in debt. The TCDS invited the Irula women to be part of an entrepreneurship training programme. "We spoke to them and asked them to form a Self Help Group (SGH) to support themselves. Initially, they were wary, but slowly they got the hang of it," recalls A. Dhanraj, Director, TCDS.

Vijaya put forth her proposal to breed fish and TCDS agreed to give them training on the subject. "Initially, they were unorganised. But being very enterprising, once we started them off, they did very well. Today, they are totally independent," says Dhanraj proudly. In 2003, after completing the training, they started operations with the assistance of Rs 25,000 they received from the Kancheepuram Central Cooperative Bank with the help of TCDS. Today, the loan has been paid off.

"At first, we didn't trust the NGO and were hesitant about our women spending time at the TCDS centre," admits Bhoopathy, Vijaya's uncle. So, Bhoopathy and Vijaya's husband, Davasamy, went incognito to the centre to make sure that the officials weren't traffickers in disguise. According to Bhoopathy, several Irula women have been victims of trafficking.

After the duo had checked them out and gave Vijaya the green signal, she began the task of convincing other women in the community to join her, as a minimum of 12 women are required to start a SHG. "At that point of time, I had to go around and convince the women to join the movement. Now, we have more members than we can support," says Vijaya. Currently, there are 13 members, with many more keen to join in.

But the enterprise has not just changed the lives of the women. The men, too, now hunt for worms in the nearby lakes to feed the fish. The SHG runs a small shop. The business has flourished enough to give the members approximately Rs 1,500 per month (US$1=Rs 40). Each month, they get about 20 to 25 customers and sell about 1,000 fish.

The women are now looking to expand their operations by securing more space and infrastructure. "A customer from Coimbatore wanted to place an order for 10,000 fish. But sadly, we had to turn it down because we don't have the space to breed so many fish," says Vijaya. Observes K. Thirunavukarasu, a regular customer, "Their service and fish quality matches market standards. But the trouble is, their production capacity is low because they operate on a very small scale."

"Before we took up this enterprise, people refused to drink tea with us. Today, we have earned some respect in society," says Bhoopathy. But the sad irony is that the Irulars stand unanchored in today's changing world and find it difficult to obtain community certificates. "If we go neatly dressed, the officials say, 'You don't look like Irulars'. Do they expect us to come dressed in leaves and beating our drums?" asks Saraswathy, a member of the group.

Interestingly, Vijaya and her generation of Irulars do not know how old they are because their community was not in the habit of recording dates. These women, however, have learnt enough to get birth certificates for their children, and send them to school for formal education.

In fact, Vijaya's daughter, Indulatha, created a stir in her community by successfully completing her graduation from the Madras Christian College. "I want to become a teacher," she says. Indulatha has applied for a B.Ed. (Bachelors in Education) course. She currently tutors 35-odd children of the community of assorted ages, who now have set their sights as high as becoming police officers and doctors. A yellow chart pasted near one of the cement tanks at Indulatha's home enumerates the targets the children have set for themselves. "My father couldn't think beyond the next meal. Now, we are dreaming about our children's future," says Bhoopathy.

The entrepreneurial drive has also closed the gender divide within the community, evidenced by the fact that Bhoopathy remarks without a trace of self- consciousness, "Our children's future is in these women's hands."