When Sunita, 24, got married, she was looking forward to some change in her life. But the much-sought-after change never came. Used to living with a family of five in a 10x10-foot hutment, she did not find her new home - of similar dimensions - radically different. Only the five other members now were all strangers, even if family. For Sunita, the discomfort of overcrowded living became unbearable because of the lack of privacy and the indignity it entailed. "It's not possible to change your clothes before your father-in-law or brother-in-law," she complains sullenly.
Sunita is not alone in her misery. For the 1,800 men and women living in Battal Balian camp, near Jammu, this one of life's realities. They sought refuge here around 17 years ago, when terrorism had hit the Kashmir Valley, to escape the horrors of the killing of Kashmiri Pundits by the militants. According to Human Rights Watch, over 300,000 Kashmiri Hindus - 90 per cent of the Hindu population of the Kashmir Valley - remain displaced. In fact, they comprise India's largest displaced population. Of them, about 4,880 families, each with an average of four members, are living in camps in and around Jammu (the summer capital of the state of Jammu and Kashmir). And predictably, almost 60 per cent of the displaced are women.
While almost one-third of Battal Balian camp's population was well into adulthood at the time of the exodus, a new generation like Sunita's has grown up here. Her husband, Maharaj Kishen, who is in the police force, is posted in Budgam near Srinagar, but she stays with the family because of security concerns. The couple meets for a few days every three months. But, in his absence, she eagerly watches TV for news from Kashmir and the images of violence fill her with dread. Quiet, melancholic Sunita suffers from fainting fits and depression, which is very common in the camp.

Miles from Battal Balian, in Mutthi camp, Janak Rani, 65, has acute dementia - she has lost her speech and sits still all her waking hours. She has to be fed, clothed and cleaned by her daughter-in-law. Janak is just one of the many elderly, who have psychological disorders caused by the trauma of violence in the Valley, flight and dislocation.

Most women above 40 also suffer from obesity. Hailing from Kashmir's rural areas, they were used to an active lifestyle. But in the camps, due to a paucity of space - narrow walls separate the hutments, while dirty alleys with open drains are the only outdoor space available - there is little scope for exercise or movement. Lack of proper nutrition and a changed diet (for want of resources and dependence on government rations) has also contributed to the problem.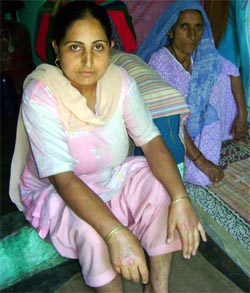 Extreme climatic conditions, use of harmful construction material, acute electricity shortage, lack of clean and sufficient drinking water and untreated sewage ensure the spread of many infections and diseases in the camps. Skin diseases, respiratory and pulmonary infections, metabolic and stress disorders, tuberculosis and diabetes are commonplace.

Anaemia, too, is rampant. During a health camp organised by Delhi-based Indraprastha Apollo Hospitals, in Purkhu in May this year, Dr Shakti Bhan found that almost all the 450 women examined had anaemia, which causes severe menstrual disorders as well as premature menopause.

Doctors at Jammu's Shriya Bhatt Hospital and Research Centre say that before the exodus, the average age of menopause had been 48 years. It has now come down to 41 years. "Depression and trauma lead to premature menopause," explains Dr Bhan. "In their case, a yearning for the homeland, the animal-like conditions of the present, and the uncertainty about the future have contributed to depression."

Younger women have not been spared from the trauma of ill-heath. Puja, 16, from the Mishriwalla camp did not menstruate for a full year. She was ultimately diagnosed with Polycystic Ovarian Syndrome (PCOS). Dr Indu Kaul, a noted gynaecologist in Jammu, has been working with the displaced women for the last 13 years. According to her, the rate of menstrual disorders among women in the camps is 30 per cent as compared to 15 per cent in the rest of the country.

Other physical discomforts and unhygienic conditions like shared toilets located at some distance from the hutments have also impacted the women negatively. The unclean communal toilets - one for approximately 75 women - are not only the cause of daily humiliation and irritation, but they have serious consequences as well.

Radhamali, 65, from Mishriwalla camp has been suffering from recurrent UTI or urinary tract infection for over a decade now. Rajni, 33, in Mutthi camp tripped and had a miscarriage during her first pregnancy - she was groping her way in the dark to the toilet situated almost a kilometre away from her tenement. At the same camp, Promilla, 28, had a caesarean delivery, but the unhygienic toilets caused her post-delivery stitches to become septic.

While the problems are many and widespread, medical facilities in the camps are almost non-existent. And even if there are some available, the cost of treatment is often beyond the inhabitants' means.

There is bewilderment in the camps at the indifference of the world around them to their plight. "No one seems to care for us, we do not matter," says Rajni Bhat of the All Kashmiri Pandit Solidarity Conference. And with no member of the National Women's Commission or the Ministry of Women and Child Welfare having had the time or inclination to visit the camps - Article 370 seems to get into the way - who can dispute this claim?